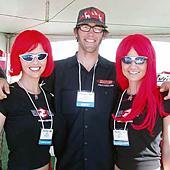 Photo: © Kristy Scrymgeour
Mr. Congeniality: The Geoff Kabush diary 2005
Popular Canadian mountain bike racer had his best ever season in 2004, winning the NORBA final and overall series. For 2005, Geoff will once again be bringing us his unique slant on the racing scene in his diary as he campaigns the NORBA circuit for Team Maxxis. He'll also be riding on the road this year with Jittery Joe's-Kalahari.
Canadian National MTB Championships - June 12, 2005
The new Canadian Champ
After a two month hiatus from racing my mountain bike I was back in action this weekend at the Canadian Nationals Championships in Mt St. Anne, Quebexico. Wasn't too sure how fast I was really going after a full USPro week, but I felt like I was recovering well when I did my first Mardis de Lachine, aka "Tuesday night World Championships" in Montreal. Legs felt pretty good and I kept my 'no crashes on the road' streak intact.
Got up to Mt Stan on Thursday and rode the familiar trails and got things dialed in. Last year I made the trip to Nationals solo but I was very happy to not only have a teammate here this year, Toulouse, but the whole shooting match showing up for support. We filled up the tech site pretty good with the Team Maxxis trailer and it was nice to have Gary and Newt wrenching and Wallace making everything was set for Toulouse and I to race our bikes fast.
There were a lot of question marks about what was going to happen this year at Canadian Nationals; everyone was here gunning for the title but no one had really raced head to head for the last couple of months. It was also a race for Commonwealth Games selection; winner was an automatic for the team. No one knew exactly what to expect except it was going to be a heated battle; and hot it was; I have never been so wet after a race when it hasn't rained a drop.
Things sorted out fairly quickly after the first of seven laps with most contenders moving to the front; Seamus, Shep, Roland, Ricky, Plankton, Roddi, Toulouse, and myself. Roland is coming back into form, after stuggling the last couple of years, and quickly became the main animator of the race.
He was throttling it on the climbs and I stayed on his wheel the best I could as we seperated from the group. In the stifling heat I played a conservative race plan, watching Roland from behind and figuring out where I could make up time. I managed to save enough bullets and fired them all on the last lap and had enough coordination to ride the singletrack quick enough to open up a winning margin. Ricky rode an impressive race trying to defend his jersey in third with Toulouse snagging fourth. This was my second XC Championship and it was definitely nicer this time around as there weren't any questions whether or not the best riders were in attendance.
I am looking forward to racing again in Mt Stan for the World Cup in a couple of weeks, but first we have to travel over to Utah for NORBA #3 where there will be a lot more questions about who's going to be fast and get to the top step of the podium.
Over and out,
gk