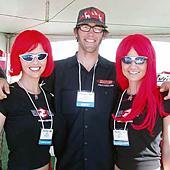 Photo: © Kristy Scrymgeour
Mr. Congeniality: The Geoff Kabush diary 2004
Geoff Kabush is no newcomer to the mountain bike racing scene, but his patient and steady approach has made this past season his best yet. Winning the NORBA final and overall series was the pinnacle of the year for the much-loved Canadian rider, whose passion for the sport will see him racing his bike for many more years to come.
November 26, 2004
More beers, no tears, that's it, that's all
Well the 2004 season has finally come to a close a few months later than usual with the final weekend of the Crank Brothers USGP of Cyclocross. The main goal of the cross season was to avoid post-MTB boredom, have a bit of fun, and help show a certain euro that us North Americans can ride a bit of cross too. Coming into the final weekend of cross I had achieved most of these but it was getting a bit serious as I found myself in the leader's jersey trying to hold on to my MTB hangover fitness for another weekend. I was psyched for the final weekend as I was wearing my new super special Canuckian champ skinsuits that Sugoi ripped off and got to my door just before I left.
Beacon Cyclocross/Crank Brothers U.S. Gran Prix of Cyclocross #5
Race number five of the series took us to southern Neww Joyzee; we passed way too many of the NJ state flowers (according to Jonny), the orange pilon, over the weekend and finally made it to Bridgeton. It was quite a "quaint" town so to speak and luckily Jed showed up with the Jittery Joes tent and some hot coffee (one of the sponsors of my road team for next year, Jittery Joe's/Kalahari) because we were struggling to find a coffee fix anywhere else in bustling Bridgeton.
The Bridgeton course was fast, sandy, and had a killer set of step ups for a whole lot of running. It didn't take long for dandy long legs Trebon to fire it up and get a gap; Wells stayed with him for a bit but slipped back to the chase group after a dropped chain. Adam and I worked together trying to pull back Trebon but it wasn't going to happen with Wicks in the mix so I started to look for an opportunity with three laps left. I saved it for the last big sandpit and surfed across it to get a few seconds and held off a charging Wells who was starting to find his cross legs. With his win Trebon inched closer to the leader's jersey but it was mine for one more day.
Highland Cyclocross Race/Crank Brothers U.S. Gran Prix of Cyclocross #6
A two and half hour drive with lots more state flower orange pilon spottings and we were in Highland Park after spiraling around to finally find the host hotel. It was raining overnight which I thought might help me but the soft fields on the final day sucked everything I had left in the ol' legs. I didn't leave anything out on the course but my fall fitness hangover didn't quite last long enough. I started well and was where I needed to be but couldn't hold on and with Wells taking the win, Trebon in second, and myself slipping to eighth on the day I lost the final overall tally by three points. Trebon is definitely the strongest guy right now so he definitely deserved it and I have to say I had a pretty good time doing my first full cross season. I am glad it is over and I am really going to enjoy going down to US Nationals and heckling all the boys still racing.
The USGP series definitely was a hit and I really had a good time hanging out with all the guys on the Maxxis-Giant team; I think I will definitely be seen at a couple of races next fall. We fired it up pretty good after the race with way too many ounces of beer; don't know how many litres it was but it probably weighed a couple of kilometres; that's was I told the Americans anyway after bit of break dancing at the hip hop post party. It was a long flight home and it is only one night back at the ranch before I head up to Silverstar Mountain for some Nordic and a 15km race on Thursday; I just can't get enough pain.
That's a wrap for 2004 so in the words of one of my favourite mullet wearing Canadians, "More Beers, No Tears, That's It, That's All". Have a good winter and I will see you all in March starting it off back in Texas on the knobbies.
Over and out,
gk