Emma James (Randwick Botany/FRF) is proudly sponsored by:





The Emma James Diary 2005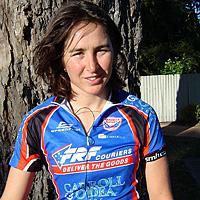 Emma James
Photo ©: Emma James & friends
Welcome to one of Cyclingnews' up-and-coming female talents, Australian Emma James. After two years with the Australian Institute of Sport (AIS) team based in Italy, and riding in 2004 as a professional with Team S.A.T.S. then Bik Gios, Emma is back in Australia, concentrating for the moment on the domestic scene before seeing where the wheeltracks take her later in the year.
"I want to achieve as much as I can in this sport, tactically outwitting the opposition to win. I want to time trial as fast as I can physically go. I want to be a key member of a strong team that can ride aggressively and win and make other riders suffer in pursuit."
— Emma James, April 2002
Latest entry: February 7: Australian National Championships and potaroos
2005 entries
2004 entries
2003 entries
Profile and interview
2002 entries
La Grand Boucle Féminine
Other 2002 entries
Giro d'Italia Femminile
Emma's racing exploits in 2002