The Emma James Diary 2003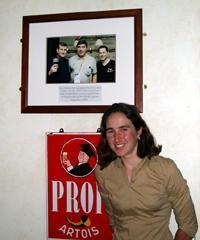 Emma and the Cannibal
Photo: © CN/Anthony Tan
Welcome to one of Cyclingnews' up-and-coming female talents, Australian Emma James. Emma's enjoying her second year as a scholarship holder with the Australian Institute of Sport (AIS) road cycling team, based in Tuscany, Italy. She's a gutsy rider who's decided that she'd rather be testing the waters of professional cycling than testing the salinity of the Sydney's waterways as an environmental scientist - which used to be her previous occupation before Emma decided to take the plunge.
Grande Boucle Féminine Internationale - Stages 7-10
August 3-17, 2003
Stage 7 - August 10: Royat - Commentry, 107 km
The stage started with a nasty long climb in the first five kilometres, as has been the case for the last three days or so. It split the group in pretty much the same way it has done over the last week when the climbs are long enough to sort out the tired from the very tired. Frustratingly repetitious, particularly for the last group on the road with the same 20 tired riders with 100 km to go, no motivation, just fatigue and frustration at the monotony of starting stages on steep climbs.
I was in the group just ahead, with a tiny bit more motivation to catch a couple of our mob who had faired a little better on the climb. Tina Liebig (Fanini), Anita Valen (Bik) and Tatiana Stiajkina (Velodames) were just under one minute ahead of our group not far into the stage. Half the group swapped off at a reasonable pace, and 20 km later we caught them. It had been a long enough climb to cause serious damage, and to encourage the GC riders to get stuck into it.
They don't need much encouragement, the gaps between the top eight are fairly small compared to the time gaps expected in the 37km ITT on the second last day, so they are all looking for opportunities now.
The top eight riders were 15 minutes up the road, and well out of reach. A second group of about the same size was between them and us, and again out of reach. My group of 20 struggled to get any decent number of riders to roll through for the second half of the stage. We finished 24 minutes down, and the last group on the road was not that far behind (32 minutes). Judith Arndt won the stage, on a nice little circuit looping through the main street of Commentry. It would have been a very different stage without such a steep berg in the first five kilometres.
Stage 8 - August 11: Aubusson - Saint Leonard-de-Noblat, 87 km
The neutral for this stage was meant to be 13km, but we stopped in the woods after about eight kilometres of crawling along in the heat and in some nice forest areas behind the lead cars. After filling bidons, and wondering how much more neutral we would do, we were told we would start here (on a little hill).
Jolanta Polikeviciute started saying something about riding 'piano' today, but was cut off by people saying 'yeah, what about you yesterday?'. As the lead cars moved off, her teammate, Tamanini, launched out of the blocks, sucking in the car fumes, and flying up the first hill. I followed wheels and was glad the group did not break up as I had been fairly far back in the group at the start.
The attacks kept coming, but I was thinking today I needed to savor the little energy I had, and hope for a bit of rest to bring better legs in the days ahead. The move of the day came at about 15 km into the race. Zabirova (Nobili), Rasa Polikeviciute (Aurora) and Margaret Hemsley (Nürnberger) sat ahead of the group for a moment, and I knew it was a good move. I had an opportunity to go across to it. I was not certain if the peloton would react, but Somarriba was near me, and had no interest in it. I spent a few too many seconds thinking about it instead of reacting. I don't regret sitting back in some ways. I don't have enough faith in my ability to recover every day from racing in this heat if you flog yourself in every opportunity. I feel I am on the edge now. Strong, riding well, but so close to getting sick and being swallowed up by fatigue and by unavoidable dehydration in a serious heat wave that the French keep saying is like nothing the country has experienced before.
Zabirova won the stage by 100m to Rasa Polikeviciute. Margaret had tried to respond to an attack by Zabirova with 20 km to go, and then could not stay with the two drivers. She finished a couple minutes behind them, but still ahead of the peloton for her second third place in the tour this year.
In the peloton there was a little bit of excitement for the day as we got to ten kilometres to go. The SATS girls were active, and a few others countering, but the bunch rolled them all in on the tight corners leading into the finishing straight. It was not a finish that suited me, and I finished at the back of the group. A couple of my teammates did well in the sprint for a top ten placing.
Stage 9 - August 11: Châteauneuf sur Charente - St-Georges-de-Didonne, 86 km
I was hoping for an easy day. Rest day to follow, and all the little signs that I need it. A sore throat four days ago disappeared with serious bombardment with Strepsils, and daily multivitamin, and occasional Berocca. Now I'm resting all I can to stay healthy. Stoked when I manage to sleep well in the heat.
As we started the stage there was heaps of talk on the radio about my teammate Sylvie's derailleur. I thought they were just mucking around joking about stuff, but no sooner had her front derailleur been fixed, the rear one broke! We had just got to the cat 4 climb for the day, and requests from our director to try to slow the bunch a little were futile. Judith Arndt (Nürnberger) had not got over the climb with the other GC riders, so her team mate Margaret Hemsley was trying to help her chase back on.
I was sitting in, confident we would get back to the group, and knowing that when we did, there would be counter attacks. I went with the counter but just followed wheels - not pushing through to help break the group and establish the break. A bit of collusion between Aurora and Velodames was at work, but Judith pulled that back herself. It was aggressive and interesting for the next ten kilometres. My teammate Sylvie was still back near the GPM waiting for pedals for a spare bike so she could complete the stage solo chasing the group!
After about 35 km of the 82 km stage, two riders were just ahead of the group (Erika Vilunaite (Prato), and Zabelinskaia (Velodames)). I jumped across to them, and saw the peloton had not reacted. I drove it up a little rise and at the top the two behind me rolled through. A little gap opened up as I struggled to get onto the wheel, suffering from my effort. To my surprise I got a sarcastic 'Thanks' from Judith Arndt for leaving a gap she had to fill! She had come across with another five riders, and we had a strong group. I thought Judith should be grateful - I'd established something that gave her a platform to work for some time on GC. Usually I am less confident that a break will go if there is a GC rider in it, but Nürnberger would do a good job blocking, and Judith was down a bit on GC, so at least a few teams would be happy to just ensure the gap did not blow out.
We all worked well for the next 25 km (except Vilunaite (Prato) and Iturriaga (Aurora) - I didn't even know the Spaniard was there!). It was a strong group with Simper (Fanini), Andreasen (Sats), Valen (Bik), Arndt, Zabelinskaia, and me. A group was between the peloton and us, including my team mate Giovanna Troldi, Linthorst (Bik), Alison Wright (RoadRunner), Miller (Sats) and Kachalka (Aurora). They got about a minute from our group, but I didn't rate their chances of getting across.
Arndt and Zabelinskaia had moved into another gear. They have built in German and Russian motors that seem to run a little differently to mine. I had sat on the back for a bit from the 20 km to go mark, but then tried to roll through. There was a strong head wind, and after I had done a turn, I struggle a little to get back on the wheel. I assumed my position on the back of the group. Even with the desire to get better shelter by doing turns, I had no choice. Every one else in the group had accepted the situation, and we sat behind the two GC riders who were swapping off hard, trying to maximize the time gap in the final 15 kilometres of the stage.
With five kilometres to go, we approached a couple little rises over headlands before the last plunge down to the beach. The first one the group rolled over together, the second one was with three kilometres to go. I had guzzled the last of a bidon of coke, and I attacked towards the top of the climb. I got a gap, and tried to push hard as I came over the crest to get speed quickly for the descent. I was panicking a bit. I was flustered and desperate to hold them off in the last couple kilometres. The descent was rough, and I couldn't find a good rhythm. I was breathing totally out of control. Trying hard, but an easy target for Zabelinskaia as she launched from the group and came across to me.
I didn't hear my director telling me there was a rider coming across - still breathing too hard! I panicked more when she came past. I turned to look behind for the first time, and realized that there was still a big gap to the rest of the group. Now there was an insurmountable gap between the Russian and me. I should have been able to give 120% to get on her wheel. She had caught me at the one kilometre to go mark, and we still had a long straight into a strong headwind. I kept riding, but was not getting closer to her. I was disappointed, and had realized my mistake quickly. I had a chance to win a stage, or at least fight the Russian for it, but I had stuffed it.
The peloton caught me with 500m to go. I didn't even get on the back of them. My sprinting legs were not in great shape, and I was after a win, not one of the indistinguishable places between second and fifth. It is funny because last year I was happy to have come 5th in a stage, this year I was stoked to come 2nd, and now I am so hungry to win a stage. Still six days of racing, and I will give it everything - controlled.
Zabelinskaia took the stage, just ahead of Andreasen who timed it well to take the sprint from Valen. At the end of this day, with the rest day to follow, there was tension and frustration and nervous energy oozing from our tired bodies and brains. I vented a little stress at a French man who was trying to explain to me what happened in the stage, and which I mistook as an insult! 'It didn't work', and 'You rode like crap' are very similar in French. It is amazing what response you can get from a rider who needs to sit down after a hard effort, disappointment, and with a mountain of emotion from a week of racing in her!
I finally calmed down after a swim, a phone call to Japan, an hour stretching in an art exhibition - and chatting to the 80 year old painter, and then watching a bit of sand sculpture. A while later with a feed of pasta in me I was nearly human again.
Rest day needed. I will spend the day kindling the fires for the second week.
Stage 10 - August 14: Niort - Bressuire, 84km
Very hot day. Similar to the last ten days. There were attacks on the main road we were on for the first half of the race, but I didn't think they would get anywhere, and I wasn't keen for a hard day. I followed wheels, willing to go with things if they happened, but not fussed if they didn't, and not trying to attack myself.
We were on much smaller roads for the second half of the race. Occasionally the pace was on with attacks and the bunch was strung out, but the stage passed quite quickly without too much drama.
The finish was a steep little pinch following a sharp left hand corner, and then a descent to the line. We had raced into this town two years ago, and halfway though the stage I remembered what we were in for. With ten kilometres to go, the group was strung out, with the GC riders all at the front. I was hoping someone would light it up, as I was in good position, and had a better chance of staying there when the pace is on. Margaret Hemsley (Nürnberger) attacked, putting Judith in a strong position. Efforts were made in the group to pull her back occasionally by a Sats rider, and by Zabirova (Road Runner). The speed of the group rolling down the hill towards the technical fast left hand corner reeled Margaret in, as the pushing and shoving accelerated.
My memory of the terrain didn't seem to help. I didn't do enough to hold position before the descent. The little pinch spread the group out, Judith Arndt (Nürnberger) winning the stage, and closing the gap even more on Edita Pucinskaite (Fanini), who is currently 4th on GC and only half a minute ahead of Judith.