The Emma James Diary 2003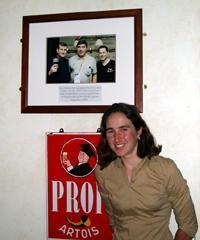 Emma and the Cannibal
Photo: © CN/Anthony Tan
Welcome to one of Cyclingnews' up-and-coming female talents, Australian Emma James. Emma's enjoying her second year as a scholarship holder with the Australian Institute of Sport (AIS) road cycling team, based in Tuscany, Italy. She's a gutsy rider who's decided that she'd rather be testing the waters of professional cycling than testing the salinity of the Sydney's waterways as an environmental scientist - which used to be her previous occupation before Emma decided to take the plunge.
Cooma Snowy Women's Cycle Classic
Cooma criterium
The second day of the 'Cooma-Snowy Womens Cycle Classic' was a 30 km criterium in Cooma on a circuit similar to the one for the Snowy Tour over the last few years. This time there were two witches hat U-turns, and another smooth, sweeping corner. The stop-start turns really take it out of you. Even if you try to carry as much speed as possible out of the corner you still have to sprint to get back up to a high speed.
The organisers of the race threw up the challenge: $200 for the first rider to lap the field. I was keen, but on a tough 1km circuit with a fair bit of wind about and a motivated field of riders, it was not going to happen. We knew that we had to have a hard race to ensure that sprinters like Rochelle Gilmore and Alison Wright would not steal the show in a bunch kick. We had a parade lap - a chance for the locals to see the riders roll by. The US T-mobile team set the pace at break-neck speed and had us back to the grid in no time, with the locals still not sure who was who!
Emma at the crit
Photo: © Mark Gunter

Warren McDonald, the chief commentator for the race, counted down for the start and we rolled off. I clipped in easily and was close enough to the front to be able to put the pressure on in the first lap. After a few other moves, I attacked again and a US rider, Rochelle and I got a small gap, but that was not the sort of bunch I would be best working with. I kept the pace steady rather than sitting up as soon as we were caught so I would be ready for the counter move, and my teammate Natalie Bates flew down the right hand side after the next U-turn. It is great to see a good counter move from a teammate - and know the other teams have to respond now. A few riders went with Natalie: Amy Safe (AIS), Oenone Wood (Cooma Cycles/AIS), Kirsten Armstong (T-mobile) and Margaret Hemsley (Cooma Cycles).
There was not much reaction in the main field. The US team was happy to block. I was keen to cover anyone bridging the gap to get across to the leaders. Perhaps we could have tried to really slow the main field and allow the break to lap the field (and get the $200 prize) - but that is a negative way to race. I don't know if it would have worked. They were working well together so it might have been a better idea - but blocking is not my natural style of racing!
Amy Safe leads Margaret Hemsley
Photo: © Mark Gunter

Olivia and I were still in the main field that had been reduced to about 20 riders by mid way through the race. We attacked and countered off each other, but the slow speed U-turns seemed to favour the bunch pulling back a solo breakaway. I could tell Rochelle and Alison were both feeling the pressure. It had been a solid crit. I saw another opportunity to attack, and took it. I had a gap and started to bridge across to the leading five riders. I always think about Anna Millward commentating during the Snowy Tour one year and saying that you have to bridge the gap to a break as fast as you can. I closed the gap a fair bit, and was well ahead of the main field, but it was taking too long. I started to doubt I would have the legs for the finish if I buried myself more trying to bridge across. Mary Grigson (awesome mountain biker riding for Cooma Cycles) and Kimberly Bruckner (T-mobile) were between the main field and me. They caught me, and there was the chance to work together. We didn't gain anything on the bunch in front for a few laps, and there were now less than five laps to go. I attacked them - but I did not have enough juice left in the tank. Mary gave it a stab too, but the three of us had enough energy to cover each other, but not enough to break the other two. We had lost the chance to catch the front group, Mary out-sprinting Kimberly Bruckner and me for sixth place.
It had been a good day for the AIS girls in the front group. Oenone won ahead of Natalie, with Margaret third. Amy had a brief touchdown, clipping her pedal in the corner but getting back to the break with remarkable speed. Rochelle finished just ahead of Alison in the bunch gallop.
Podium girls
Photo: © Mark Gunter

About 30 riders headed back towards Canberra, with a few vehicles as chaperones. It was particularly windy, and after a couple hours we drafted behind one of the vans. Our average speed picked up heaps, and the ride was much more enjoyable getting a good sit! I was thinking a little bit about the testing planned for the week ahead, and was not too disappointed when our coach, James Victor decided it was time to pack the bikes in and head home. It had been a great weekend of racing, and hopefully will continue next year with plans already for the town to host a four or five day women's tour. It is a great place for training and racing, close to the beautiful Snowy Mountains, with plenty of friendly country towns and clean, fresh air.
Results & report from the 1st Cooma Snowy Women's Cycle Classic