The Emma James Diary 2003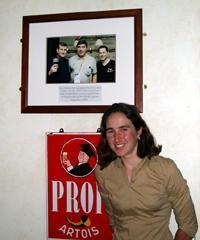 Emma and the Cannibal
Photo: © CN/Anthony Tan
Welcome to one of Cyclingnews' up-and-coming female talents, Australian Emma James. Emma's enjoying her second year as a scholarship holder with the Australian Institute of Sport (AIS) road cycling team, based in Tuscany, Italy. She's a gutsy rider who's decided that she'd rather be testing the waters of professional cycling than testing the salinity of the Sydney's waterways as an environmental scientist - which used to be her previous occupation before Emma decided to take the plunge.
2003 gets underway - Bay Crits & Australian nationals
It is the start of a new season!
The world championships in 2002 seem a long time ago. Since then I have had a decent break. It started with a few wonderful days at one of the flash hotels overlooking Sydney Harbour as a special, indulgent treat from my boyfriend. A few weeks off the bike, including watching whales at Forster heading south as we headed north up the NSW coast. Fishing, reading, swimming and a bit of running as I started to think about getting back on the bike. I also found time to get a couple wisdom teeth out - something I wouldn't want to have to do mid-season.
It was great to be back in Sydney, riding all of my regular training routes and getting keen for the year ahead. I trained by myself for a bit, and on my first group ride got the shock of my life to see how much form I had lost. I felt I was going fairly hard up the Bobbin Hill climb (in the beautiful Ku-Ring-Gai National Park), but I was going backwards. Suffering! I started to find my legs again over the following weeks.
We had a camp at the Australian Institute of Sport in Canberra. It was a chance to chat and touch base with all the experts in biomechanics for bike positioning, the nutritionist, doctor, physiotherapist, sports psychologist, strength and conditioning coaches, physiology lab (for VO2) and all the other riders. The VO2 testing showed I had enjoyed a decent break, had only been back on the bike a few weeks - and had a lot of work to do!
The only thing that could get me some form was club racing at King Spurge Park (aka Heffron) and visits to Dr Sommersby (a hard 180km loop up the old Pacific Hwy). The 'Coluzzi' Saturday morning ride also helped me prepare for the early season racing.
Bay Crits
In action at the Bay Series
Photo: © James Victor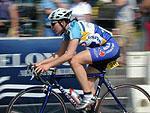 The season started with the Jayco Geelong Bay Classic, better known as the Bay Series of criteriums. The series has been going for about 15 years for the men. On circuits of less one km, the women race for 45mins, the men for one hour. Five days with all the best Australian riders and a great atmosphere with Phil Liggett commentating and a holiday mood at all the beach towns near Geelong, 100km from Melbourne. The racing is a real shock to the system: 45 minutes of intensity and aggression that you haven't had to do for a while. I struggled a bit, but worked as hard as I could for the NSW Institute of Sport team. It was a great team with most of the best sprinters in the field: Rochelle Gilmore, Katey Bates and Olivia Gollan. This short, fast style of racing is not my specialty but the intensity over the five days is great training.
There were some memorable moments for the week:
We were staying in a conference centre in the Botanic Gardens at Geelong (run by the Salvation Army). It was a beautiful location, and a great view over the Bay from the headland.

In the last couple races for the men, a young rider from Melbourne, Will Walker showed he will be a force in the future. This 17 year old rode away from the awesome field of pros to stay ahead of the main bunch for at least half the race. He won on the Saturday, and was in the moves the following day - racing hard.

Another young rider - 19 year old Elizabeth Williams in our race took out the criterium championship winning the sprint ahead of Rochelle and Katey. There are not too many days that you can lead out a sprint and not Rochelle have come round you.

Oenone Wood showed some good form and aggression to win solo on the hilly Port Arlington circuit.

Robbie McEwen was awesome in the first crit, flying past two SBR riders leading out the sprint as he came into the last corner and won by a few lengths. Sprinters always make it look so easy.
Nationals
The National Championships were my second set of races for the season. Not exactly how you would want it - but with the professional riders in Europe from Feb/March through to October there are not many options. It is better to have the National Champion from a full field of semi-fit riders in the early season than from half a field of those not racing internationally at some other time of the year. Bunningyong was the town hosting the racing for a second year. It is just outside Ballarat (formally a gold mining area, about 120km west of Melbourne). The circuit is great with a solid 3km climb in both the ITT and road race, and some really tough straights to test riders in the time trial, and a beautiful, scenic and not too technical descent in the road race. If anything the road circuit is a little too tough - but I like it that way. I'd choose a race of attrition and strength over a sprint-fest any day.
Race of truth
Photo: © Jeff Jones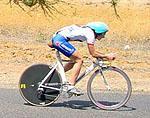 In the ITT I finished 10th. It was not a spectacular performance - 2:42 off the pace. I still owe my expensive disc wheel a decent day out; it will have to wait for another time (again). I think some specific training for the ITT is essential for me. Leg speed is not one of my natural strengths. A bit of motor pacing and a few more weeks of intensity in me would make heaps of difference. I like time trials, but there are some awesome Aussie girls making this event quite competitive. Anna Millward was not racing, but has set the mark in the National time trial at an international level over the last few years. Sara Carrigan has reached this level and proved herself at the World Championships (fifth in the ITT), and Olivia Gollan and Oenone Wood put in solid rides for second and third place. Sara retained the jersey for a second year with an awesome ride - an average speed of about 40km/hr on a tough circuit.
We watched the men's ITT the next day. A competitive field again, and really tough conditions with a head wind for the longest straight section of their circuit. Mick Rogers finished second to Ben Day from Queensland. It was tough racing. Such an honest contest of strength and skill and heart. Adrian Laidler, who has been a local in Novellara, Italy with the Aussie U23 program for the last few years, did an awesome ride to finish third (and win U23 category).
Emma leads the chase
Photo: © Jeff Jones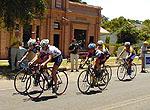 Our road race was fairly similar to last year, with the field shrinking each lap and the nature of this tough course really setting the scene. The break of three riders in the third lap (of 10 laps) was a gutsy effort by Oenone Wood, Kym Shirley and Chrissy Riakos. On that circuit it is tough in a bunch, but an even more solid day with only three. It was hard to imagine that a move like that could succeed. It is so energy zapping - but anything can happen.
The main field was reduced to about six riders with about three laps to go: Sara Carrigan, Hayley Rutherford, Olivia Gollan, Margaret Hemsley, Lorian Graham and me. We were about one or two minutes behind, but not working well. You know the attacks will come on the climb, so everyone rests a little before it. The rest of the circuit is not great for attacking as it is quite open and mainly descending which is so much faster and energy efficient for the bunch. Even on the descent we were not really chasing. If we had just tapped through the gap would not have got out to nearly two minutes. Each of the riders in our group was keen to get across to the break as we approached the final few laps. It would take a solid, committed attack, and I got the impression that all of us felt 'semi-fit' rather than in top form. Sara was cramping and asking for water, Hayley and I both suffered up the climb after an attack in the feed zone… thanks! All the attacks were covered quickly and not strong enough. Each of us were watching the other riders and not sure we had the energy to get away.
Up the climb with two laps to go I was aware of two riders behind me in the group. Margaret Hemsley moved up on my left, close to the gutter on the climb - neatly into the group. That left only Olivia behind me. I was fairly sure she was going to attack - and 300m from the crest of the climb she put in a solid effort. I was hoping to cover anyone who went with it - but the rest of us were together - none committed enough to give everything and possibly be exposed to a counter move that sees you gone. I have thought about a fair few 'could have', 'would have', 'should have' moves at this point. Basically it is the same as Kathy Watt used to do in the Canberra Milk Race a few years ago and Margaret did on this course the year before. Hill crest sprints. Olivia did it well. It looked even more impressive on the TV coverage.
Olivia bridged the 30 second gap by the finish line to get the bell lap and 10km to go with the three riders who had been out alone all day. She attacked them on the climb in about the same spot, and similarly got a good gap, and rode hard to the line to finish solo in fine form. Our group of six caught Chrissy Riakos on the climb, and a few moves kept the pace on, but nothing aggressive enough to get away. It came down to a sprint, still with Kym Shirley and Oenone Wood just ahead of us and in sight. My effort in the sprint was not good, and I was disappointed with the race. It is easy to think you could have attacked somewhere harder and imagine how things could have been different. I was happy with my ride in many ways. I could feel some form coming - and with a little more top end training the next bit of racing in February and the world cups in March will be fun.