The AIS Women's Team Diary 2003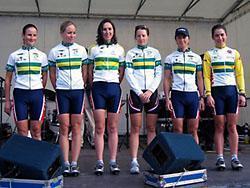 The team at Fleche Wallonne
Photo: © James Victor
Welcome to one of our more unusual diaries, with entries from the various members of the Australian Institute of Sport's Women's team as they conduct their European campaign.
With rising stars such as Oenone Wood and established power riders like Olivia Gollan, the team has been making a strong mark on the European scene this season. Under the management and coaching of James Victor that success looks set to continue for the year.
An almost meeting with Mr Chiappucci
June 11, 2002
Gran Fondos aren't always fun and games, especially when it's 140km long and raining cats and dogs. Over to you Emma...
Hi all,
We had a very wet 140km "race/ride" in the hills a few Sundays ago at the Gran Fondo della Cooperazione. We rode to the start and it absolutely poured all the way there! It sort of improved for the race, but I kept a rain jacket, and knee and arm warmers on all race!
It was meant to attract around 2,500 riders, but it ended up being so wet that I reckon maybe only 1000 started - but that was enough of a bunch to start in the main square in Reggio Emilia. The girls and handicapped riders (such as those with prosthetic arms and legs) got to start just ahead of a bunch of enthusiastic men - I thought they might cause havoc trying to get past us on the first corner, but it was all OK.
The start was really fast. Good racing - wet conditions and a big bunch on a fast main road all clear for us. By the first climb (one of about five decent large hills) I was with a bunch that was fairly strong, maybe 20 riders. I stayed with them for most of the climb, but was tailed off with a few others before the top. I rode with one other guy for the next 30km or so, picking up riders from in front and a few catching us. We had a good bunch of six down through a valley on some larger fast roads, but then onto the next climb we had a whole heaps of riders join us from behind, including one of the other Aussie girls, Oenone Wood.
It was nice scenery through the hills for the last 50km, but I was a little tired to say the least! I struggled a tiny bit on the last climb and was tailed off at the start of the last descent - I sat up behind a guy putting his rainjacket on... and he turned out to be a gun descender and left me for dead! Oenone and I both got a flower at the finish line, and I was glad it was her they were trying to get some Italian out of. I tried to help her understand what he was asking, but she only could manage "Non parlo Italiano".
Claudio Chiappucci did the presentation! I was excited at the thought of getting given a bottle or two of wine from him, but the Italian girl we were with explained that we are professional riders, and therefore were not eligible to get the prizes - we had to settle for the flowers and a memorable day in the rain!
My next race is the Italian National time trial, next weekend, which is 20km long. The time trial bike feels AWESOME, and I'm looking forward to racing.
Chat to you soon,
Emma
Emma's racing exploits in 2002