The A.I.S. Women's Team is proudly sponsored by:











The Emma James Diary 2003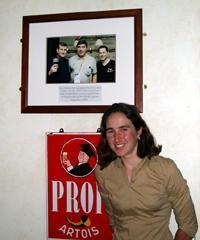 Emma and the Cannibal
Photo: © CN/Anthony Tan
Welcome to one of Cyclingnews' up-and-coming female talents, Australian Emma James. Emma's enjoying her second year as a scholarship holder with the Australian Institute of Sport (AIS) road cycling team, based in Tuscany, Italy. She's a gutsy rider who's decided that she'd rather be testing the waters of professional cycling than testing the salinity of the Sydney's waterways as an environmental scientist - which used to be her previous occupation before Emma decided to take the plunge.
Grande Boucle Féminine Internationale - Stage 6
August 3-17, 2003
Stage 6 - August 8: Vif - Davezieux, 129 km
The stage started with a nasty little climb in the first 10 kilometres, just to keep the organizers entertained I think. It was a climb we had done in a half stage last year, but the benefit of being familiar with the terrain did not seem to help. I just managed to hang on to the group at the crest, with Iturriaga (Aurora) disappearing into the distance. She had a minute or two advance on the peloton as we regrouped along as fast flat road. I wondered about how she would handle being out on her own for the next 120km!
There were a few attacks, with Bik riders being particularly aggressive, and others taking opportunities as they arose. Nothing seemed to be going, but the pressure had brought Iturriaga back to the group. I had a bit of a sore throat this morning, and had thought an easy ride might be a good idea, but this fairly flat stage had a good chance of being one for a nice little breakaway. The long stages, when everyone needs a bit of rest are perfect opportunities for those not fighting out the top GC places.
After a bit of action, Danish rider Christina Peick Andersen (SATS) launched up a little rise, and I followed. She eased up, and I rode hard over the crest of the little rise, with a fair few riders on my wheel. We got a shout from behind, and Rasa Polikeviciute (Aurora) came through to help establish the break. A hard turn from the SATS rider and me, and we were away. I was happily surprised to see so many teams represented. As they rolled past to do a turn with more and more riders from different teams I kept thinking "this could work!" There were only two teams not represented (Bizkaia and Aliverti), and two teams with two riders in the break (Pruneaux D'Agen, and France).
We worked well for a short time, with only the Velodames rider Hayeva not working. A few of the girls were really struggling, but I was not sure of it until they lost contact with the group early on the climb. We had a cat. 3 climb at about half way through the stage. Rasa took the opportunity to ride away from the rest of us. I was glad no one tried to follow her, as I was in a bit of trouble near the top of the climb - at least 50m off the back of the group trying to find a gear that would let me get over the berg with the group without my legs exploding. I somehow managed to get back to the little group, but Rasa was well and truly gone. She did the same thing to me last year in a stage where I finished 5th.
Rasa had another 60km to go, but obviously is not phased by that. She put three minutes into our group of nine with about half of us working. The gap from us to the peloton grew to eight minutes, which was quite nice for our GC placing, but a stage result was what I was after.
The group had given up chasing Rasa, and a few had given up even rolling through! We were not riding hard, but they wouldn't even pull a turn. Lame. There would have been no more than six riders working for most of the time! Everyone is tired but I thought the riders would be able to swap off smoothly like they had done it once or twice before.
With ten kilometres to go there was a sprint, and a bit of a climb. Our director, Dominique Chignoli suggested I have a dig if I had the legs. I told him I thought it was a little too soon, but when the terrain suits you have to take the opportunities. I laid off the back a little, and hit them as the climb started. I got a good gap, with Tina Liebig (Fanini) starting the chase, Margaret Hemsley (Nürnberger) and Anita Valen (Bik) caught me about a kilometre later on the climb. Margaret then attacked, and I let Anita chase for a while with me on her wheel but the gap stayed at about 50m for ages. This climb seemed to go forever. I didn't realize it was so long! I tried to get across to Margaret, but didn't have the legs to close the gap. Magalie Finot (France) joined us, and helped to close the gap just at the top of the climb with five kilometres to go. Elisabeth Chevanne Brunel (my teammate with Pruneaux D'Agen) was tailing Liebig on the climb, but Liebig did not get across to us.
Finot attacked a couple of times, but she was scared the others would catch us from behind, and was not willing to risk anything by forcing others to close gaps. She rolled through, and sat up to start saying 'come on everybody'.
There was a nice spot at the start of a 500m drag up the three km to go mark, so I attacked as hard as I could and kept it going as long as I could. Elizabeth Tadich, who was in the Aussie team for many years, and silver medalist at the Road Worlds in San Sebastian 1997, had once told me to break a little group on a climb near the finish it would have to be a 'real hurt yourself attack'. I was thinking about that as I struggled to push all the way to the crest. Only Margaret was with me at the top with two kilometres to go. We rolled through together holding off Anita Valen chasing behind. There was a bit of cat and mouse crap going on, but Anita was too close to do that.
After Margaret had attacked under the one kilometre to go banner, and I had got to her wheel, I had to roll through to ensure Valen didn't get to us. I led Margaret from about 600m to go and into the last corner. I made sure I was not in too big a gear, and I rode steadily, ready to react as soon as she jumped. She still had not made a move by the 200m to go mark, so I went as hard as I could, remembering everything I have been drilled on about sprinting mainly by my boyfriend Adrian. I held her off, by what I thought was a big margin until I saw a bit of home video footage later. (thanks to Alain Brunel).
We had photos all round with my teammate Elisabeth, our director Dominique, and James Victor (director of the Australian National team who look after me in Italy from March - October). Anyone would have thought I had won the stage with all the carry on! Rasa Polikeviciute had two minutes advance by the end, and had cleaned up taking the stage and moving into tenth on GC on a very long and hot day (38 degrees). Luperini had a dig on the berg into town, breaking the group, but with all the GC riders in a group of fifteen finishing about six minutes after me.
We had massages under the trees in a nearby park with music from 'La Band'a Leo' who play at the start and finish of each stage. Perfectly cooked Italian pasta was prepared by Alberto (Giovanna Troldi's partner), and meat and salad were arranged by our assistant chef, Sebastian. We left for a long 180km transfer well fed, wonderfully massaged and with plenty of cheerful chatter. A good day, and plenty more to come!