The A.I.S. Women's Team is proudly sponsored by:











The Emma James Diary 2003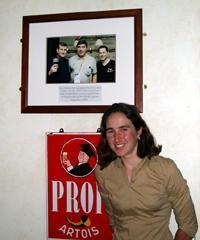 Emma and the Cannibal
Photo: © CN/Anthony Tan
Welcome to one of Cyclingnews' up-and-coming female talents, Australian Emma James. Emma's enjoying her second year as a scholarship holder with the Australian Institute of Sport (AIS) road cycling team, based in Tuscany, Italy. She's a gutsy rider who's decided that she'd rather be testing the waters of professional cycling than testing the salinity of the Sydney's waterways as an environmental scientist - which used to be her previous occupation before Emma decided to take the plunge.
Team player: Tour de l'Aude round-up
Tour de l'Aude Féminin, May 16-25
" I hate not racing hard. Riding the time trial like it doesn't matter is not much fun. "
It has been a while since I have done a diary entry for Cyclingnews. It has not been for lack of things to say, but not having a computer for a couple months made it difficult. I am now equipped with an Apple ibook, with Japanese characters on the keyboard (and normal letters!). I should have all it worked out soon, and be fluent in Japanese in about 1000 years time. I have nearly learnt the basic Hirigana characters - and am quite proud of my effort!
Tour de l'Aude in May was a solid racing block, with our focus on Olivia for GC, and ten days of the hardest racing you can find providing us all with lasting memories of the toughest challenges and most daring or successful moves. It was great to have Alison Wright and her racing experience to help our team. She looked after Olivia, covering moves and reliably controlling the aggression of the field. She was always looking for opportunities, and finished the tour with a second, third and fourth place in three stages.
Saturn's riders showed their strength in many stages, with Lyne Bessette in yellow early with a strong and daring move where she and Anita Valen bridged across to her teammate Manon Jutras, and they finished more than a minute up by the end of the stage. Nurnberger did not panic, confident and controlled, but Saturn had served up a brash, American-style show of force. The next day, Manon backed up to win the first half stage of the day in impressive style. She attacked in a strong head wind after about 15km which had all been flat out with all the teams having the same plan to race the short 45km stage as fast as possible, to cause as much pain as possible in the cross winds. She held the peloton off easily, winning by a about a minute as the other teams conceded a move well made, and rolled in thinking about the afternoon stage. Manon Jutras was awarded the prize for the best domestique or 'co-equipere' at the end of the tour.
Nurnberger's Judith Arndt rode the tour in a very controlled and experienced way. She had the strength to go with the big move on the major climbing day when Suzanne Ljungskog knew a lot of time could be gained or lost. Perfect all round talent to win the tour. A memorable sportsmanly move came when Mirjam Melchers dropped her chain and Judith pushed her for a fair distance. A strong contrast to the tactics of teams in Spain which drove a peloton to ensure the yellow jersey was lost over a puncture. A classy German winner.
Aussie girls first and second in the time trial stage was a memorable moment, and a sign of the strength of our top Australian women cyclists. Sara Carrigan took the win by a good margin, with Olivia ahead of the other top GC contenders with an awesome ride. Katie Mactier rode well particularly on the hardest climbing day, and finished in the top ten on GC as well as riding for Lyne Bessette through the tour. Alison's three top five stage results added to the notable Aussie performances.
I had some good days, and did all I could to help Olivia. Most of the time the role is to cover attacks, more defensive than aggressive riding. It is satisfying to do it right, and feel the control of knowing that the team has everything just how they want it, and the strength to play the moves. The times that it all went right made for some good racing, and spectacular opportunities. When we had all been aggressive in the final 20km of one stage, Olivia saw a chance to attack with a kilometre to go. She got a good gap, and could have got the stage and challenged the GC contenders a bit - caught them unaware. It got pulled back by other riders, but helped get Alison third in the stage.
Some stages were disappointing, caught out with bad bunch position occasionally, or just not being pushy enough in the bunch to ride in a controlling position for the team. I wasn't climbing well, and I hate the frustration of not racing with the front group. The big climbing days and time trial day were to be 'rest days' as much as possible to save ourselves to be able to do more to help on the flatter days. It does make a difference not to push as hard as you can each day, and try to save it all for a stage win or for a day when you can make a difference to how the race is played out. It works, I know, but I hate not racing hard. Riding the time trial like it doesn't matter is not much fun. Through the tour I began to feel stronger, but still not firing on all cylinders. It has taken me too long to fire up this season. The racing helps, and a solid three weeks training in the mountains at Livigno helped even more. It will all be okay if I'm flying for the last half of the season.
The night after our long drive back to Italy from Tour de l'Aude we went to Moderna to see Pavarotti and Friends, a big concert on a soccer field, with a huge stage and screens set up. It was a great night out with everyone. I had a week off the bike traveling in Switzerland with my boyfriend Adrian. Switzerland was wonderful. An amazing network of bike paths tempted us along every stretch of road we drove, and the country is gorgeous to drive through. Green and clean and full of natural beauty, and small villages with history oozing out of them! Definitely a place on my list for a cycle touring holiday, along with the south island of New Zealand, southern Victoria and Tasmania.
The Swiss holiday was followed by a training camp at Livigno, near St Moritz on the Swiss-Italian border. Really solid training, with plenty of 15km climbs, and great people to train with. The altitude factor might help too - I hope so. The days were perfect. Crystal clear, crisp mornings, and then in the afternoon beautiful sun tanning conditions before a storm or brief shower in the late afternoon. It was magic. There was plenty of proffie action - we even saw Lance (from about 200m), Brown, and maybe Zulle. The training should have me well prepared for the Giro in early July, and for the Grande Boucle (Women's Tour de France) at the start of August.
Ciao
Emma