The A.I.S. Women's Team is proudly sponsored by:











The Emma James Diary 2003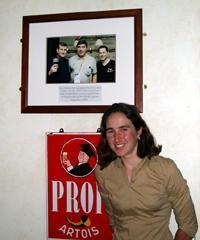 Emma and the Cannibal
Photo: © CN/Anthony Tan
Welcome to one of Cyclingnews' up-and-coming female talents, Australian Emma James. Emma's enjoying her second year as a scholarship holder with the Australian Institute of Sport (AIS) road cycling team, based in Tuscany, Italy. She's a gutsy rider who's decided that she'd rather be testing the waters of professional cycling than testing the salinity of the Sydney's waterways as an environmental scientist - which used to be her previous occupation before Emma decided to take the plunge.
Cento and Alfa Lum, San Marino
The week following the Giro was a time to recuperate a little. We did a couple days of easy riding, active recovery but not efforts or trying to force the pace. I rode to Parma, a beautiful town about 50 km from where we live. I rode steadily, and when I arrived at the main park in Parma, an old Italian man came up to me and said 'I can't believe that you are the same girl I saw an hour ago from my car so far from here!' It took me a while to understand what this man had approached me to say, but when I finally understood, and he said 'You must ride very fast to get here as quickly as me in my car!' He was satisfied when I told him we had just finished the Giro, and he gave me a guided tour of Parma.
I felt good on the bike, smooth and comfortable, fast as I spun an easy gear on my own. At times my over-active optimistic attitude could help me imagine that I was not too tired from the racing. The truth was I knew I needed to take it easy, and there was a constant reminder with a few of the other girls and staff sick with colds. A break for my mind was needed, and I was recharged with our trip to the opera Carmen in Verona, and a few nice dinners out with local Italian friends at new restaurants.
When the weekend rolled around we were heading back to Cento for our third race there in the last ten days. It was incredibly hot, and motivation was lacking on all fronts before the race. It is a race with 1000 Euro up for the win, and good money for sprints (50 Euro, 25 Euro) on offer each three laps during the 17 laps of the six km circuit. Luckily as we got into it, I found some strength, and hunger to race hard and go for the prize money. Oenone was second in the first sprint, and I took out the second one. Coming onto the cobbled finishing straight, I was first wheel, and was remembering Lorian explaining how hard she found it to hold the wheel in front when sprinting on the paving in the Giro. I was expecting someone to come from behind, but I just pushed as big a gear as I could, and basically led it out as hard as I could. I was a bit surprised that I won it. Given that Acca Due O had done a huge lead out the lap before one of the sprints, it is entirely possible the girls on my wheel didn't know there was 50 Euro on offer!
We continued on and I followed plenty of attacks on the bridges that pinched up over the river, and provided a good spot to feed us the 1000s of bidons we needed in the heat that day. We were lacking numbers compared to some of the strong teams that seem to have twice as many as us on the line. We could not cover everything, and luckily had the strong Russian Colnago Velodames team to pull back few moves that we also missed. I shadowed a few of the stronger riders from this team, knowing that a break without them would not go far.
The move I eventually go into, that looked like it might work for a while had two riders from Aurora 2002 (Rasa Polikieviciute, and Kachalka I think), two from Acca Due O (Zilute and Beltman), Russian (Valentyna Karpenko), me and a couple of others. Before the break had more than about 30 seconds, Rasa started attacking on the bridges. The first time she go away with Beltman, and we were forced to chase. The group did not work so well after that, with each of us watching the riders with team mates, and them expecting us to bury ourselves before they attack. We said away for a few laps, but it was not a comfortable combination. Zilute was by far the best sprinter, so Rasa had good reason not to take her too far up the road, but we needed to all work to get a decent gap to start with. I was pulled back with about three laps to go. Olivia was in the next more, and Chantal Beltman (Acca Due O) had an epic effort to attack this group and stay away from the chasing peloton. Chantal was caught with half a lap to go, and the last of Olivia's group just under the one km to go banner. This all worked in favour of Regina Schleicher who cleaned up for the day - 1000 Euro!
Pizza and racing
The following day we had a race in the San Marino province. We drove there after Cento, had pizza and risotto in the shopping complex, and then caught the end of the Tour de France stage as we arrived at our hotel. The late start the next day meant we had time to kill with the race lunch (pasta with a tomato sauce and then a spread of pig and cheese for those who did not know how hard the course was, or had strong stomachs).
Last year the circuit was incredibly tough, seven laps all up and down to give us about 2000 metres of climbing for the day! This year the circuit was shorter, and only four laps after a 50km fairly flat loop to start with. Most of us were feeling fairly miserable, with sickness, fatigue, and other things to make another day of racing in the heat so soon after all the stresses of the Giro not quite what we were up for. I'd had a hard day the day before at Cento, and knew that with colds going around I needed to not thrash myself too much. I decided to race as conservatively as I could. I hid as best I could, following attacks whenever I was in a position to go with them, but never initiating. This is not my normal racing style! It is an appropriate way to race on this circuit against much stronger climbers, where it is just a war of attrition, with only about a quarter of the field finishing (last year and similarly this year).
With three laps to go Jolanta Polikievicuite (Aurora) and Modesta Vzesniauskaite (Acca Due O), and Olga Kabelenskaia (Colnago Velodames) attacked over the GPM, and I had no chance of going with them from where I was in the bunch, and in my state of suffering at the time. The following lap, I was thinking how weak, and realistic it was that we were now racing for fourth, with at least two strong riders from each of the three teams up the road marshalling the front of what was left of the main group. Suddenly one of the Russians attacked (Kabelenskaia had been dropped from the other two in the break up the road). I went with it, along with Rasa Polikievicuite (Aurora) and Sigrid Corneo (Road Runner Guerciotti). We sat on as the Russian rider paced us up the main climb on the circuit. We were joined from behind by a few other riders, another Russian who took over pacing our group, and Noemi Cantele (Acca Due O), Barbara Lancioni (Road Runner Guerciotti) about seven all up. We were two minutes from the lead group, but the Russians rode hard to the finish, with only the odd attack coming. The group was reduced to just three in the last half of the last lap as the pressure was on along as section of false flat, and people just popped off the back, one at a time, blowing up and conceding another place. I struggled in patches, and felt good every so often, able to cover the move on the GPM, and keep my speed on to the last little pinch (two km to go) where I had though would give it everything, recovering on the descent to the finish. I didn't have to attack at that point! Rasa and Karpenko were riding hard enough, it was all I had to stay with them. I was thinking of how to cut under them in the final two hairpins (where I fell last year, and Lorian touched down this year!). I opted for the safer option, and charged into the sprint finishing 5th, just ahead of Rasa. The next couple groups came in a few minutes later, everyone glad it was over.
I headed to the showers, and quickly washed to head back for drug control (second time in two weeks). I had already used the toilet, so skulled as much as I could and tried every trick known to speed up the process. An hour later we were able to start our couple of hours drive back to Novellara. I missed the presentation, but we won heaps of wonderful stuff, food and a handy bag that I need for my next little journey - a trip to France in a couple days time!
I had tried to arrange a train ticket to get to Limoges in the centre of France. This involved a string of confrontations with Italian train station ticket sellers who seemed to think it reasonable to sell a ticket from Italy to a main station in France, and tell you to work the rest out from there when you arrive! I eventually found a travel agent who did it all wonderfully, up to the point where the courier lost the ticket the day before I left. In the end it worked out perfectly (and cheaper), but involved a thousand times more stress than it should have!
Next up is the Tour de Haute Vienne (in Limoges). I won it overall last year - but did not win a stage. I think I am riding better now than last year, but from the start list there looks like there is some good competition. It will be a interesting few days, with a prologue, and then three road stages.
A toute a l'heure
Emma