The A.I.S. Women's Team is proudly sponsored by:











The Emma James Diary 2003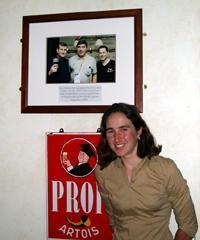 Emma and the Cannibal
Photo: © CN/Anthony Tan
Welcome to one of Cyclingnews' up-and-coming female talents, Australian Emma James. Emma's enjoying her second year as a scholarship holder with the Australian Institute of Sport (AIS) road cycling team, based in Tuscany, Italy. She's a gutsy rider who's decided that she'd rather be testing the waters of professional cycling than testing the salinity of the Sydney's waterways as an environmental scientist - which used to be her previous occupation before Emma decided to take the plunge.
Australian domination
GP Cavrie, Italy, April 13
Team Australia and spoils
Photo: © James Victor

After our trip home from Spain we were in for a two week block of fairly hard training. A few days into it the weather from Spain caught up with us again, and we faced cold wet rides, hard ergo sessions inside, and even SNOW. I think it is nearly 10 years since they have had snow in this part of Italy in April, so it had some novelty value for the locals and us, but it was seriously cold weather for a fair few days. I followed a few team mates in catching a cold, and had to take a mild antibiotic to kick the last of it, so my hard 600km/week training block turned into total recovery mode: a day off, followed the next day by an hour easy.
I came good a few days before our next race on a flat 3km circuit near Treviso in the north of Italy in a town called Cavrie. The girls who raced it last year remembered it because the Aussie train for a lead-out was taken down by a zealous Russian chopping under them in a corner with 2km to go. Half the team came down, and tempers flared. From all reports we were in for an interesting day at least! The prizes at circuit races in Italy are always an interesting combination of food (legs of pork, cheese and local wine), as well as huge trophies and other bizarre items from the generous local shops.
It was a beautiful day. Australian weather, honestly 25 degrees and sunny, but with the most incredible backdrop of snow capped mountains, with the Austrian alps only about 30km north. There were beautiful streams running through the towns, obviously fed from melting snow. We did a brief tour of Treviso after the race, and the centre of the town had a castle with a moat and fast flowing streams of undoubtedly chilling, fresh water.
James [Victor, AIS team manager and coach - Ed] was quite relaxed about this race. The focus is definitely on the world cup racing in Holland and Belgium in a week's time, but the national series racing in Italy is tough, and an excellent chance to get some racing in your legs. The plan was for Olivia and Oenone to keep it all together in the first half of the race, and the rest of us to take over after that, attacking and keeping Natalie Bates fresh for the sprint. Things don't always go to plan, and it was wonderful to see! Olivia was dominating and directing, leading Oenone out for the first sprint, and setting her up for the second one by letting the gap open up just over one km from the line. Oenone was on fire, winning the first sprint by at least 100m, and time trialing from the bunch for the second one.
It was the sort of inspiration and direction that the team needed. We were all well positioned to cover moves and to try to help set things up for Oenone to take more points in the intermediate sprints. We had seen some of the items up on the trophy table, and it seemed we were going to be taking a truck load home at this rate. There were a few particularly strong riders in the field, with Stahurstkaia and Schleicher from Chirio, about ten strong riders with Acca Due O - (both the grey & yellow sleeve teams) including Nicole Cooke, Katia Longhin, Diana Zilute, as well as a strong contingent from Michela Fanini, and of course the Australian team with a new addition (Chrissy Riakos joining the group for two months).
Coming into the third sprint Stahurstkaia was keeping a close eye on Oenone and the other Aussie girls, and seemed to be keen to make a move. She won that sprint, and Oenone chased her as she strung the bunch out for at least a lap with some pretty impressive power. The following lap Simone Parente from the Kookai team attacked and established a break of three with Nicole Cooke and Oenone. The gap got to 40 seconds in a couple of laps (according to check-point Dennis), as both the Acca Due O teams and the Australians slowed the group, both happy to have a good rider up the road. Michela Fanini riders kept attacking and trying to bring it back, but there were plenty of riders from the Aussie team and Acca Due O to cover moves and slow it for the three girls up the road.
Stahurstkaia pulled it back to five seconds a couple laps later, but Nicole Cooke attacked out of a corner as they were nearly caught, and she and Oenone went clear again. Very quickly the gap to the two out front grew to one minute, and nearly two minutes with just a few laps to go. We were organising ourselves to help Natalie for the final sprint. A Spanish girl from Kookai found a bit of gutter action in one of the corners, and with a rough lip on the edge of the road she came down just in front of me. I was not hurt (a little scrape on my elbow and back), and my bike was fine so I was quickly up, and chasing back to the group.
There were three laps to go, and a bit of confusion about when we were starting the lead out, but I was chasing back to the group as Emily Williams from our team was driving down the finishing straight. The bunch was strung out, which helped me a little, and soon I got back in a position to help. Natalie, Chrissy and Olivia were at the front of the group, and I led them through for a couple of kilometres with one lap still to go. About 500m from the line a girl from AccaDueO and one from Fanini attacked on the right hand side. I had to do everything to cover it and keep it together. They eased up just after the line as the bell was ringing for one lap to go, and as I started to take the corner confident they would not get away, they rode straight ahead - thinking the race had finished and they had just sprinted for third! I was a bit shattered, and not sure how we were going to keep this up with anything left to actually lead out the sprint!
With 3km to go on this circuit I should have just slipped in behind Natalie to recover for a moment as Chrissy took over. I drifted back a bit too far, and got trapped in as Olivia came up with 2km to go and took over from Chrissy. Olivia took Natalie to the 400m to go mark, but with a host of good sprinters lined up behind. Natalie did well to get ninth place, and if we'd had one more for the lead outů
Oenone had been swapping off with Nicole Cooke, and was ready to take her on - even on Nicole's birthday (the road, ITT and MTB junior world champion is only 20years old!) With a lap to go Nicole sat on Oenone, and into the finishing straight Oenone waited until Cooke went on her left, and then did everything she could to claw her back. She threw her bike as she crossed the line, and Oenone was declared the winner by a tyre width! It was an awesome result for the team, and everyone was happy with the team really controlling and dominating during the race.
Oenone won about ten plants of various shapes and sizes, mainly for the nine out of ten sprints that she won. Between Oenone and Natalie and James' prize as director of the winning team there was a truck load of prizes. Two beautiful baskets of fruit, plenty of wine, boxes of wood, a tin of paint, flowers, trophies, medals and some clothes including a thick pink-red cape, a large pair of gold flared pants, a classy black fitted shirt, some cycling shoes and a blue skirt!
We are all looking forward to racing the Amstel Gold in Holland next week, followed by a circuit race in Koln (with Ullrich racing the men's race on the same circuit), and the Fleche Wallone World Cup in Belgium a couple days later. The team is ready for action.