The AIS Women's Team Diary 2003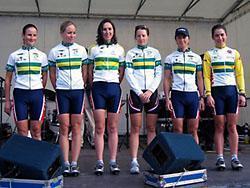 The team at Fleche Wallonne
Photo: © James Victor
Welcome to one of our more unusual diaries, with entries from the various members of the Australian Institute of Sport's Women's team as they conduct their European campaign.
With rising stars such as Oenone Wood and established power riders like Olivia Gollan, the team has been making a strong mark on the European scene this season. Under the management and coaching of James Victor that success looks set to continue for the year.
Emma's Giro d'Italia Femminile diary
Stage 7 - July 12: Meda-Meda, 122 km
Softening up the bunch for Sara
The race for today was changed from a course with three climbs, to another hilly circuit - about six climbs, but the climb was broken up into about three sections - so really it felt like 18 climbs to some of us! It was an incredibly tough day, I thought.
The first part of the climb was about a 200m section of cobbles which were very rough and so much better in some spots compared to other bits - there would have been a nice line to take somewhere. I didn't feel like I had much of a smooth run up there on any of the six laps. The cobbles continued into a plaza, and then there was a fast section of road, where the bunch was totally strung out most laps and really moving. I found myself always on the rivet trying to get a good sit on the wheel in front, and hoping gaps would not open up from riders dropping wheels ahead. There was a small descent before the road kicked up again with a couple of switch backs. Flat sections, followed by descents and climbs - probably four or five tough drags in the 15km loop which we had to do six times!
I was in a couple of moves, and one just before a climb showed me just how much nicer it is to start a climb with good position. It seemed nothing much would get away, with only a couple breaks getting much up the road. The pace would be on up the climbs most of the time, but the peloton seemed to regroup shortly after the climb, rather than the best of the climbers working together to stay away.
Into the last lap there were points were I was really feeling the pressure, and I briefly visited the convoy of cars following - With 10km to go, there were four from our team still in the bunch, and with flat roads to the finish the chance of a stage win was there. I was looking for opportunities to attack and get in a break (or at very least to soften the bunch up for other attacks from team mates).
With about 8km to go I followed an attack, and tried to launch off that, and keep the pressure on as long as I could. We got a little gap, but the other riders did not come through. The counter move came from Sara Carrigan, in the white jersey from our team. I was waiting to cover anyone who went to go with her but no one did! She got a huge gap really quickly. A few riders would chase for a bit, and then sit up - I tried to stay towards the front to be in a position to go with any further attacks, but it was really team riding from AccaDue and Itera building from about 5km to go that was pulling us closer and closer to Sara just up ahead. She was caught with about 500m to go, in the finishing straight, with the finish line in sight! The sprint was won by Olga Sliousareva, ahead of Stathurstkaia and Ziliute.
Sara had some good news at the finish to add to the emotion and effort of the day - a phone call to say she is confirmed with the Australian Team for the Commonwealth Games. It is great news because she is riding like a demon! The Aussies will be very hard to beat in Manchester!
Cheers,
Emma
Emma's racing exploits in 2002