The A.I.S. Women's Team is proudly sponsored by:











The Emma James Diary 2003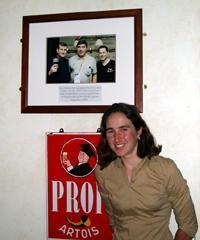 Emma and the Cannibal
Photo: © CN/Anthony Tan
Welcome to one of Cyclingnews' up-and-coming female talents, Australian Emma James. Emma's enjoying her second year as a scholarship holder with the Australian Institute of Sport (AIS) road cycling team, based in Tuscany, Italy. She's a gutsy rider who's decided that she'd rather be testing the waters of professional cycling than testing the salinity of the Sydney's waterways as an environmental scientist - which used to be her previous occupation before Emma decided to take the plunge.
A week on the Euro roller-coaster
Rund Um Köln, April 21
The race in Köln, Germany, was a great circuit crossing two bridges over the Rhine River and along the main streets and through the freeway tunnels in the center of the town. There was a good field of primarily German riders, the Nurnberger team the most dominant force, with Petra Rossner, Judith Arndt and plenty of strong team mates. The rival Next 125 team had a few strong riders supporting Tania Schmidt. Our Australian team was keen to get amongst it, but Olivia and Oenone were focusing on the Belgian world cup a couple days later, and recovering from the previous day's efforts in the Amstel Gold.
I was feeling good during this circuit race, and with the other Aussie girls we had all the moves covered. Natalie was in a break of about eight riders for a couple laps, and Chrissy Riakos was enthusiastically ensuring that we were represented in anything that moved. I had an opportunity at one stage after covering a few moves when Margaret Hemsley attacked to bridge across to Natalie's group of eight ahead. She was covered by a German National team rider, and I scurried after them. I looked behind as I got to them, and saw the bunch had sat up. In hindsight at this point I should have given 110 percent and ensured we extended our lead from the peloton - bridging across to my team mate in front. At the time I hesitated, not certain how strong a sprinter the German National team rider was, and believing Natalie to be one of the stronger ones in the group up the road. If we had got across - even with me doing more work that the others to get there, we would still be in a position to not work in the break and reassess the situation. Could have, would have, should have.
I got a sprint prime, worth 15 Euro at the end of the fifth lap. It had been strung out with attacks and counter moves as we came towards the finishing line, so it was more a teeth-gritting drive than a sprinter's effort to claim the prize. All good fun though - and a few extra bucks for the kitty! With a couple laps to go Hayley Rutherford (racing with the Australian team) and Madeline Lindberg (Nurnberger) had a good gap climbing up over one of the bridges. It was brought back by a Next 125 rider, with Petra on her wheel, and me one further back. From this point we were aggressive, but seriously out numbered! It seemed the full Nurnberger team were controlling everything and preparing for the lead out with five kilometers to go. No-one was feeling great for the sprint in the Aussie camp. We were all out of the top places, but luckily all avoided a couple nasty crashes in the last lap. The race was won by Petra. I would have liked to have had an Aussie lead out going. We could have got a few of the minor places in the sprint with something more coordinated.
We headed back to our hotel as the professional men began. Ullrich was already off the front by the second lap, and went on to win solo two minutes ahead of the field after an attack with 55km to go in the 200km covered in their race.
Flèche Wallonne, April 23
The next day we drove to Belgium, and stayed in an amazing old building, a bit like a castle. It was very close to the race circuit, but an expensive and bizarre experience. The meals were great, and held in a rather formal dining area. The rooms were large with high ceilings and en suites, but the bath rooms were quite unique! A carpeted floor, and no shower curtain, and a very short hand held shower attachment over the bath. The combination is not good for the afore mentioned carpet.
The following morning we woke to do a pre-start before breakfast. I wasn't feeling good at all. My legs felt weak and empty. I convinced myself that it was just the big gear set up on that ergo, but I was nervous and uncertain what I should do to get my legs to feel better. I rarely feel remarkably good or bad in a warm up, just consistently steady and strong. Today I was in for something different.
It was not a good day at all for me. I needed to protect myself as much as possible if I was to have any hope to stay with the group on the tough and undulating terrain. I backed off on the descents, and struggled on the climbs. I started to feel OK on the flat from time to time, but I was soon spent from chasing back to the peloton, and messing around in the convoy. It reminded me of when I was racing injured about a year ago. Convoy time is not what I had imagined I would be doing. I wanted to be in a position to help my team mates who were racing hard for good results. I pulled out half way through the race, headed back to the finish. Demoralised, I even found riding back at 25km/h hard.
The finishing climb is about 800m at 20 percent grade. I got there in time to see the first of the girls powering up the last 300m of the Huy! The crowd and the atmosphere was fantastic. Oenone was third, behind Nicole Cooke and Canadian Sue Palmer. It looked incredible. We had ridden it in training, and I was stoked that we would be racing up a climb with such history in the men's classics. The riders finishing were collapsing at the top. Oenone said she was lucky to have our masseuse Gabby there to catch her. Olivia was fifth, and impressively ahead of all the gun Euro climbers struggling together just behind.
We had a flight to catch an hour or so later, so it was a quick packing job and trip to the airport while Dennis our mechanic, and James prepared things for their long drive back to Italy with the race car and the truck with our bikes. We were met at Pisa airport, and were back at our Italian base a few hours later. It was a day of racing I was not satisfied with at all, but hopefully better legs for the next race. The other girls had done a wonderful job, with two in the top five from our team it was hard not to be cheerful.
GP Liberazione Donne, April 25
Our next race was two days later in Italy near Milan. It was celebrating the day of Liberation from World War II. We had about ten riders for our team for this race, and on a flat circuit we were ready to race aggressively and get amongst it. The circuit was about 10km around, and all up we had 110km to race.
In the first couple of kilometers there was a crash just off to my left. Lorian Graham, who is riding with our team for the next few months, came down. It was pretty unlucky for her first race in Europe for the year, but she bounced back up, and was racing hard for the rest of the day.
The race had split last year, with a group of eight getting away. We were hopeful for a similar scenario this year, with at least a couple Aussies in it. Despite aggressive riding, the flat circuit and large field of strong riders conspired against us. All of us were in moves at different times, and we always had riders covering and controlling. We were racing well together. At one point Oenone was in a move with a couple of others, which was brought back, so I countered as hard as I could for half a kilometer or so, and then as that was pulled back by the Prato team Olivia launched. It was great to see our team racing so dynamically - but it got us no where.
There was one crucial point on the circuit, a narrow goat track for just over one kilometer. This would have been the best point to orchestrate something. Send a couple up the road and block the chase as much as possible. Nothing short of that would see the field split that day. I was nervous that the Prato team was planning to do just that as we headed towards the narrow section with about four of their riders leading the peloton.
With 5km to go I was in good position, but closer to the last few corners and the crucial time for a lead out I was caught too far back. Holding good position at the business end of the race is an art. Bit more of it in me this year than last, but room for plenty more. None of us featured in the top places. The race was won by Diana Zilute (Acca Due O).
Tour de Berne, April 27, 2003
The next morning we left early for the long drive to Switzerland. We stopped by the side of a beautiful lake for a recovery lunch after a long wait in traffic for the Godhard Tunnel marking the border of Italy and Switzerland. There is only one lane in each direction, and traffic was banked up worse in the other direction, so we were not looking forward to the return trip at the end of a long weekend for Italians.
We drove on to arrive near Berne in the afternoon. We went for a ride along a fairly main road on the side of a lake in rather wet Swiss conditions. It was good to get our legs moving after a fair few hours driving for the day. We had a wonderful dinner that evening, and enjoyed the comfortable beds at the hotel.
We drove over part of the circuit in the morning on the way to the race. There were two main climbs. One was a fairly gradual drag for about a kilometer, and the other was quite steep, and about the same length. The wind was strong, so there was plenty of gutterball action making for a tough race. The circuit was 28km, with four laps to be done; 112km for the day.
In the first lap the field split over the steeper second climb, but regrouped in the following five kilometers. At the finish line there was a sprint with points and money on offer. I tried to help a few of my team mates to move up with a couple km to go, but I was still about 15th wheel with one kilometer to the sprint. Natalie Bates was near the front of the pack, and got some good prize money for second. I had miss timed helping her for the sprint, but took the opportunity to attack while the group was strung out. We got a small gap but it was all pulled back fairly quickly. The US T-mobile team launched a couple of moves, countering well. I went with Mari Holden and Alison Wright (RoadRunner Guerciotti), and I was happy to work with them. We were caught soon after, and onto the first more gradual climb, another T-mobile rider attacked. I was scared it was one of the better US climbers, as I was in no state to go with it! Luckily it was brought back steadily enough by the main field.
A little while later with attacks going, I found my self in a group with Oenone, Olivia, Alison Wright, Margaret Hemsley (Nurnberger), a couple T-mobile riders and a Prato rider, about ten all up. There wasn't much time to look at who was there. As soon as I knew Olivia and Oenone were there I knew that I had everything to work for and nothing to lose. I had not climbed wonderfully the previous lap, but I was feeling strong on the flat. There was a strong head wind. I rode as hard as I could, with James telling us the gap to the main field was growing. I blew, and a few others pulled turns, but as soon as I was sheltered again I was anxious to get back on the front and drive it. I knew I was unlikely to get over the climb if attacks went from this group. There were plenty of good riders not in this group, and they would have to pull back this break to get back into the race. I time trialed at the front of our primarily Aussie contingent for a few kilometers I reckon. Felt like forever, and into the head wind my speedo did not seem to recognize my efforts. It was effective though, and as we hit the hill the group had about 30 seconds. I tried to keep pace for the first part of the hill, but didn't have much left. The others tempo-ed past me like I was a weekend warrior on the rivet going backwards.
By the top I had climbed steadily and had nearly recovered. Nicole Brandli and another Prato rider came towards the GPM kite at the same time as me. I tried to jump on them, but realized quickly I had not recovered enough. The next group came though, and I slotted in, Emily Williams and Lorian Graham from our team were in this second group. At this point I should have got some food into me to recover. We had strong crosswinds to contend with, and half a lap later were onto the first gradual climb again. The pace picked up on this climb, and I blew to pieces! I crawled up, and was in the third group on the road by the crest of the climb. It was one of those climbs that you can really put the pressure on because they are fast, big gear, power climbs. Hated them at that point.
From there our race was over. We had a lap and a half rolling around, me still wondering if I could have stayed with the other group if I had done this that or the next thing! We still had radio contact, and could hear Oenone and Olivia were in a break with a T-mobile rider, and two riders from Prato - Brandli and Boubenakova. The details of the final climb where Oenone tried to cover a huge attack from Boubenakova, and then for the first time in the last couple months of racing world cups and being told to drive it up this climb, she had to say - I can't, I am spent. James was a little surprised at this response - first time Oenone has said it! Olivia claimed the mountain sprint, and was then away with Brandli and Boubenakova who had to drive it to stay away from Oenone chasing just behind. The last ten kilometers I would have loved to see. The director from the Prato team was out his car window screaming at his two riders as Olivia covered them trying to attack her one after another. James and Dennis were loving it. Olivia had two of the top riders in the sport covered as they one-two-ed her to the finish. The icing on the cake - she pumped them both in the sprint! Judging it perfectly into the headwind, Olivia came of the wheel with 150m to go and had a huge gap by the line. They even recorded a time gap to second place!
Olivia cleaned up totally, winning the sprint competition, the mountain prize, and the overall. Oenone did well to hold onto fourth. Emily had the second group totally under control. She attacked with Cathy Marsal and one other with a few kilometers to go, and won the sprint forsixth! The prize money for this race was better than for most races, and for one day we were on a good hourly rate - even split seven ways! The trip home went particularly quickly, with cheerful and satisfied riders, not much traffic, and a celebratory dinner waiting at the local pizzeria in the town near our Italian base.