The A.I.S. Women's Team is proudly sponsored by:











The Emma James Diary 2003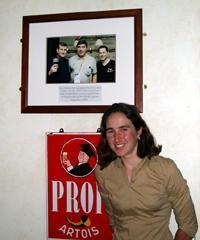 Emma and the Cannibal
Photo: © CN/Anthony Tan
Welcome to one of Cyclingnews' up-and-coming female talents, Australian Emma James. Emma's enjoying her second year as a scholarship holder with the Australian Institute of Sport (AIS) road cycling team, based in Tuscany, Italy. She's a gutsy rider who's decided that she'd rather be testing the waters of professional cycling than testing the salinity of the Sydney's waterways as an environmental scientist - which used to be her previous occupation before Emma decided to take the plunge.
Giro d'Italia Femminile, part two: Missed opportunities
Stage 6 - July 10: Jesi (AN) - Jesi (AN), 89 km
" I clipped her rear wheel, and came down like a sack of biosolids. "
We were up for a tough 90km circuit race, three laps of a hilly loop of about 30km. People were suggesting that it could be a day when GC moves would be made. I was feeling a little tired, my throat had been a tiny bit sore when I first woke up and I was lacking a bit of motivation to get ready before the start. James was keen for us to light it up as much as possible in the second lap, making it hard enough for the group to split and give opportunities to Olivia and Oenone to create havoc in the last lap and move up a few positions on GC. As the talk of racing began I started to find a bit of energy, and the desire to race overwhelms the fatigue from the week of racing. I think I even race better on days when I have been totally unmotivated and don't feel like racing an hour or two before the start. It hits me as I line up amongst the field, and the difference in motivation is incredible. Planning to win before I have clipped in!
In the first five kilometres Luperini (Aurora) attacked, and was covered by Jennifer Manefield (Australian Team). A few kilometres later the field picked up Jennifer, and reeled in Luperini as the attacks began. The rolling hills kept the group together for a while, with the attacks on each pinch not being quite enough to break the group. At the end of the first lap Schleicher had a quick touch down, sliding out on a metal manhole lid on the corner near the one kilometre to go mark. Into the second lap we did all we could to be aggressive. A few moments of frustration with team mates not seeing each other in breaks and chasing each other down, but generally aggressive moves and Aussies in all of them.
Halfway though the second lap, I gritted my teeth following an attack by Mari Holden up one of the steepest climbs. It had only strung the field out (and I was suffering) so I eased up and waited for the next chance. A couple kilometres later I hit the bunch and kept it going over a small rise. We had a nice group of about five, with riders from T-mobile, Aurora, Prato, and Acca-Due O. We worked hard for a while on the descent into the town, establishing the break with a gap of about 20 seconds.
Into the last lap with 30 km to go, Luperini joined us from the main field. James told me to do no work with the group, expecting action on the steep climb out of town, and riders to join us (Olivia and Oenone). Luperini attacked at the top of the climb out of town, and I went with her. I struggled a little to get to her rear wheel, but felt OK. James told me another few times not to work, and said there were attacks from the main field with Chantal Beltman and Hayley Rutherford coming across and a group of GC riders. Luperini was also one spot behind Olivia on GC (eighth and ninth). I was feeling strong, but aware that Luperini can climb, and I would have to give everything to stay with her on any of the steep pinches on the circuit. I did not work with Luperini, and as she yelled "Dai!" ('Give!' or 'Go!'), the others from our earlier break pulled us back. I should have at least rolled through to maintain the gap we had. If I had my chance again I would have worked, and explained to James later that it was a better option.
Our group of about six kept rolling, but the commitment to the break was not there. The gap had got to about 40 seconds, but if you don't work the main group will pull that back pretty quickly. I kept watching Luperini, knowing that even though she had a team mate in the group, she wanted the win, and would light it up on a sharp pinch soon. I convinced myself that being patient would pay off. I had worked hard at the end of the second lap, and a little rest now might be enough to ensure I had the energy I would need to go with Luperini when she attacked, and also to beat her in the sprint.
My dreams about winning the stage were rudely interrupted by a punctured rear wheel. There was no spares vehicle with us, and the commissaire seemed to be miles up the road. I tried to get the motorbike filming the race to understand what the problem was, pointing at my rear wheel, and holding my arm up to get the commissaire to call up a spares vehicle or at least tell our team car.
I tried to ride it for a while thinking of Olano winning the world champs riding a flat tyre in the last kilometre and holding off the chasing peloton. My rear wheel did not feel good on the corners! I was in a bit of a state of panic. This was not how I had planned for it all to go. I kept holding my arm up to call the commissaire, and pleaded with the motorbike to magically get me a new rear wheel and let me finish the stage and get a result. The other girls were attacking or surging a bit, and I tried to stay with them as best I could,hoping that a really fast wheel change might be an option. Another rider moved in front of me, while I was paying more attention to the motorbike. I clipped her rear wheel, and came down like a sack of biosolids.
I was left standing on the side of the road (wrong side for a wheel change), watching as the peloton rolled towards me, holding my wheel in the air, and hearing Olivia on the radio explaining to James that I must have had a mechanical. The group rolled past. I eventually got a spare after Dennis had to dive across the road through the convoy. The contrast in my motivation was even more different than before the start. I was so disappointed. I felt so sorry for myself. Road cycling is about taking advantage of opportunities, and the window had been slammed shut just when I had a chance to get a result. Good legs, right move, patience, PUNCTURE... not how I planned it. I sobbed back towards the finish, Natalie catching me from behind, and helping me to get back to the finish in a slightly less depressed state. This sport is bloody tough.
I had medical control, so headed down to pee in a plastic container. I had a couple of grazes that will last just long enough to keep reminding me of this stage and motivate me to ride harder with breaks that are the little opportunities that arise less often than I would like.
Regina Schleicher (Chirio) had won the stage (her third in a row), ahead of Stathurstkaia (Chirio) and Olivia Gollan (Australian Team). Olivia had even managed to get a little gossip from the podium that suggested not all was well in the Chirio camp despite their three stage wins in a row, and their team still held the points jersey (Stathurstkaia).
Ciao
Emma