100th Paris-Roubaix - CDM
France, April 14, 2002
Photography
Paris-Roubaix 2001 images Champions in Hell - Paris-Roubaix winners 1896 - 1950
Race day - Museeuw's roar
Photography by Fotoreporter Sirotti
Photo's by Jeff Jones
AFP photographers slipped and slid their way across the pavé with the peloton
Riders take to the cobbles
AFP snapped these riders practising on the Paris-Roubaix parcours
Images from Paris-Roubaix 2001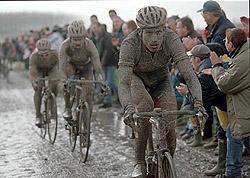 George Hincapie (USPS), we've seen him happier.
Cyclingnews Reader's Choice Picture of the Year 2001
The following photos are courtesy of Fotoreporter Sirotti:
More Paris-Roubaix 2001 photos
Champions in Hell - Paris-Roubaix winners 1896 - 1950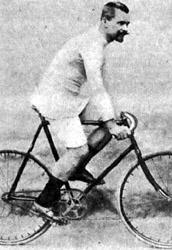 Josef Fischer (Ger)
winner - 1896
An archive of the faces that made the Paris-Roubaix tradition. With the 100th edition of Paris-Roubaix, now is a good chance to look back at the original champions of The Hell of the North.
Thanks to Roger Thomas for supplying these photos.