Interviews & Features
2009
Ten former mountain bikers who've gone to the road
Tracy Moseley: Defying gravity
Ten must-know cross country mountain bikers
Training in Tucson: Mountain bikers follow the sun
Martin Whitley: Behind the scenes of mountain bike management
2008
Jakob Fuglsang: Switching sides
Lea Davison: A breakthrough season
Matt Fritzinger: Schooling the next generation
News feature: American MTB series reinvented
Caroline Buchanan: Buchanan-ball run
MTB World Cup: Inside Canberra's grueling course
Christoph Sauser: World champ readies for Olympics
News feature: Olympic MTBers tackle tougher course
Mary McConneloug: Keeping the balance
News feature: Mechanics support US Team
Jose Antonio Hermida: Olympics - take three
Georgia Gould: Going fast on the way to Beijing
Adam Craig: A second Olympic quest
News feature: Great Divide racers get second option
Irina Kalentieva: Riding with her head
Kelli Emmett: Hitting her stride
Julien Absalon: Staying on top
Sabine Spitz: On the trail
Gunn-Rita Dahle FlesjŚ: Back to the beginning
Todd Wells: A world of potential
Cape Epic: A day in the life
Alison Dunlap: Cycling in retirement
Rebecca Rusch: A new adventure
News feature: The American road to the big show
Chloe Forsman: A Luna star in the making
See more interviews and features from 2002 - 2007.
Tech Features and Pro Bikes
2008
Pro Bike: Lance Armstrongís Trek Top Fuel 9.8
On test: Pivot Cycles Mach 4
On test: Scott Spark ultralight XC racer
On test: Trek Fuel EX 9.5
Pro Bike: Kelli Emmett's Giant XTC Advanced
On test: Gary Fisher Procaliber
Pro Bike: Sam Schultz's Gary Fisher Superfly
Pro Bike: Heather Irmiger's Gary Fisher Genesister Hardtail
Pro Bike: Todd Wells' GT Bicycles GT Zaskar Carbon
Pro Bike: Travis Brown's Trek 69er HT
World Cup Race Tech: Epic tech from Houffalize
Pro Bike: Irina Kalentieva's Topeak Ergon Rotwild Team R.R2
Pro Bike: Chris Eatough's Trek-VW Trek Top Fuel
2009 Product Launch: Fox Racing Shox
2009 Product Launch: Magura
Pro Bike: Gunn-Rita Dahle FlesjŚ's Multivan-Merida Merida Ninety-Six

See more tech features from 2005-2007.
Diaries

Christoph Sauser (2009 - present) Index
Last summer, Christoph Sauser fulfilled a long-time dream when he became the mountain bike cross country World Champion. The 33-year-old Swiss rider of Team Specialized Factory Racing is racing in the rainbow stripes as he works toward a goal of defending his championship title in Canberra, Australia.
Going into the 2009 season, Sauser counted 14 UCI World Cup wins, and he has twice been the World Cup overall champion - in 2004 & 2005. He can go fast over long distances, too. Sauser won the mountain bike marathon World Championships in 2007 and finished as the runner-up in 2008.
Follow Sauser's travels around the globe as he races the World Cup cross country circuit and some marathon and stage races throughout 2009.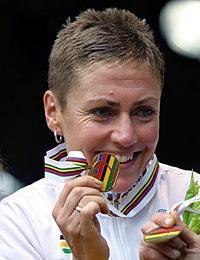 Gunn-Rita Dahle diary (2005- present): Index
Norwegian cross-country mountain bike racer Gunn-Rita Dahle FlesjŚ made an impressive comeback last year after sitting out much of the previous season due to illness. In 2008, she won the Madrid, Spain, round of the UCI World Cup and the UCI Marathon World Championships and finished 12th in the World Cup final standings.
Dahle FlesjŚ will take on a new challenge in 2009 when she gives birth to her first child, expected in late March. With the support of her husband Kenneth FlesjŚ and her family, she aims to return to competition within a few months after becoming a mother.
Don't count her out for the late season World Cups and World Championships races. She was World Champion in 2002, 2004, 2005, and 2006, plus Olympic champion in 2004. In 2003 to 2006, she dominated the sport, winning the World Cup overall.
Mary McConneloug & Mike Broderick diary (2006 - present): Index
MTB "super-couple", US National cross country champion Mary McConneloug and Mike Broderick live together, train together, travel together and race together. They also share this diary on Cyclingnews.
Follow their adventures as they race the World Cup cross country circuit throughout 2009. Enjoy the unique, professional racing style of these two accomplished racers and world travelers.

Team TORQ diary (2008 - present) Index
The UCI-registered Australian TORQ/VIS mountain bike team team, features some of Australia's top racers and future stars, including VIS scholarship recipients Tory Thomas, Robbie Hucker, and Cal Britton, Olympian Dan McConnell, and James Maebus, Katherine O'Shea, Joanna Wall, Luke Fetch, Steele von Hoff and Paul Weymouth.
TORQ racers are targeting the Australian MTB National Series, National Championships and Oceania Continental Championships. The team's top priority is racing Olympic distance cross country events, but it is also mixing things up with some short track, marathon and endurance events - and maybe even some road races. Some members will head abroad for the World Cups – an important part of Australian national team selection process for the 2009 World Championships to be held in Canberra, Australia. They take turns sharing their experience in this diary.

The Geoff Kabush diary (2004 - present): Index
A born and bred Canadian, Geoff Kabush, is known for racing his bike fast and having fun. He races mountain bikes, cyclo-cross, sometimes road and is flying the Team Maxxis-Rocky Mountain banner in 2009. After playing every sport in high school, Kabush decided to take racing seriously after attending his first Mountain Bike World Championship as a junior in 1995. Attending the University of Victoria and studying engineering he slowly moved through the ranks until a breakthrough in 2000 saw him representing Canada at the Sydney Olympics. After consistently being on the podium for several years, it wasn't until 2004 and a switch to Team Maxxis that the wins started piling up.

Eddie & Namrita O'Dea diary (2008): Index
Eddie and Namrita O'Dea are two married racers balancing the demands of professional racing and training for and even the promoting of endurance races. The Vassago Cycles-sponsored duo will travel the US national circuit of 24 hour solo events in 2008 while dropping in on assorted 100 milers and 12 hour races in between.

Keith Bontrager diary (2005 - 2008): Index
Keith Bontrager is best known as the bike and component design guru behind his eponymous road and mountain bike components, but behind the scenes the man universally known as KB is an enthusiastic and well-respected endurance mountain bike racer. KB has taken part in over 50 24-hour races in the last few years and helped promote some, too, and in his diary takes us inside the mental, physical and technical challenges of long-distance mountain bike racing.
Recent results
See the front page for the most recent MTB results
Major Races and Events - 2009
2009 UCI World Cup
April 11-12: XCO #1 & DHI/4X #1, Pietermaritzburg, South Africa
April 25-26: XCO #2, Offenburg, Germany
May 2-3: XCO #3 & 4X #2, Houffalize, Belgium
May 9-10: DHI #2: La Bresse, France
May 16-17: DHI/4X #3, Vallnord, Andorra
May 23-24: XCO #4, Madrid, Spain
June 6-7: DHI/4X #4, Fort William, Great Britain
June 20-21: DHI/4X #5, Maribor, Slovenia
July 25-26: XCO #5 & DHI/4X #6, Mont-Sainte-Anne, Canada
August 1-2: XCO #6 & DHI/4X #7, Bromont, Canada
September 12-13: XCO #7, Champery, Switzerland
September 19-20: XCO #8 & DHI/4X #8, Schladming, Austria
2009 UCI World Championships
September 1-6: World XCO/DHI/4X Championships, Canberra, Australia
August 23: World Marathon Championships, Graz-Stattegg, Austria
2009 US Pro Cross Country Tour (ProXCT)
March 28-29: Fontana National, Fontana (California)
April 19: Sea Otter Classic, Monterey (California)
May 31: Bump & Grind, Birmingham (Alabama)
June 13: Sand Creek International Classic (Colorado)
August 8-9: Snow Shootout, Mount Snow (Vermont
August 15-16: Windham Cup, Windham (New York)
September 26: US Cup Unification Final Race (Nevada)
2009 US Pro Gravity Tour (ProGRT)
May 1-3: Fluidride Cup - Port Angeles, Washington (DHI) (NE)
May 23-25: Chile Challenge - Angel Fire, New Mexico (DHI/4X)(2)
August 8-9: Blast the Mass - Snowmass, Colorado (DHI/4X)(2)
August 15-16: Yankee Clipper at Windham Mountain, Windham, New York (DHI/4X)(1)
August 29: Whiteface 5K, Wilmington, New York, (DHI) (NE)
2009 US Cup
US Kenda Cup East
May 5: SERC #5, Ducktown (Tennessee)
May 31: Bump & Grind, Birmingham (Alabama)
June 7: Hoo-Ha!, Massanutten (Virginia)
June 21: Cowbell Challenge, Davidson (North Carolina)
August 8-9: Snow Shootout, Mt. Snow (Vermont)
August 15-16: Windham Cup, Windham (New York)
US Kenda Cup West
March 1: Bonelli Park, San Dimas (California)
March 28-29: Fontana National, Fontana (California)
April 5: Sage Brush Safari, San Diego (California)
April 19: Sea Otter Classic, Monterey (California)
April 25-26: Santa Ynez Valley Classic, Los Olivos (California)
June 13-14: Sand Creek International (Colorado)

2009 US National Ultra Endurance (NUE) 100 miler Series
April 25: Cohutta 100 (Tennessee)
May 30: Mohican 100 (Ohio)
June 20: Lumberjack 100 (Michigan)
July 18: Breckenridge 100 (Colorado)
August 1: Wilderness 101 (Pennsylvania)
August 15: Fool's Gold 100 (Georgia)
September 6: Shenandoah 100 (Virginia)
September 12: Tahoe-Sierra 100 (California)
2009 US Mountain Bike National Calendar (MBNC)
Cross Country
March 28-29: US Cup - Fontana (California) (XCO)
April 16-19: US Cup - Sea Otter (California) (XCO)
April 26: Greenbriar Challenge (Maryland) (XCO)
May 2-3: Idyllwild Spring Challenge (California) (XCO)
May 31: Bump & Grind (Alabama) (XCO)
June 7: Massanutten Hoo Ha! (Virginia) (XCO)
June 13: Sand Creek International (Colorado) (XCO)
June 20-21: Subaru Cup (Wisconsin) (XCO, SR)
July 16-19: US National Championships (Colorado) (XCO, XCC)
August 8: US Cup - Mount Snow (Vermont) (XCO)
August 15-16: US Cup - Windham Mountain (New York) (XCO)
September 5-6: Laddies Loppet (Minnesota) (SR)
September 26-27: Cactus Cup (Nevada) (SR)
September 26: US Cup / ProXCT Finals (Nevada) (XCO)
October 24-25: Piney Hills Classic (Louisiana) (SR)
Ultra-Endurance
February 14: Mas o Menos 100km (Texas) (XCM)
February 21: 12 hours of Santos (Florida) (12h)
March 7-8: Spa City Extreme (Arkansas) (XCM)
May 9: Dirt, Sweat & Gears (Tennessee) (12h)
June 20: Cowbell Challenge (North Carolina) (12h)
July 4: US Marathon National Championships (Colorado) (XCM)
October 16-18: National MTB Oktoberfest (North Carolina) (8h)
October 24-25: US 24 hour national championships (Arizona) (24h)
Gravity
February 14-15: All Mountain Cyclery Mob N Mojave (Nevada) (DHI)
May 1-3: Fluidride Cup (Washington) (DHI)
May 9: Massanutten Yee-Ha! (Virginia) (DHI)
May 23-25: Mountain States Cup: Chile Challenge (New Mexico) (DHI)
July 16-19: US National Championships (Colorado) (DHI/4X/DS)
August 8-9: Mountain States Cup: Blast the Mass (Colorado) (DHI/4X)
August 15-16: Yankee Clipper at Windham Mountain (New York) (DHI/4X)
August 30: Whiteface 4th Annual 5k Downhill (New York) (DHI)
Local results archive


Mountain Bike Calendars & Results
2009, 2008, 2007, 2006, 2005, 2004, 2003
Cyclingnews archive: before 2003
2009 Major Races
UCI World Cup (series)
UCI World Championships
US Pro Cross Country Tour (series)
US Pro Gravity Tour (series)
US Cup (East & West) (series)
US National Ultra Endurance (NUE) (100 miler series)
US Mountain Bike National Calendars (MBNC series)
2008, 2007, 2006, 2005, 2004
Mountain Bike (MTB) News & Racing Round-ups
2009
Saturday, June 13
MTB News & Racing Round-up - US ProXCT finale may get earlier date, Chengyuan takes third Chinese title, Kugler signs for Multivan Merida, O'Deas back to regular racing, Avanti signs Leary, Mary McConneloug Pro Bike: he unsinkable battleship, New York gravity race series happening this weekend
Friday, June 12
MTB News & Racing Round-up - US Cup ProXCT heads to the Rocky Mountains, Tour Divide kicking off, Peat & Atherton head star field at European Downhill Champs in Slovenia, Mountain Bike Australia assumes management of national series, New stage race planned for Pisgah in North Carolina, Gravity East Series to Pennsylvania, DCM racers ready for Induna marathon
Friday, June 5
MTB News & Racing Round-up - Felt ends team sponsorship, World Cups draw many thousands, Massanutten hosting next eastern US Cup, Racer Bikes cup heads to Granichen, Meet ten former mountain bikers who've switched to the road, Schurter goes long, Geoff Kabush diary, Gravity East Speedweek starts at WISP, Race Face auctions custom cranks for Dirt Series Scholarships
Wednesday, June 3
MTB News & Racing Round-up - Bishop unseats Schalk from throne while Shogren dominates Mohican 100, Taberlay & Pendrel sprint to Bump'n'Grind victories, ProXCT standings updated, American Riffle blazes to Verbier first, McGrath takes Jamis to the podium, Five in a row for Fullana, Barel back on track, Reade out due to injury, Topless downhillers win 10 Under The Ben
Saturday, May 30
MTB News & Racing Round-up - Top North Americans get ready to Bump n' Grind, A good report card for Pietermaritzburg, Two out of three Athertons on the mend, SRAM breaks the 2300g barrier with new XX mountain bike group, IMBA seeks support for opening Marin trail to mountain bikers, Mike Broderick & Mary McConneloug diary, Mather & Bennett outclass for wins at Anaconda MTB Enduro, Wildside 2010 registration opens
Friday, May 29
MTB News & Racing Round-up - NUE Series heads to Ohio for Mohican 100, Fullana victorious at home while Absalon wins again, Trek overhauls cross country rocket ship, Peat collects eighth Lisbon win, Killeen tests his form, Sawicki chases new 24-hour Guinness World Record, DCM Chrome goes to England, Gunn-Rita Dahle Flesjaa diary, Record numbers to 10 Under the Ben
Sunday, May 24
MTB News & Racing Round-up - World Cup racing returns to Spain, Atherton recovers post-surgery, Enough racing for Payet, Introducing the Sauser diary, World Champs getting ready to go Down Under, South African series concluding in Pretoria, Reality TV goes mountain biking, Remembering retired pro Steve Larsen, Top field for Anaconda Enduro, California crowns high school champions, Kovarik & Co. for BikeRadar slalom
Wednesday, May 20
MTB News & Racing Round-up - Peat breaks downhill World cup win record, Two victories in a row for Jonnier, Kurschat takes birthday win in Bundesliga, Osl goes it alone, US Open draws downhillers from around the globe, Moseley defying gravity, Team Torq diary, US Gravity Tour to Rocky Mountains, Team Maxxis / Rocky Mountain to British NPS#2, California series adds Shasta race, BikeRadar Live: Minnaar to race dual slalom
Saturday, May 16
MTB News & Racing Round-up - Gravity World Cup action returns to Vallnord, US Development Team excels in Europe, Kurschat voted German cyclist of the month, Reade to make mountain bike debut, Team Torq diary by Cal Britten, SoCal School League hires executive director, Free "Kliniks" coming to Georgia & Colorado, BikeRadar Live: Bryceland to race in MBUK slalom
Thursday, May 14
MTB News & Racing Round-up - Peaty ties World Cup win record, Jonnier triumphs at home, Strait collects career-best, Graf positive for blood pressure medicine, Bishop & Rusch win DS&G in awful conditions, Youngsters capture first elite wins Saalhausen, Friedel & Pendrel victorious in Jelenia Gora, Mike & Mary diary, McClendon & Burch win Yee-Ha!, La Ruta changes, TransAndes registration opens, California leagues to meet at state school champs, BikeRadar Live: Lopes for dual slalom
Saturday, May 9
MTB News & Racing Round-up - Neethling among growing crop of top South African downhillers, Moseley & Minnaar return to World Cup in La Bresse, Dirt Sweat & Gears draws record numbers, Dalby Forest holds World Cup test event, Racer Bikes Cup to Solothurn, Massanutten kicks off Gravity East series, New West Virginia trail system of the year program, Cowpie Classic concludes SoCal League series, BikeRadar Live: Sign up for night-time enduros
Thursday, May 7
MTB News & Racing Round-up - Absalon & Fullana amaze in Houffalize, Graves logs second World Cup win, Atherton to undergo surgery, Felt Team faces problems, Taberlay & Sawicki win Idyllwild, Keene & Holden capture first ProGRT at Fluidride, Peat a dad again, Grand opening: Allegrippis Trails, West Virginia Association sponsors trail system award, Sand Creek Series starting, Netti MTB Enduro, Kovarik & Co. for BikeRadar Live dual slalom
Thursday, April 30
MTB News & Racing Round-up - Absalon launches solo assault in Offenburg, Ren comes back for World Cup win, Schalk & Lowery take opening NUE 100 miler, Taberlay breezes to victory & Carey comes from behind in Santa Ynez, Team Jamis adds two, Aussie marathon champs rescheduled, Greenbrier victors collect series points, Michaux Endurance Series, Athertons to MBUK Eliminator slalom at BikeRadar Live
Friday, April 24
MTB News & Racing Round-up - Cohutta 100 kicks off NUE, Gould & Sauser overcome Sea Otter heat, Brentjens presents team, South African marathon to Oudtshoorn, Näf & Kalentieva win Bundesliga round, Killeen coming back, Vogel gains confidence with Swiss win, European Downhill champs open to non-Euros, Greenbriar Challenge, Mike & Mary diary, Tipping Point double premier, New Kiwi team, Economic stimulus for mountain bikers, Minnaar to BikeRadar Live
Wednesday, April 15
MTB News & Racing Round-up - Minnaar maximises home soil advantage, Hannah's back, A perfect birthday for Moseley, Osl surprises in South Africa, Hermida ends World Cup drought, Aussie 24-hour solo championship comes down to the wire, Titletown Flyers team kicks off first season, Cycle Epic registration open, BikeRadar Live: Bryceland to race in MBUK Eliminator slalom
Saturday, April 11
MTB News & Racing Round-up - South Africa hosting Africa's first triple World Cup, Downhill World Cup action underway, 10 must-know World Cup cross country racers, TransAlp to visit two new towns, American wins Indian stage race, World Mountain Bike Conference cancelled, Australian juniors for 2009 worlds, British downhill series gearing up, Terra Australis a success, Team Torq diary
Thursday, April 9
MTB News & Racing Round-up - Felt Team cancels contract with Martinez, Näf sidelined by illness, Kurschat surprises & Wloszczowska wins in South Africa, Barel injured, Team Massi to World Cup, Taberlay & Sawicki win Sagebrush Safari, Graf & Osl capture Swiss opener wins, Bundesliga starts with U23s, Scott11 backs new gravity team, Aussie 24-hour championships, Lopes in BikeRadar dual slalom action, Norcal round three
Friday, April 3
MTB News & Racing Round-up - Talented cast set for Swiss series opener, US Cup adds Triple Crown short track, Vanthourenhout ambitious for Averbode, Torq Allstar works to regain lead in Terra Australis, British 4X series kicking off, Freedom Riders premiering at Sea Otter, Mary McConneloug & Mike Broderick diary, Team Torq diary, Countdown to New Zealand singlespeed champs, US Open MTB Relay renamed, GearJammer registration open
Wednesday, April 1
MTB News & Racing Round-up - Kabush and Gould continue winning ways in Fontana, Bulls capture Cape Epic, Gutierrez keeps on winning, Fullana & Mantecon successful in Cordoba, One downhill world champ in & one out for opening World Cup, Trek's teams boast seven wins and counting, Dahle Flesjaa becomes a mom, Terra Australis turning into three-way tussle, Dirt Sweat & Gears
Thursday, March 26
MTB News & Racing Round-up - Sauser, Stander dealt Epic blow, Bulls pop into Epic lead, Olympic champion to race Pietermaritzburg MTB World Cup, UCI closes team registration, numbers down slightly, Plaxton joins Sho-Air/Specialized, Former 4X rider Llanes aiming for Ironman success, First US PRO XCT - Kabush undefeated in Fontana, Iron Horse sale negotiations still underway, Olympian takes Oceania cross country title, BMXer claims Oceania men's downhill win, Meet Vouilloz at Glentress Demo Day
Friday, March 20
MTB News & Racing Round-up - Zakelj overcomes serious accident to return to racing, Hopefuls support Dalby World Cup bid, Countdown to Cape Epic, Sauser's Epic cause, Preview the Oceanias, Chilean favorites have high hopes for Pan Am Championships at home, Team Jamis opening season at Pan Ams, MonaVie-Cannondale adds four, Sho-Air signs Plaxton, DS-Rennsport team continues, Team Torq Diary, New Terra Australis, US Cup adds fun rides
Wednesday, March 18
MTB News & Racing Round-up - Wiens to defend Leadville 100 title against Armstrong and possibly Landis, Nash cancels retirement plans, DCM Chrome team supports South African talent, Bromont World Cup facilities getting upgrade, Gutierrez defeats two Olympic champions in Italy, South African national titles awarded, Rysenko collects birthday victory while Engen wins again in Cyprus, Gunn-Rita diary, Motatapu Icebreaker win streak ends
Friday, March 13
MTB News & Racing Round-up - Pro mountain bikers train better in Tucson, Paulissen leading Cannondale Factory Team, Cyprus Sunshine Cup concluding in Voroklini, Huber & Zahnd teaming for Cape Epic, Scott-Swisspower kicks season off successfully, iXS European Downhill Series, Record may fall at Motatapu Icebreaker, Whiskey Off-Road adds concert, Mountain X-Bike series starts, Burn 24 hour changes, Team Ghost Scheiderbauer seeking young talent, Introducing the Cyclingnews Forum
Wednesday, March 11
MTB News & Racing Round-up - Fullana repeats while Alvarez clinches win in Spain, Many slowed by flats at Maremma Cup, Olympians try unusual downhill in Netherlands, US Cup serving downhillers too, Gravity East expands dual slalom series, Massi downhillers start season, USAC Ultra-Endurance Calendar standings updated, WBR-Siren Bicycles adds Wallenfels & Harris, California high schools kick off season, Introducing the Cyclingnews Forum
Saturday, March 7
MTB News & Racing Round-up - Absalon making season debut in Banyoles, Osl delighted to team with role model, Costa Rica picks Pan Am roster, Evil Bikes & MS-Racing join forces, UCI registered teams for 2009, New Zealand's longest-running race draws 1300, Bryceland captures first pro victory, Pietermaritzburg to host Tipping Point premiere, Aussie nats to South Australia, Thomson memorial & St. Patty's Day Feast, Sawicki adopts a team, Ouchterlony proves he's recovered
Thursday, March 5
MTB News & Racing Round-up - Fullana & Mantecon win muddy Spanish opener, Lechner & Fontana successful at first Maremma Cup, Lindgren sweeps at Afxentia, Norris continues winning streak, RoadCraft triumphs at inaugural New Zealand stage race, Taberlay plays team tactics, Gunn-Rita Dahle Flesjaa diary, Bishop becomes a dad
Saturday, February 28
MTB News & Racing Round-up - Massi presents DH and XC teams, Athertons launches new team look, Full Dynamix presented, German XC series set, New US downhill series unveiled, Spy photos of SRAM's XX group, Mary McConneloug diary, World-class designer unveils new trails at Mt Buller, Catskills stage race proposed, MTBA meets bush fire donation target, Northern California series
Wednesday, February 25
MTB News & Racing Round-up - Sunshine Cup opener looks blue & yellow, Jongewaard repeats while O'Shea makes her mark at Anaconda Odyssey, Leov & Jonnier claim final South Island Cup win, Australian Marathon champs postponed, Giant Italia gets first win & adds a rider, Mountain biking declines in eastern US, Counting down to New Zealand's first stage race, Torq diary, Three US development camps scheduled
Saturday, February 21
MTB News & Racing Round-up - Bulls the target at Sunshine Cup opener, Rocky Mountain & Maxxis back new team, Topeak Ergon bolsters roster, Kessiakoff excels, Coenen faces surgery, Trail master passes away, USAC calendar Texas & Nevada openers, Canadian stage races add solo categories, Record-setting Anaconda Odyssey, Park leading free clinics, Queensland city reconsiders ban, Sand Creek Series, Original Bicycle Festival, NorCal series start, No chains needed
Friday, February 13
MTB News & Racing Round-up - 24 hours of Old Pueblo celebrates 10 years & honors Wiens, Australian team to showcase Tasmania, Under 23 racer Norris collects three consecutive wins, Diamondback sponsors Harrison, New Zealand MTB Cup heads to Queenstown, MTBA assisting bush fire victims, Trans Germany adds climbing classification, US National Calendars crank up, US Open makes changes, WVMBA Ultra Series, Oregon state series
Wednesday, February 11
MTB News & Racing Round-up - US 24-Hour national championships get a new host, Shoe problems pose extra challenge for Stander, Sharratt & Hamer win in Timaru, Olympic champion Spitz confirmed for Sunshine Cup, Stewart cleared to race, Coenen diagnosed with serious health problem, Chilean team wins TransAndes Challenge, Wildhaber fastest at Urge Kenya downhill, Marathon Challenge Offenburg nearly sold out
Saturday, February 7
MTB News & Racing Round-up - Luna women's team back in action sans Nash, Hagen calls it quits, Fumics leaving Germany for Croatia, Jamis backs new XC squad, New Zealand Cup to Timaru, Sauser picks up sponsor, Stander sticks with Mr. Price, De Brink-Ten Tusscher presents team, Maxxis Cup scheduled, "Gravity Triple Bill" set for Slovenia, Bikes Belong awards US$50,000
Friday, February 6
MTB News & Racing Round-up - Buchanan racing as World Cup privateer, Behind the management scenes, Former World Champion commits suicide, Jongewaard & King conquer heat in Mt. Buller, Hill annihilates competition, Spitz notes effect of Olympic win, Peraud to ride for Massi, Spanish world champion to South Africa, Kona's Factory team, De Villiers on road to recovery, Counting down to the US Cup, Klunkerz wins award
Friday, January 30
MTB News & Racing Round-up - Leuchs & Roy embark on road trip seeking "true" mountain biking, NZ South Island openers draw International field, Trio leads Giant globally, MacLeod holds on to hope, BC Bike adds North Shore, Bootleg Canyon's Thomson recovers, One month until Cyprus Sunshine Cup, Transandes Challenge starts next week, Aussie series to Mt Buller, Giant signs Montoya, USAC updates XC calendar, Terrapin Beer for second year, NorCal League fundraiser, Mountain Mayhem
Thursday, January 29
MTB News & Racing Round-up - Jongewaard & Fry collect multiple titles Down Under, Aussie U23 Champion Norris carries form from road, Hannah back on track, New Zealanders at Aussie Nationals too, Knox & De Villiers win African marathon opener, Blenkinsop & Harper capture North Island downhill final, McConneloug & Broderick renew custom program, Rocky Mountain launches Factory XC-Epic team, La Ruta delays big changes until 2010, GT Bicycles recruits for grassroots program, Memorial established for two British downhillers
Thursday, January 22
MTB News & Racing Round-up - Stromlo Forest Park partners with Rando ahead of Aussie nats, Cathro upsets New Zealand downhill favorite Blenkinsop, Atherton injured in collision with vehicle, South Africa adds ultra marathon series, Siren & World Bicycle Relief support team, Benromach extends Three Tens sponsorship, Salzkammergut Trophy changes, Local riders Terra-fied, Apeldoorn to host Dutch Youth Championships, Transmexican MTB race
Saturday, January 17
MTB News & Racing Round-up - Craig enjoys post-Olympic off-season break, MTN expands South African sponsorship, Rotorua & Wellington next stops for New Zealand Cup, Barrel plans ultimate Super D, Rosa firms deal with Giant Italia, Czech 4X race calendar packed, Gunn Rita Dahle Flesjaa diary, Frischknecht launches Maremma Cup, New partner for Dirt Sweat & Gears, Great Singapore Carnival returns, Join Nelson's fight against cancer
Thursday, January 15
MTB News & Racing Round-up - Favorites capture South Africa Cup opener, Houltham & Avery win in Auckland, Sea Otter international calendar spot, Bootleg Canyon's Thompson suffers heart attack, Dutch officials support European championship, New dates for US 24 hour nationals & Ultra-endurance calendar, La Ruta course unaffected by earthquake, TransRockies creates Ambassador Program, Torq team diary, El Reto del Quetzal registration opening, Tahune MTB Marathon
Saturday, January 10
MTB News & Racing Round-up - Defending NUE champions Schalk & Sornson face uncertain futures, Team LaPierre for 2009, Team Garmin - Adidas debuts in Stellenbosch, Khanchendzonga stage race returns, New Zealand's MacLeod breaks neck, Giant Italia training camps, New Zealand Cup next stop: Auckland, Capital punishment in Canberra, TransAndes registration ends soon, NorCal League hires intern
Wednesday, January 7
MTB News & Racing Round-up - Stander gets an early start, New Zealand national series opens in Rotorua, Kenda / Morewood signs Aussie pair, SRAM Fund awards money to IMBA, Trek & Volkswagen end 13-year partnership & team, Nšf finishes among strong MTB contingent at FlŁŁger Quer 'cross, Registration open for singlespeed worlds
2008
Wednesday, December 24
MTB News & Racing Round-up - UCI gives thumbs-up for Pietermaritzburg, Alvarez Gutierrez signs extended contract with Giant Italia, Vallnord World Cup makes course modifications, Pendrel named Canadian Cyclist of the year, One month until Australian nationals, USA Cycling names clubs of the year, Alpine winter downhill series returns to Innerleithen
Sunday, December 21
MTB News & Racing Round-up - Fontana plans next year with Cannondale, New Sunshine Cup course set, World Cup downhill champion races enduro, Milatz renews with Multivan Merida, GT Bicycles unveils Fastest Trophy series, Mountain bike museum opens in North Carolina, Luna racers to BC Bike, New Zealand gets supported stage race, Scottish events & GimondiBike for 2009
Thursday, December 18
MTB News & Racing Round-up - Fuglsang switches sides, Kenda team set for next year, National Champ Jongewaard outclasses Olympians, Mazda bids farewell, Rennie says goodbye to Santa Cruz Syndicate, New bike fest to accompany World MTB Conference, Giant Italia looking to 2009, Vuelta a Ecuador
Thursday, December 11
MTB News & Racing Round-up - Seven events comprise new elite US national cross country series, Hermida renews with Multivan Merida, Norco Factory Team rides into 2009, Torq team diary, RockShox SID Team not just for racing anymore, 2009 Midwest Fat Tire Championship Series set, Registration opens for Breck Epic and Open MTB Gran Canaria
Wednesday, December 10
MTB News & Racing Round-up - Trek/VW riders' futures in doubt, South African World Cup courses ready, Atherton wins BBC award, US Cup series going forward, Tasmania keeps national program host status, Multivan-Merida signs Van Houts, Cannondale evolves team for 2009, SuperBike champ Bostrom joins Sho-Air, USA Cycling appeals Haywood verdict, Review: Northwave Aerlite SBS
Wednesday, December 3
MTB News & Racing Round-up - NUE Series set for fourth season, Davison's breakthrough season, 2009 Canadian calendar set, O'Shea takes step toward Olympic dream, Couple wins Aussie downhill double, Moseley to Trek, Rotorua declines to bid for marathon worlds, Man dies in New Zealand race, Costa Rica to host pre-Pan-Am race, Trips for Kids partying at "Brews, Bikes and Bucks", Twenty four hours Sydney registration opens
Friday, November 28
MTB News & Racing Round-up - Bunzli & Silva capture Copa Chile Jeep finals, Moseley says farewell to Kona, Aussie mountain bikers of the year recognized, Next Tour of the Himalayas to benefit Pakistan, La Ruta adds a day, Topeak Ergon expands North American campaign, Avalanche Trophy awards car to Absalon & announces 2009 schedule, New stage race for Tasmania, Cyclingnews' MTB contest winner picked
Saturday, November 22
MTB News & Racing Round-up - South Africans check out "home" courses for 2009 World Cup opener, Brentjens to fill dual roles, Industry reps network & grapple with issues at US summit, McMullen documentary screenings come to California, Filipino race includes "Expat" category, Colorado organization awarded, Intermontane Challenge draws top talent, TransAndes race set for February, Last chance to enter Cyclingnews' MTB Contest
Friday, November 21
MTB News & Racing Round-up - Ramirez captures fifth La Ruta, Cycling Australia picks Cyclist of the Year finalists, Public support renewed for Scottish mountain biking, BC Bike Race adds singlespeed category, Rocky Mountain signs Smutok, Angkor Wat hosting off-road competition, Team Torq diary, New SoCal League fundraiser, Crank The Shield, Butte 100, Desafio de los Dinosaurios, Enter Cyclingnews' MTB Contest
Sunday, November 16
MTB News & Racing Round-up - Beckingsale looks forward to diverse 2009 calendar, Major European stage races set , US Forest Service issues directive categorizing offroad users, SRAM to launch complete MTB group, Merida unveils 2009 range, Mike & Mary diary, Breck Epic sets categories, NorCal League CycleFest hits fundraising target, Enter Cyclingnews' MTB Contest
Friday, November 14
MTB News & Racing Round-up - Favorite rolls into the La Ruta lead on day one, Carey & Bishop win Iceman Cometh, Silva & Genova capture Copa Chile round, Armstrong shines in Texas, Felt team expands, Pregnant Dahle FlesjŚ to take off first half of 2009, Haywood awarded damages for losing Olympic nomination, O'Deas sign with Topeak, Texas race offers 48 hour option, Enter the Cyclingnews' MTB Contest
Friday, November 7
MTB News & Racing Round-up - Team TORQ ramps up, Fritzinger schools next generation, 2009 Cyprus Sunshine Cup, NUE awards all finishers, Trek signs Leov & Neethling, Team Combee picks up sponsor, Spitz says doctor offered EPO, USAC hosts promoters' summit, TransRockies gets cheaper, Iceman cometh again, Highland Fling draws unicyclers too, USWCDP Diary, NorCal silent auction, Enter Cyclingnews' MTB Contest
Wednesday, November 5
MTB News & Racing Round-up - Best 2008 World Cups awarded, Jongewaard & Willett victorious in Aussie series opener, Steurs hangs up her helmet, Dutch recognize their best, Felt signs Martinez, GT signs gravity stars, La Ruta registration closed, Birkebeiner's record sell-out, Peat backs Wharncliffe Weekender, Enter Cyclingnews' MTB Contest
Thursday, October 30
MTB News & Racing Round-up - Crocodile Trophy Dream comes true, Granny Gear 24 hour series gets leaner for 2009, American Collegiate bragging rights decided in North Carolina, Carter & Buhl take Jeep titles, Sawicki & Bishop win Oktoberfest, Hannah returns to sport with Mongoose, British Cycling revamps National series, MTB Australia series starts this weekend
Friday, October 24
MTB News & Racing Round-up - Czechs take over Croc Trophy, Breck Epic going live in 2009, Madill & Buchanan top Aussie 4X openers, New faces win at Copa Chile, US Collegiate nationals returns to North Carolina, Jeep 48Straight finale, UCI updates regulations, New film highlights Irish downhillers, IMBA seeking World Summit host, Swiss Power Cup secures future, USAC Calendars wrapping up
Friday, October 17
MTB News & Racing Round-up - Jurekovic signs with Sho-Air, Absalon reflects on 2008, O'Grady brother bolsters Shimano Dream Team for Crocodile Trophy, La Ruta draws roadies, too, US National Parks push regulation change benefitting mountain bikers, Inaugural Bike Buller Festival set for Victorian Alps, Sand Creek Fall Classic
Thursday, October 16
MTB News & Racing Round-up - Prťmont delays retirement, Dahle FlesjŚ renews with Merida, Paulissen doubles at Roc d'Azur, Yorkshire sets sights on 2010 World Cup, Tostado & Kirkland solo to 24 hour victory in Moab, English & Douglas among winners at Mt. Stromlo, Four cross rounds to kick off Australian national series, French descend on Costa Rica Trophy Bike
Friday, October 10
MTB News & Racing Round-up - Australian national series opens in October, Flight Centre team announced for Croc Trophy, Kupfernagel to Stevens Bikes, Brentjens Challenge this weekend, Stander returns for Asishove Challenge, Pekatch back on form before Israel championship, Test of Series 2009 race dates
Thursday, October 9
MTB News & Racing Round-up - Winners crowned in final marathon World Cup, 24 Hours of Moab draws strongest field yet, English & Beck win in Yellomundee, Registration opens & course info revealed for Alps Epic, Gunn-Rita diary, Equal purse offered for Wigwam Challenge, New fundraiser for Llanes, Tour of Durango postponed
Friday, October 3
MTB News & Racing Round-up - 2009 UCI World Cup revised, Marathon World Cup wrapping up this weekend, 2008 Hall of Famers inducted at Interbike, TAKMBD celebrates fifth year, Mountain Bike conference coming to London, Geoff Kabush diary, Interbike: Hitting pay dirt in VEgas, Countdown to North Brisbane 8 hour & Poor Mountain Hill Climb
Thursday, October 2
MTB News & Racing Round-up - Belgian legend to Crocodile Trophy, Mature riders excel at Simpson Desert Challenge, Leuchs to lead Felt 2009 team, New Trek team signs Killeen & Flueckiger brothers, Good weekend for Naaf, Platt earns German marathon title while Brandau surprises, Copa Chile #2 to La Serena
Friday, September 26
MTB News & Racing Round-up - Reinvented American series struggles into the future, UCI announces 2009 calendar, Wells & Stander get new team, USA Cycling unveils 2009 National Calendars, Team Monster Energy reflects, Downhiller transfer news, Interbike Tech Coverage, O'Dea Diary, Trail Tune-up grants awarded, US Forest Service issues guidance, Flying start for SoCal Interscholastic League
Thursday, September 25
MTB News & Racing Round-up - Sauser & Emmett take Cactus Cup, Olympians win Bundesliga finale, Downhillers victorious in Utah, Gordon back to winning ways after injury, Ross & Rusch go long at Payson Stampede, Inaugural Crank the Shield crowns winners, Frischknecht's last pro race, UCI selects 2011 MTB worlds locations
Friday, September 19
MTB News & Racing Round-up - Australia gets another stage race, Estonia hosts biggest Baltic States marathon, Who says Lance can only win on pavement?, Inaugural Crank the Shield draws racers to Ontario, USA Cycling changes categories, Jeep 48STRAIGHT to Utah, British NPS #5 changes venue, Full house for El Reto
Thursday, September 18
MTB News & Racing Round-up - Cactus Cup is back but in Vegas, Sauser & Wloszczowska win World Cup cross country finale, Blenkinsop makes history while Atherton sweeps downhill, World Cup 4X final marred by protest, Armstrong and team win Snowmass, Page & Davison victorious at Chequamegon, Van Houts joins Dolphin Trek injured list
Friday, September 5
MTB News & Racing Round-up - Tahoe-Sierra last NUE stop, Olympians headline next Swisspower Cup, Bikes Belong awards grants, IMBA hiring new Trail Care Crew, Tour de France organizers go off road, New partner for Diablo Park, Bennett & Gordon lead Aussie attack on Crocodile Trophy, Fort William hosting downhill enduro, Gunn-Rita diary, Tour of the White Mountains changes, Rivers Edge Marathon, Highland Fling sells out
Thursday, September 4
MTB News & Racing Round-up - Second World Cup win for Kalentieva while Naef silences critics, Buchanan wins at home, Minnaar & Mosely triumph, Kabush's epic intercontinental weekend, NMBS final winners crowned in Brian Head, Eatough nabs win as women steal show at Shenandoah 100, Zander sweeps up at Laddies Loppet, Youngest winner yet at Birkebeinerrittet, Nielsen appointed Danish Champion, Lehikoinen injured again
Thursday, August 28
MTB News & Racing Round-up - Absalon repeats while Spitz completes dream, Canberra World Cup will showcase Aussie riders, Inside Canberra's grueling course, Dahle FlesjŚ forced to pass on Canberra, TransWales ends with close battle, Epic battles expected at NMBS Finals, NUE Series stops in Virginia, White Mountains opens new trails, Inaugural Nelson's Creek MTB Festival set, River's Edge to host US Southeast Marathon Championships, Barbara Howe diary: A late start and a new beginning, In the Beijing pits
Thursday, August 21
MTB News & Racing Round-up - McConneloug keeps the balance, Deho & Cattaneot win TransRockies, Bishop & Stevenson set Georgia on fire, Kamloops race offers equal payouts, CTC & IMBA team for UK Conference, Jeep 48STRAIGHT kicks off, Brisbane gets 8hr race, Mountain X goes indoors, ÷tztal Vertical Hunt tries new format, Lacondeguy does double back flip for win
Friday, August 15
MTB News & Racing Round-up - Mechanics support US Teams abroad, Italians lead TransRockies, Barnes & Gaskell win in Wales, Fool's Gold continues NUE Series, American MTB Classic draws top talent, Stevenson & Passant win unsupported Colorado race, Trek Fuel EX 9.5 Review, 4Xers for next British rounds, Juarez to National MTB Oktoberfest, Durango trails fundraiser
Thursday, August 14
MTB News & Racing Round-up - New Essex venue confirmed for the London 2012 Games, Trek & 23 Degrees partner for new team, Lakata & Starr win French Tour VTT, Beer & Pugin successful in Ch'tel, Armstrong shows fitness in Leadville, Multivan Merida resigns Nšf, Bush previews Olympic course, Avid Elixir CR Review, O'Dea Diary, 24 Hours of Landahl cancelled, Charlottesville to host omnium
Saturday, August 9
MTB News & Racing Round-up - Olympic Games - take three for Hermida, Armstrong returns to racing in Leadville, New challenger for Schalk at Fool's Gold, TransWales coming soon, SoCal Interscholastic cycling league launched, Boulder alliance launches bike park fundraising campaign, British NPS Downhill #4 to Moelfre, Konka Crunch Challenge
Friday, August 8
MTB News & Racing Round-up - Pendrel wins her first World Cup, Hill returns to top podium step, Buchanan debuts in World Cup big final, Absalon heads south to prepare for Beijing, Sauser hopeful despite knee injury, Fuglsang signs with CSC-Saxo Bank, Eatough & Sawicki defend American 24 hour titles, Speedy sent to Olympics with new title, Eising to Revor
Friday, August 1
MTB News & Racing Round-up - Gould going fast on the way to Beijing, World Cup stays in Canada for next round, Subaru / Gary Fisher truck stolen, 24 Hours of Nine Mile returns to Wausau, Geoff Kabush diary, NorCal Leauge girls' participation grows, Top riders to Adidas Slopestyle, Stellenbosch marathon to determine South African champs, Home town advantage plays role in Canberra
Thursday, July 31
MTB News & Racing Round-up - Premont successful at home, 4X World champions win at Mont-Sainte-Anne, Craig makes second Olympic quest, Trek / VW Team-mates victorious at Wilderness 101, Aussies blitz solo 24-hour worlds, Siber & Rucknagel win iXS round two, No Olympics for doper Riis Andersen, Atherton returns to downhill circuit
Friday, July 25
MTB News & Racing Round-up - World Cup resumes at Mont-Sainte-Anne, Wilderness 101 takes over central Pennsylvania for NUE #5, 2008 Hall of Fame inductees selected, 24 hour racers head to Canmore, Zoli wins third Italian title, Osl sisters go one-two in Austria, Gunn-Rita Dahle FlesjŚ diary, Tech feature: 2009 Trek Fuel EX, Watch Valley Cup to Tchťrattes
Wednesday, July 23
MTB News & Racing Round-up - Defending champions triumph at US Nationals, Fumic grabs German title while Spitz wins seventh, Olympians excel at Swiss nationals, UCI confirms marathon worlds results, Scott-Swisspower team created for 2009, Winner repeats again in Breckenridge, Kenda Bikefest gears up, Gearjammer course changes, Cactus Cup registration opens, Jeep 48Straight schedule released
Saturday, July 19
MTB News & Racing Round-up - NUE Series stops next in Breckenridge, Team Bulls ready to defend at TransAlp, Vogel a favorite for Swiss nationals, Absalon to defend French title, World Champion Fullana readying for Olympics, Haywood retiring, One month until TransRockies, Iron Bike this weekend, Race Face re-signs Goss, El reto del Quetzal gets new route, Summer of Shred partners with Wheels4Life
Friday, July 18
MTB News & Racing Round-up - America's best head to Mount Snow, Joseph & Milatz win Bundesliga round, Germans finalized for Olympic team, Toulouse surprises in final lap at Windham, Subaru Team excels at European DH Championship, Schurter & Lechner win Swisspower Cup round, Jongewaard secures Olympic nomination, Inaugural Cardiac Classic
Saturday, July 12
MTB News & Racing Round-up - Divide racing wrapping up, Kalentieva renews contract, Swiss & British select Olympians, Final rider added to US Olympic team, Jongewaard moves closer to Olympic dream, Coming up: Noosa Enduro & Walkerville Classic, Kelli Emmett's Pro bike, Specialized 2009 MTB Launch, Racing from mountains to beach in Australia, Yellowmundee GP
Friday, July 11
MTB News & Racing Round-up - Top North Americans head to Windham Mountain NMBS, Controversial crash mars marathon worlds sprint finish, Gunn-Rita Diary: Winning Worlds, Killeen finishes worlds despite hospital visit, US Marathon Champions crowned, Kona & Taint Slo lock up BC Bike wins, Swisspower Cup preview, Downieville Classic, Three Tens Series round two
Wednesday, July 2
MTB News & Racing Round-up - Nash powers to first NMBS XC victory, Trebon wins the hard way, Three of four US Olympians chosen, Canada selects Olympic team, Gujan & Saner triumph in Champťry, No Olympics for Jongewaard, Firecracker 50 to decide American marathon champs, BC Bike diary, Teenage biker mauled by bear, Gunn-Rita diary

See more 2008 MTB News.
For more news, visit the Cyclingnews archives.