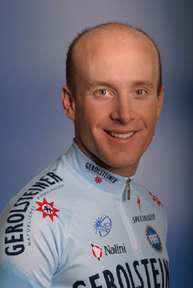 Photo ©: Gerolsteiner
Clear blue water: The Levi Leipheimer diary 2005
Levi Leipheimer shot to prominence when he made the podium at the 2001 Vuelta while riding for US Postal. He spent three years at Rabobank before joining the German Gerolsteiner team for 2005, where he is one of the team's main men for stage race general classifications.
Leipheimer has twice finished in the top ten at the Tour de France, and this year will aim higher if his form allows. "We'll have to wait and see," he says. Follow Levi's progress to the Tour and beyond on Cyclingnews.
July 9, 2005
A strange day
Hey everyone,
Lance Armstrong (Discovery Channel)
Photo ©: AFP

I guess I spoke too soon yesterday. It was actually pretty hard today. I ended up in a group of 31 riders at the end and I don't really know what went on behind us.
I think the field fell apart basically. It was strange because Lance was left alone in the front group. This is not something we've seen happen to Discovery/Postal in the past six tours. He's never been alone when there are that many riders in the front.
It just goes to show what a strange day it was in the race.
At one point I had to go off the road because I was moving up on the outside and a guy didn't see me so I went into the grass and dirt. This was at the time when attacks were happening and it was so hard for me to get back up to the front.
Peter Wrolich
Photo ©: Jon Devich

We had a tailwind today so once again our average speed was crazy fast. I have less free time today for some reason and I'm tired so this diary entry is short.
Sorry, I'll make it up to you in the days to come…
Stay tuned for more exciting racing!
Levi
2005 diary entries
Tour of Germany
Levi and Odessa
Photo ©: AFP

Levi in the leader jersey at Tour de Suisse
Photo ©: Russell Standring

Tour de France
Tour de Georgia
Cyclingnews interviews with Levi Leipheimer
February 2005
September 2003
May 2003
November 2002
January 2002