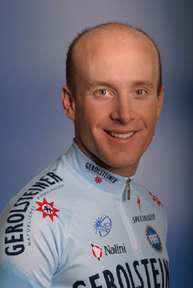 Photo ©: Gerolsteiner
Clear blue water: The Levi Leipheimer diary 2005
Levi Leipheimer shot to prominence when he made the podium at the 2001 Vuelta while riding for US Postal. He spent three years at Rabobank before joining the German Gerolsteiner team for 2005, where he is one of the team's main men for stage race general classifications.
Leipheimer has twice finished in the top ten at the Tour de France, and this year will aim higher if his form allows. "We'll have to wait and see," he says. Follow Levi's progress to the Tour and beyond on Cyclingnews.
July 4, 2005
Fast, furious and nervous
Fast and furious once again. Or should I say fast and nervous. Both would describe today's stage.
The bunch
Photo ©: Jon Devich

It's weird, you know - we're going so fast and it's always crazy but it's not all that hard. I didn't find either today or yesterday very difficult, aside from the constant fight for position. Every time I took a bottle from my teammates today I'd lose twenty spots. You can't stop concentrating for even a second.
212 kilometres seemed to just fly by. I guess that's a good thing. It wouldn't be much fun to be suffering this early in the race. The flat stages are like that - you roll along at a pretty fast pace, concentrating on staying upright and in a decent position, and before you know it the sprinters are getting ready to do their thing.
Dave Zabriskie (CSC)
Photo ©: Sirotti

I'm so impressed by David Zabriskie. Normally he tends to be nervous riding at the front but he's always in good position these past two days. I guess the yellow jersey has that effect on people. Even towards the end of the race he was up front in the action. So impressive!
It's a miracle there wasn't a crash in the finish of the stage considering how narrow the road was.
Tomorrow is the team time trial. I think we have a shot at doing well. We're well prepared.
Massive crowds
Photo ©: Roberto Bettini

We came to ride the course a couple months ago and we're using special equipment. Most of the guys are using special team time trial handlebars. I'm not because I've chosen to adjust my normal time trial bars a little wider instead. This way I can stay in them the entire time and still handle my bike.
Making them wider makes the entire team more aero even though it doesn't really make the individual rider aero on the front. So far it looks like the weather will be good, unlike last year, which will make it a lot easier to concentrate on going fast.
Time to eat some more food and get some sleep.
Thanks for reading,
Levi
2005 diary entries
Tour of Germany
Levi and Odessa
Photo ©: AFP

Levi in the leader jersey at Tour de Suisse
Photo ©: Russell Standring

Tour de France
Tour de Georgia
Cyclingnews interviews with Levi Leipheimer
February 2005
September 2003
May 2003
November 2002
January 2002