Recently on Cyclingnews.com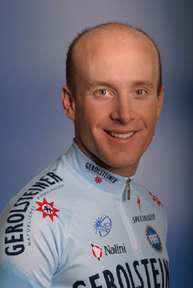 Photo ©: Gerolsteiner
Clear blue water: The Levi Leipheimer diary 2005
Levi Leipheimer shot to prominence when he made the podium at the 2001 Vuelta while riding for US Postal. He spent three years at Rabobank before joining the German Gerolsteiner team for 2005, where he is one of the team's main men for stage race general classifications.
Leipheimer has twice finished in the top ten at the Tour de France, and this year will aim higher if his form allows. "We'll have to wait and see," he says. Follow Levi's progress to the Tour and beyond on Cyclingnews.
Georgia, April 24, 2005
On the midnight plane to Girona
Two of the kittens
Photo ©: LeviLeipheimer.com

Bandit babysitting
Photo ©: LeviLeipheimer.com

Bandit and Poncho
Photo ©: charynana.com
Oh, just four seconds away from victory! It might have been six if it weren't for my sleek helmet and the lack of a ponytail. Don't you hate it when you have one of those Laurent Fignon days?
I was hoping that I could make up 4 seconds today, but the odds were against me. But overall I'm very pleased with the race. The race was fun, the fans were great, and I was pleased with my form. I have a few more races coming up, and then I'll take a break for a month before my final preparations for the Tour. My friend and training partner Marc Hagenlocher will be visiting next month so I hope to hit the Pyrenees with him and get a glimpse of some Tour stages.
The race offered a potpourri of weather. Sun, rain, hail, wind, and this morning, near freezing temps. Odds were that I wasn't going to be able to get the four seconds I need on a flat stage like this, so we sent Sven off the front in a break with Tafi. Since Sven wasn't a threat to Danielson's lead, we were hoping Discovery wouldn't chase. The break lasted a while, but the LPR boys spoiled Tafi's chances. It was a bit sad since I was hoping that Tafi's last race would be a victory in Georgia. He's a great champion.
In several hours I return to Girona. I look forward to seeing my wife and the family. My family, of course, are my dogs and cats. To give you an update, Bandit, my famous dog featured internationally on TV now has a brother, Trooper. Along with our cats who made the pilgrimage to Spain are some kittens that Odessa rescued from an abandoned house in Girona. Odessa has been working tirelessly trying to find perfect homes for them so they are safe and secure. I'm always impressed with all the work she gets done helping me and the animals. As inconvenient as it is in Girona she manages to make life there seem as comfortable as California; little things like opening the refrigerator to find everything I want (which is not easy to do in Spain or the States…I've tried) or getting in some motorpacing whenever I need it, I can't do it without her.
I don't want to sound redundant, but the fans here are super and I don't want to disregard a great thing. Perhaps the coolest thing was seeing all the kids lined in front of their schools cheering for us. Chances are one of them will be the next Lance Armstrong or Christine Thorburn. If you don't know Christine, read up. So far she is a national champion, an Olympian, and a doctor. In any case, it's so great to see the kids in the crowds. It's races like this that motivated me to ride. Kids, I hope the race inspired you to follow your dreams. Before I go, let me administer two pieces of advice. One, follow your passion and be good at it. Two, if you choose to ride remember not to wear underpants with the bike shorts.
Levi