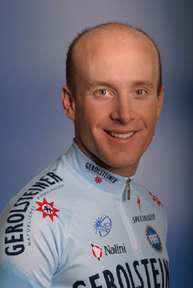 Photo ©: Gerolsteiner
Clear blue water: The Levi Leipheimer diary 2005
Levi Leipheimer shot to prominence when he made the podium at the 2001 Vuelta while riding for US Postal. He spent three years at Rabobank before joining the German Gerolsteiner team for 2005, where he is one of the team's main men for stage race general classifications.
Leipheimer has twice finished in the top ten at the Tour de France, and this year will aim higher if his form allows. "We'll have to wait and see," he says. Follow Levi's progress to the Tour and beyond on Cyclingnews.
Georgia, April 21, 2005
The Raining of Rome
I was happy with my ride, but not so much the weather. More times than not I find myself time trailing in the rain. It was slippery and dangerous, especially on the descent halfway through the course. I rode it a bit too conservative but I was still going 100k/hr. Floyd told me he went all out down Mt Alto. He's great when it comes to descents (and ascents); if you didn't know, he was formerly a pro mountain biker. I felt good in my new position and just worked with Steve Hed on making some more tweaks to the bike. I ended up in sixth - now sixth in the GC too. But the real hard racing will start tomorrow when we hit the climbs.
If you were looking for me yesterday, I'm the one on the team with the black helmet. Some people were asking why the black helmet. I'm doing an experiment for Met to determine how helmet colour effects body temperature. That's a joke. But in all seriousness, when I was on Rabobank, we did a test to observe changes in body temperature during competition. The team swallowed thermometer capsules which wirelessly transmitted data during the competition. The capsule was then passed through your body like a giant kernel of corn.
Today my brother arrived from Montana. He's the one who helped me discover the sport when I was 13. I tagged along with him and his friends (who were six years my senior) for two weeks until I realised I could drop them. You can see a picture of us on my newly designed website at LeviLeipheimer.com in the 'images' section. My brother is the guy with the yellow Factory Pilots. As you can tell, my position has changed slightly since then.
Rob brought over a care package from one of my sponsors. I often rely on hand delivered packages because mail sent to Girona doesn't seem to arrive. ProTech sent over some skincare products developed specifically for athletes. Among them is a soap that removes free radicals (which eat up the body's antioxidant stores) and a sunscreen that is made without unhealthy aluminum hydroxides.
I can't emphasise how great the crowds are over here. Even with the downpours! The guys on the team were saying that there are more people here than at the Pro Tour races. We think that fan presence should be a criteria for the Pro Tour, thus inviting TOG. Stateside, the only other event that compares is San Francisco. Being a Northern Californian, I have to admit that I left my heart and cat, Elmo, in San Francisco (don't worry, he is in great hands with my friends Glen and Kim), but Georgia will always be on my mind!
Levi