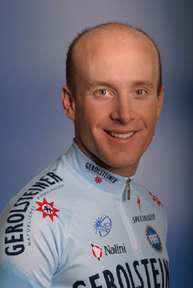 Photo ©: Gerolsteiner
Clear blue water: The Levi Leipheimer diary 2005
Levi Leipheimer shot to prominence when he made the podium at the 2001 Vuelta while riding for US Postal. He spent three years at Rabobank before joining the German Gerolsteiner team for 2005, where he is one of the team's main men for stage race general classifications.
Leipheimer has twice finished in the top ten at the Tour de France, and this year will aim higher if his form allows. "We'll have to wait and see," he says. Follow Levi's progress to the Tour and beyond on Cyclingnews.
July 7, 2005
Not another flat stage!
Levi Leipheimer (Gerolsteiner)
Photo ©: AFP

I'm pleased to announce that we are in a hotel tonight but my memories of the motel linger on.
Today was the toughest stage yet. It was cold and raining and the legs just don't work as well in that kind of weather. Not to mention it was off and on rain on up and down terrain all day long.
You spend a lot of time putting your rain jacket on and taking it off.
I had to go to the bathroom so bad with 30km remaining in the stage so I went to the back. This was the only time I went to the back all day and for good reason. Since we're guys we can pee from the bike which is nice but you have to be the very last rider.
Lance Armstrong (Discovery Channel)
Photo ©: AFP

So when I was finished I tried to make my way back up to the front of the peloton and out of danger. It took me 10km to do it. That's how hard it is to move up when you're racing so fast and everyone is trying to hold their position.
I guess I'm pretty tired tonight and I can't really find anything interesting to say about the race. I'm sure many of you saw the dangerous finish. It went from a wide road to a narrow road in a sharp turn.
They had to expect crashes rain or shine with a finish like that. Luckily the road was wet and most of the guys who went down just slid along. So that's about it for today. I'm getting bored with these flat stages!
Talk to you tomorrow,
Levi
2005 diary entries
Tour of Germany
Levi and Odessa
Photo ©: AFP

Levi in the leader jersey at Tour de Suisse
Photo ©: Russell Standring

Tour de France
Tour de Georgia
Cyclingnews interviews with Levi Leipheimer
February 2005
September 2003
May 2003
November 2002
January 2002