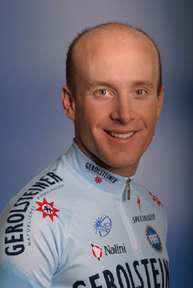 Photo ©: Gerolsteiner
Clear blue water: The Levi Leipheimer diary 2005
Levi Leipheimer shot to prominence when he made the podium at the 2001 Vuelta while riding for US Postal. He spent three years at Rabobank before joining the German Gerolsteiner team for 2005, where he is one of the team's main men for stage race general classifications.
Leipheimer has twice finished in the top ten at the Tour de France, and this year will aim higher if his form allows. "We'll have to wait and see," he says. Follow Levi's progress to the Tour and beyond on Cyclingnews.
July 8, 2005
Fair Deutschland!
Hi everyone,
Deutschland
Photo ©: Roberto Bettini

I went to Germany today but I didn't have time for sight seeing. The crowds were crazy. Every time the tour passes into Germany it's like that. I guess that's why I have a great job on a German team!
Speaking of Germans, I asked the T Mobile rider with the number 13 (his race number) why he has the three backwards and he told me it's to reverse the luck. Who knew? I hope it works for him.
I think it worked today since I'm fairly certain he didn't go down in any of the crashes.
Fabian Wegmann (Gerolsteiner)
Photo ©: Sirotti

In terms of difficulty, today wasn't so bad thanks to my teammate Fabian, who was off the front all day. He was in a good position on the climb so he went for the mountain points and found himself alone and decided to go for it.
He was out there for a long time which was cool for the German fans that came out in groups of millions. The weather was pretty bad but it wasn't cold and it could always have been worse.
Fans are out
Photo ©: Jon Devich

I saw on TV on the way to the hotel that they're saying the mountains start tomorrow. It's true we finish on a category 2 climb but that's not really mountains. The real mountains are still looming and basically sitting there laughing at how they're planning to break legs and hearts, by just sitting there.
We'll be there soon enough, but not soon enough for some of us.
See you back here tomorrow, and thanks for riding along with me,
Levi
2005 diary entries
Tour of Germany
Levi and Odessa
Photo ©: AFP

Levi in the leader jersey at Tour de Suisse
Photo ©: Russell Standring

Tour de France
Tour de Georgia
Cyclingnews interviews with Levi Leipheimer
February 2005
September 2003
May 2003
November 2002
January 2002