Recently on Cyclingnews.com
Levi Leipheimer Training Update: Ahead of Schedule for the Tour
By Mark Shimahara/BikeZen.com
Breakfast with champions
Photo: © Mark Shimahara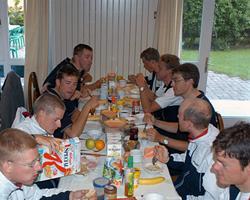 In our last encounter with Levi, in January, he was blazing through the cow-dotted countryside of Northern California getting ready for his 2003 season. These days, Levi still sails past cows on his rides, but the bovines are French, and the roads wind through the magnificent Alps, much steeper and far more severe than the ones from home.
The upcoming Tour will be Levi's second attempt at the big dance. Since January, he has had a solid spring campaign in a number of races including the Tour of Murcia, Setmana Catalana, and Rund um den Henninger Turm. If his performance during training is any indication, Levi will be a top contender in the Tour. "I'm definitely not behind schedule," says Levi, "if anything, I'm ahead."
From May 20 to 28 Levi and many of Rabobank's Tour short list, including Boogerd, Engels, Dekker, Lotz, Niermann, and Zberg, took part in an intense Tour De France training camp. It began with a two-day team time trial practice in Joinville, followed by six days simulating the mountain stages of the Alps and Pyrenees. This year's camp involved far more members of the team than last years, which only featured Michael Boogerd and Levi. These two rode in the Alps and Levi rode solo in the Pyrenees.
Goofing off
Photo: © Mark Shimahara

"I'm a year more experienced and after looking back at last year, I see there is room for me to improve," reflected Levi. "Time was lost in certain areas and I'll try to improve on that," he added. One of those areas was in the team time trial, which the team has addressed in training. "We worked on that a couple of days" said Levi, "so that right there will make a big difference." The team has made time to train in the key areas where they lacked last year. But Levi is going the extra mile so to speak, to train for events in which he simply wants to improve from last year's performance. "I'm hoping to do a better [individual] time trial this year, so I'm trying to train more specifically for it," he said.
Levi was clearly the strongest climber at camp. Even on the hot days, Levi swiftly rose up the Alps, including the monstrous Galibier, and L'Alpe d'Huez, riding with a notable cadence in excess of 75 RPMs. The training simulated a race environment, and Levi was faster than the rest. Nonetheless, Levi viewed the training less of a mock competition than as a means to get a feel for the course and get volume in the legs.
Off training
Photo: © Mark Shimahara

Unlike many teams, Rabobank is blessed with an all-star roster. With legs like Freire's, it is favored to win sprint finishes; with strong classics-style riders such as Dekker, successful breakaways. These powerhouses will help Levi place highly in the general classification. But will the team's talents take away from Levi's chances in the general classification? Levi was asked if he was concerned that Freire's potential stage wins might weaken the team's focus from supporting him in his efforts to succeed in the Tour. "I'm not a favorite to win," replied Levi, humbly. Indeed, he seems not to think that the team must focus on his results alone. "I'm not a defending champion so you don't need the whole team to do one thing." In fact, he views Freire's potential sprint victories as an asset to the entire team. "I think it's good [if he wins] especially early on because it takes a lot of pressure off the team and he [Freire] is a very strong rider in the team time trial."
Moooooo...
Photo: © Mark Shimahara
The team has a lot going for it. Beyond it's extraordinary sum of leg power, the team has enviable spirit, and camaraderie. Comparing it to other teams, one new transfer said of Rabobank: "It's not factionalized." He also suggested that the team communicates well. "It's one of the few [multi-cultural] teams where everybody speaks a common language [English]," he said, "so you don't have the Spanish riders talking to each other [on one side of the table], and the French riders talking to each other--here everybody can speak to one another and we can avoid the communication problems I've experienced in the past."
Veteran Erik Dekker is the source of what Levi calls "Positive Energy." In the middle of a quiet dinner, Dekker, who jokes frequently, can be heard busting out in Nelly's "Hot in Herre." Minutes ahead of the pack on a training ride, Dekker might pause to ask a photographer if he's taken the wrong turn. But he also takes racing quite seriously and serves as a mentor for the younger riders. This experienced pro was instrumental in setting up Kroon's stage win in last year's Tour De France. So the team has a resident clown to keep them laughing off the bike and inspired on it.
Beautiful
Photo: © Mark Shimahara

Still, despite what it has going for it, including its strong pre-Tour training, the team has not been without setbacks. Key among them was Michael Rasmussen's crash down the Galibier on Friday, in which he broke his finger. The Danish climber was recruited as a key lieutenant for Levi for the Tour's mountain stages. Michael was riding impressively even though he is a relative newcomer to the road-racing scene. Last year, the former World Mountain Bike Champion rode for CSC.
In June, Levi will race the Dauphine, which he considers the "big test" of his abilities. After that will be the Tour… Stay tuned.
Rasmussen's Tour Uncertain
Off for x-rays
Photo: © Mark Shimahara

Michael Rasmussen crashed while descending the Col du Galibier on Friday. Hired to support Levi Leipheimer for the upcoming Tour, he was training for the L'Alpe d'Huez stage at Rabobank's Tour training camp.
The crash occurred as the team was sailing down the steep mountain, shedding their jackets and leg warmers. In the act, Rasmussen tumbled into the road, and got his right middle finger caught in his spokes.
Ouch
Photo: © Mark Shimahara

A local doctor diagnosed Rasmussen with a broken finger. The polite and soft-spoken Dane, who had been climbing well throughout camp said, "For me, it's no Tour…I know the Tour is still six or seven weeks away, but it's not fair to my teammates if I can't ride hard for the next few weeks [and end up riding the Tour], while the others are training their asses off. " In fact, he may still participate in the Tour, but was clearly frustrated by the turn of events. He promptly made arrangements to get surgery in Amsterdam on Saturday in hopes of recovering in time for the Tour, but in Amsterdam found out surgery was not necessary.
Photos
Images by Mark Shimahara/BikeZen.com
Day One: l'Alpe D'Huez
Bourg d'Oisans to Gap
Michael Rasmussen's arm
A clearly disappointed Michael Rasmussen leaves Rabobank's Tour training camp prematurely to get surgery in Amsterdam for his broken finger.
Michael Rasmussen's right arm, wrapped to protect the middle finger he broke during a training ride in the Alps.