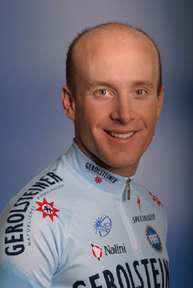 Photo ©: Gerolsteiner
Clear blue water: The Levi Leipheimer diary 2005
Levi Leipheimer shot to prominence when he made the podium at the 2001 Vuelta while riding for US Postal. He spent three years at Rabobank before joining the German Gerolsteiner team for 2005, where he is one of the team's main men for stage race general classifications.
Leipheimer has twice finished in the top ten at the Tour de France, and this year will aim higher if his form allows. "We'll have to wait and see," he says. Follow Levi's progress to the Tour and beyond on Cyclingnews.
Georgia, April 19, 2005
Aliens racing in Tour de Georgia
Well, ok there were no aliens from Mars but it's difficult to write anything big in the wake of yesterday's news. The cycling world is changing, especially in the US. Lance to retire and Tyler being suspended. The first one is not such a shock but it's tough to imagine bike racing without Lance. The Tour de France will be an entirely different race in 2006. The second newsflash was truly shocking, to say the least.
Tyler's suspension. They were taking so long with the decision and there were so many positive rumours. It really sucks not having Tyler around this year and we were sure he was coming back. My wife and I really miss he and Haven in Girona. It's shocking and sad.
It was a beautiful day for a bike race in Georgia. Clear skies, warm weather and the crowds were great. The racing on the other hand was slow. So slow that we all chatted, all day. I think maybe some of the teams are worried about the tough stages to come. I'm not sure but it was a good time to catch up with everyone in the peloton. Six hours of catching up to be exact. Everyone was surprised by Tyler's suspension of course - I guess you could say that was the main topic.
The race managed to pick up some speed for the sprints. Health Net led out all of the sprints so we would go fast for about a kilometre. Discovery went to the front for the final finishing circuits to keep Lance up front and out of trouble. It was good because it did string it out and keep it safe, and there was a brick climb on the circuits which made it tough. There's not much else to say really.
It is so nice to race in hot weather with big crowds on home soil. Our hotel was 300 metres from the finish line and it's a nice hotel. This is a big deal, believe it or not. It's great to be here. I can promise you there will be some exciting racing in the days to come so hang in there. As for me, I'm headed for a massage now and maybe some shrimp gumbo.
See you back here tomorrow,
Levi