58th Vuelta a España - Spain, September 6-28, 2003
An interview with Levi Leipheimer
Never say die
By Hernán Alvarez Macías
Against the clock
Photo: © AFP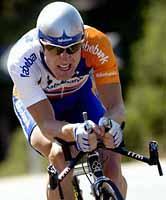 Levi Leipheimer came into the 2003 Vuelta a España after an outsanding result in the 2001 edition, where he finished third in the overall standings, ahead of his then US Postal teammate Roberto Heras. Thus in this year's edition he was one of the leaders of the Dutch Rabobank team. Unfortunately, he didn't start in top condition, due to the effects of a crash in this year's Tour de France. In only the second stage of the Vuelta, he was caught in the second half of the peloton and lost 13 precious minutes at the end of the day, putting an end to his GC chances.
Despite falling to 141st place on GC, Leipheimer ended up 58th in Madrid after recovering 83 places following the fateful stage in Asturias. In the meantime, Leipheimer devoted his energies to helping Dane Michael Rasmussen to finish seventh on the final GC. He also showed his abilities against the clock, finishing 8th in the 20th stage to Alto de Abantos. Cyclingnews' Hernán Alvarez Macías caught up with Leipheimer before the final stage in Madrid for the following chat.
Cyclingnews: How is the Vuelta a España going?
Levi Leipheimer: Well, it's going better and better, so I think I've finished it stronger than I started, so that's a good thing.
CN: What happened on the second stage with the Alto del Mirador del Fito where you lost some minutes?
LL: I just didn't come into the Vuelta in my normal condition, so the Vuelta started very hard the first day and it was too much for me.
CN: What do you think was your best stage in this Vuelta?
LL: Maybe yesterday I suppose [stage 20].
CN: Can you evualuate your 2003 season?
LL: It's been an unlucky season for me...
CN: Will you stay with Rabobank?
LL: Yes, for one year.
CN: Do you think this Vuelta doesn't have that many mountain stages?
LL: No, I think it was very hard, but I would say definitely they don't need to make any more mountain stages.
CN: Did you imagine before the 20th stage that you would see the leader Isidro Nozal suffering as he did on the climb of the Abantos?
LL: You know, after the Pyrenees, and after the time trial in Albacete I thought well, I think he can make it. But personally I think ONCE tried to control the race too much from the beginning and now they are paying for it.
CN: Is Roberto Heras as shy as he seems to be?
LL: As shy? I wouldn't say shy, but he is very calm and reserved. He is a good guy.
CN: Was your change of team from US Postal to Rabobank for the better?
LL: Yes, very much.
CN: How did you find it riding beside Lance Armstrong in US Postal?
LL: Well, I didn't really race with Lance very much. I had another program.
CN: Do you regret moving from US Postal to Rabobank now that they've won two of the three Grand Tours?
LL: No, because for Rabobank I ride my own race and I can see what my capabilities are. With US Postal I would just be supporting Lance or Roberto.
CN: What's the major difference between being in Rabobank and being in US Postal Service?
LL: This team (Rabobank) has more riders who can win who can do the Classics, the tours, all different races. US Postal has two or three riders who are the leaders and that's it, and everyone else is for support.
CN: Will you ride in America?
LL: Not this year.
CN: What are the plans for the future?
LL: Well, I have one more year with Rabobank and I'm just doing the same thing.