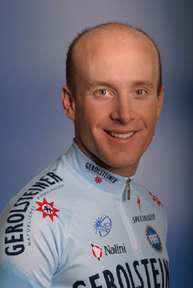 Photo ©: Gerolsteiner
Clear blue water: The Levi Leipheimer diary 2005
Levi Leipheimer shot to prominence when he made the podium at the 2001 Vuelta while riding for US Postal. He spent three years at Rabobank before joining the German Gerolsteiner team for 2005, where he is one of the team's main men for stage race general classifications.
Leipheimer has twice finished in the top ten at the Tour de France, and this year will aim higher if his form allows. "We'll have to wait and see," he says. Follow Levi's progress to the Tour and beyond on Cyclingnews.
Georgia, April 23, 2005
Raw Power
Today started as expected with the pack sitting tight until the climbing started. My Gerolsteiner team did a great job protecting me from the windy conditions. The race started to take shape when Lance attacked towards the top of Hogpen Gap. At that point just a handful of us remained. With five miles to go, he attacked again, shattering what was the rest of the front group. Whenever he took off, you could hear the enthusiasm in the crowd, they would just go nuts. Once a few of us regrouped back to Lance, Danielson countered. I knew I had to follow him.
Tom Danielson was the mystery rider I mentioned yesterday. He is an incredible climber and he had a lot to gain from a solid performance. I knew as long as I could stay with Danielson I would have a good shot of making the podium. I made it to Danielson and we passed Vande Velde who was up front alone. From there it was a street fight between Danielson and me. Without any teammates, team tactics weren't involved, just raw power. Unfortunately Danielson got the best of me with 500 meters to go. I tried to slowly close the gap, but he was too strong. I did manage to gain enough time to bump myself to second in the GC.
The climb up Brasstown Bald was expectedly hard and the crowds were magnificent, lining the roads like loyal Basque fans. I rode a third of the climb in the 39x27 but a 38x27 would have been better. Yesterday I mentioned that I was expecting Bobby to follow Danielson and myself on the final climb. Apparently he had some bike trouble. I could hear his chain skipping on the climb as it was not staying in gear. It was too bad because he would have made the fight up top even more interesting.
I'm currently four seconds down and while tomorrow is flat, the positions on the podium can still change. Many things can happen. Remember, Floyd is only nine seconds back from the lead. Who knows, maybe Tom will have a really bad case of gas that will slow him down (or speed him up). As funny as it sounds, stuff like that happens. Once a teammate had anal leakage during a race and it was pretty obvious.
Ted King of the US national team suffered a pretty bad crash today and had to be choppered out. I hear there is no spinal cord damage and he is in stable condition. Ted, I hope you have a speedy recovery.
As a final note, I'd like to give my apologies to the organization and fans who watched the podium presentation. I honestly was not aware I was supposed to attend it. I've competed in hundreds of races around the World and this was the first time I was expected to attend as the runner-up of a stage. In Europe, only the winner is asked to stay for the presentation. Simone, my liaison at Specialized, told me this happened to Mario last year and he subsequently got a lot of bad press for the misunderstanding. I hope this does not get me on some magazine's "not hot" list.
Thank to all for the support today!
Levi