Cyclingnews 2002 Reader Poll Results
Best new product
See you!
Photo: © John Stevenson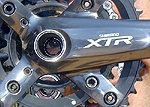 It's been a quiet year for road bike components with lots of nifty small stuff introduced, but no really huge developments so it's not surprising that there was no landslide in this category or that the top two nominations went to mountain bike introductions.
What's also interesting is that the 2003 XTR component group and the Specialized Epic/Fox Brain suspension system were 2002 launches that have yet to see very large amounts of train time under Jo Rider. It'll be interesting to see how people feel about them in 12 months time.
Pedals also featured prominently, perhaps because they're a part that's relatively easy to upgrade, as long as you don't have too many bikes. Shimano's Look-like PD-7750 'Lance pedal' looks like a hit, as do Time's new Impacts, and the Crank Brothers Egg Beater MTB pedal has now had enough time in the marketplace to be a solid favourite.
Too many products to list received just one or two votes, an indication of the huge range and diversity of stuff that's available. We've come a long way from the Campagnolo Record/Reynolds 531 combos of the 70s.
Results
                                      Votes     %ge
1 Shimano XTR 2003 group                 26     7.4
2 Specialized Epic/Fox Brain             23     6.6
3 Shimano PD-7750 pedals                 18     5.1
4 Time Impact pedals                     16     4.6
5 Crank Brothers Egg Beater pedals       15     4.3
6 Campagnolo Record carbon cranks         9     2.6
7 Campagnolo Hyperon Wheels               8     2.3
7 Giant TCR Gold Carbon Frame             8     2.3
9 Cinelli Ram Bar/Stem Combo              6     1.7
9 Mavic Ksyrium                           6     1.7
11 Cannondale CAAD 7 Si Frame             5     1.4
11 Carbon fibre handlebars                5     1.4
11 Colnago C40 HP                         5     1.4
14 Campagnolo Record group                4     1.1
14 Polar S-710 Heart Rate Monitor         4     1.1
14 Rotor cranks                           4     1.1
14 SLR saddles                            4     1.1
18 Carbon seat stays                      3     0.9
18 Pinarello Dogma                        3     0.9
18 Speedplay Zero pedals                  3     0.9
 
Others                                  175    50.0
                                        
Total                                   350