Cyclingnews 2002 Reader Poll Results
Best Moment of 2002
The moment
Photo: © Sirotti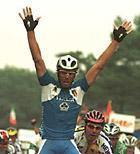 2002 saw some memorable moments in cycling and you told us about hundreds of them, making this easily the hardest category to count, because of the free-form reply format. It rapidly became clear, though, that one event dominated: Mario Cipollini's victory at the World Championships. Cipo's ride at Zolder not only saw the greatest sprinter of his generation finally land a rainbow jersey on a course that was perfect for him, but also the historically fractious Italian team unified under the guidance of coach Franco Ballerini. With the top cycling nation united to propel the top sprinter to the finish, how could they fail? It was electrifying stuff, and you thought so too.
In second place was another moment that was simply, unarguably, right, proper and justly deserved: Johan Museeuw's victory in Paris-Roubaix, his third Hell of the North win and tenth World Cup. When Museeuw crossed the finish line at Roubaix alone after a 40km break you could almost hear his fans worldwide all going "Yesssss!"
In third, perhaps one of the nastiest days of bike racing ever: stage 15 of the Vuelta a Espana. Roberto Heras suffered his way into the Vuelta leader jersy on the Angliru, arguably the hardest climb regularly used in a major stage race, and the steadily worsening conditions didn't make his job any easier.
You also noted, of course, various 'Lance moments' in 2002. It seems only fair to mention these together: a rider whose aim is a stage race win will inevitably clock up more 'moments' than a sprint specialist going for one huge moment of glory, and you picked up on Lance Armstrong's fourth Tour win overall, his working with Roberto Heras to neutralise the Beloki threat on the way to Plateau de Beille and his final demolition of Beloki on Ventoux.
Because of the difficulty of counting these free-form descriptions, here are your top four, plus some honourable mentions.
Results
1 Mario Cipollini winning the world championships            99
2 Johan Museeuw winning Paris-Roubaix                        83
3 Roberto Heras winning Stage 15 of the Vuelta               79  
4 Lance Armstrong's fourth Tour victory                      73
 
Honourable mentions
 
Mario Cipollini winning Milan-San Remo & Gent Wevelgem
Cadel Evans taking the leader jersey in the Giro, then losing it 
Laurent Jalabert's solo breaks in the Tour on the way to the polka-dot jersey
Robbie McEwen's green jersey in the Tour