Cyclingnews 2002 Reader Poll Results
Best Male road rider
On the podium at the Giro yet again
Photo: © Sirotti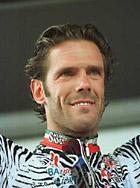 Here's a hard decision: do you choose Mario Cipollini's stellar season, with wins at Milan-San Remo, Gent-Wevelgem, Giro and Vuelta stages plus the World's or Lance Armstrong's carefully-planned and perfectly-executed Tour #4 and lead-up victories in the Critérium du Dauphiné Libéré and GP Midi-Libre?
Perhaps acknowledging the elements of drama and fun that accompany Super Mario, you awarded the Italian sprinter Best Male Road Rider by a double-handful of votes, with Lance Armstrong a close second.
Rounding out the top five, though a long way behind, are Johan Museeuw, Laurent Jalabert and Santiago Botero, all of whom have undeniably shone this year.
Results
                                  Votes     %ge
1 Mario Cipollini                    350   35.5
2 Lance Armstrong                    329   33.4
3 Johan Museeuw                       47    4.8
4 Laurent Jalabert                    42    4.3
5 Santiago Botero                     30    3.0
6 Robbie McEwen                       28    2.8
7 Erik Zabel                          26    2.6
8 Paolo Bettini                       18    1.8
9 Cadel Evans                         12    1.2
9 Tyler Hamilton                      12    1.2
11 Roberto Heras                       8    0.8
12 George Hincapie                     6    0.6
13 Aitor Gonzalez                      5    0.5
14 Joseba Beloki                       4    0.4
15 Alex Zulle                          3    0.3
15 Bradley McGee                       3    0.3
15 David Millar                        3    0.3
15 Michael Boogerd                     3    0.3
19 Eric Dekker                         2    0.2
19 Fraser Macmaster                    2    0.2
19 Kurt Asle Arvesen                   2    0.2
19 Michele Bartoli                     2    0.2
19 Raimondas Rumsas                    2    0.2
19 Robbie Ventura                      2    0.2
25 Alex Zogg                           1    0.1
25 Alexandre Vinokourov                1    0.1
25 Andrea Tafi                         1    0.1
25 Bartoli Michele                     1    0.1
25 Carlos Sastre                       1    0.1
25 Craig Cooke                         1    0.1
25 Danilo Di Luca                      1    0.1
25 Dave Crowe                          1    0.1
25 Doug Manno                          1    0.1
25 Doug Ollerenshaw                    1    0.1
25 Duke Schimmer                       1    0.1
25 Floyd Landis                        1    0.1
25 Francesco Casagrande                1    0.1
25 Frank Vandenbroucke                 1    0.1
25 Giovanni Lombardi                   1    0.1
25 Gord Fraser                         1    0.1
25 Igor Gonzalez de Galdeano           1    0.1
25 Ivan Basso                          1    0.1
25 Jaan Kirsipuu                       1    0.1
25 Jacob Piil                          1    0.1
25 Jad Sutton                          1    0.1
25 Jan Ullrich                         1    0.1
25 John ibbotson                       1    0.1
25 José Azevedo                        1    0.1
25 Koto Matamoros                      1    0.1
25 Kris Hedges                         1    0.1
25 Marco Pantani                       1    0.1
25 Marco Pinotti                       1    0.1
25 Marcus Ljungqvist                   1    0.1
25 Mark Fall                           1    0.1
25 Max van Heeswijk                    1    0.1
25 Nathan Griffith                     1    0.1
25 Oscar Freire                        1    0.1
25 Paolo Savoldelli                    1    0.1
25 Paul Martin                         1    0.1
25 Pepe ElMaricon                      1    0.1
25 Peter Farazijn                      1    0.1
25 Rolf Sörensen                       1    0.1
25 Sven Teutenberg                     1    0.1
25 Thor Hushovd                        1    0.1
25 Tom Boonen                          1    0.1
25 Uwe Peschel                         1    0.1
25 Wong Kam-Po                         1    0.1
25 Yaroslav Popovych                   1    0.1
25 Zbigniew Spruc                      1    0.1
 
Total	                             986