Cyclingnews' 2002 Top Ten - Tech Moments
Cycling is certainly one of the more technology-driven sports, although the rider is still largely responsible for his or her performances. Technical developments are thus followed with interest in the cycling world, and continue to break new ground. Cyclingnews tech editor Paul Mirtschin gives his take on what the best 'tech moments' of 2002 were.
10. Bargain bikes
In the bang for bucks stakes, 2002 can't be beat. With the quality of component getting better and better, you can walk away with a good quality bike for around US$600, and if you have a few hundred more the level of your ride jumps dramatically. They certainly make that $2500 bike you bought four years ago look a bit dated.
9. Bikes for everyone
You know a sport is becoming popular when you see big names such as Trek and Giant releasing track and cyclo-cross bikes built ready to race. The good side to this is that purchasing a track or 'cross bike is now as easy as hitting your local dealer, as long as you can work out what one you want..
A power split.
Photo: © Cyclingnews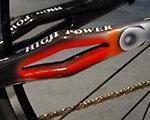 8. Carbon everything
During 2002 it seemed that a week didn't go by without a new carbon product being released. It was almost numbing to see "yet another $4000 carbon tubed frame". But with the popularity of carbon rears on road bikes, the abundance of carbon forks and almost all accessories featuring carbon somewhere, it isn't something that will go away soon.
7. GT and Schwinn return
With the end of 2001 rocked by the near death of the GT and Schwinn brands, many thought it was all over once Pacific had taken ownership of the companies. But a year later saw a number of high end bikes being shown under each brand, a successful MTB team led by Brian Lopes (GT) and a sharing of the i-Drive technology between the brands. Although you can buy a GT or a Schwinn in Walmart, at least the nice bikes are still sold in your local bike shop.
OnePointFive Vs 1.125"

6. New standards
While road bike standards are just that, the world of dirt keeps adding standards. Headsets now come in the new OnePointFive standard, bars and stems see the re-emergence of the 31.8 oversize standard, and now we have the American ISIS/Megatech standard in bottom brackets. Add into that the 253 standards already present on a mountain bike and you can see why bike mechanics go bald early.
5. Product crossovers
2002 saw road bikes start to look like mountain bikes, and mountain bikes start to look like roadies. Avid's road discs are in the wild, and frame builders are beefing up forks and rear triangles to accommodate them. At the other end of the scale, 700c/29" wheels are popping up on more and more bikes. What's next? Downhill bikes with drop bars?
4. Racer crossovers
There have always been riders who were good at multiple disciplines, but the last year seems to have had an explosion of riders swapping over and winning big. Jamie Staff jumped from BMX to track, and was a part of England's medal winning Commonwealth Games team. Brian Lopes and Wade Bootes both crossed from BMX to MTB, and are now training for track selection at the next Olympics. Mountain bikers Cadel Evans and Miguel Martinez both had success on the road, while a number or roadies continue to turn up to MTB events in the off-season. And let's not start on cyclo-cross.
Photo: © Rob Karman

3. Bikes as art
The last six months, especially those around the tradeshows, saw a number of bikes shown off that are more suited to hanging in an art gallery than getting covered in grime in a race. Merlin's Cielo, the Giant OCR Gold and more all make you wish you could afford two; one to ride, and another to keep in pristine condition overhanging the fireplace.
2. 2003 XTR
From the moment I saw the leaked photos, I knew this was a special group. Lightweight hydraulic discs, modular brifters, a much stiffer crankset and amazing looks all give the XC crowd a good reason to do a big upgrade. No longer can people say "disc brakes are too heavy".
Photo: © R. Gilbreath

1. Suspension improvements
2003 saw the market almost flooded with new suspension designs, and one or two old ones. Outland's Virtual Pivot Point design was licensed by Santa Cruz (and in turn Intense) for a range of bikes, while Specialized took a recent design and improved it with the Fox BRAIN shock. Fox released their Vanilla DH shock with extra adjustability, while shock makers Curnutt and Romic have continued to make shocks with position and speed sensitive damping. Progressive's 5th Element shock used Curnutt's technology and advanced it even further with 5 different adjustments, and Manitou licensed the Progressive design, tweaked it into both coil and air versions, and has started to ship shocks on Giant's new full suspension range.
All this means you have even more choice on how to set up your bike, ensuring you get the best performance. Or it means you have something else to fiddle with.