Cyclingnews 2002 Reader Poll Results
Legend of Cycling 2002
In his last Tour
Photo: © Sirotti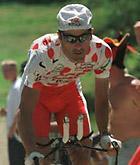 Allez Jaja! Last year you awarded Laurent Jalabert Legendary status after his Tour polka-dot exploits; this year, with his dramatic mid-Tour announcement of his retirement, solo attacks to secure the KOM jersey and season-capping victory in Clasica San Sebastian he has firmly staked his claim to the title of Legend.
While Jalabert's retirement this year was something of a surprise, Johan Museeuw's departure in late Spring of 2003 won't be - if he goes through with it. The Belgian hard-man was a worthy second ahead of Mario Cipollini, who unarguably had a legendary season.
We suspect that the 'he's retiring, lets examine his legacy' factor in this award won't kick in for Lance Armstrong till his career ends. With four Tour wins in his palmares now, he is certainly close to mythic status.
Finally, another Classics strongman Andrei Tchmil also bowed out this year. His sheer work ethic will be missed.
A few of your reasons follow.
Laurent Jalabert
Still competitive in his final year. King of the Mountains
San Sebastian
A great career, sprinter to climber/allrounder transition, still winning classics in his final year after announcing retirement and can always be counted on to make a far out attack. Has always kept the sport interesting.
Never liked him much 'til he hooked himself up to Bjarne Riis's rejuvenation machine and tore up Le Tour for the past two year. A classic reinvention of a rider who already had a great career, adding one more epic chapter at the end.
Pure grit.
Class, panache & dedication
Consistency and determination
He won classics, the green and polka dot jerseys, the Vuelta and was a TT World Champion. Who else in this day and age can claim that?
Went out on top & attacked all year long. Did not take a token farewell tour
Consistency for all those years
A great attacking rider with a wonderful career.. his ride (for example) in the '98 Vuelta, in which he challenged Olano and Jiminez in the mountains, was very exciting and courageous.
Announces his retirement then attacks for the remainder of the tour.
Farewell. You'll be missed.
Talk about going out in style. What a year and what a career!
Great season for someone in his prime. Next year is Museeuw's turn
This man is amazing when all sorts of races. And while he may not be as prolific a winner in the stage races he did when the Vuelta and captured many other masterful victories on his way to the culmination of his career in the last couple years and fans finally accepting him for the legend that he is.
Achieved a lot including popularity and respect
Phil Anderson said if he'd had that crash Laurent suffered, he would have quit the sport
Always a gentleman, a legendary sprinter and a man with the heart of a lion. His one-man breaks shall be sorely missed.
He showed us all (especially old racers like me) that the legs still work long after some would write you off.
Is there a classier rider in the peloton? Jaja has won so many races and still fought like he did to get the KOM in his final Tour. He showed his class all the way to the end.
Even as an elder statesman of the peloton, he is (was) a dangerous rider. He retired with dignity and grace. He will be missed.
From Classics to Grand Tours to the Worlds, he made something happen in them all. A rider in the old-school mould...
The real star of this year's Tour de France. The climax of a great career.
I think he is a fantastic rider and has been a great ambassador for the sport of cycling
His terrific because he has been a sprinter, time trialist and now a climber
A very respected 'no frills' rider.
He went out with a big heart
He had superior tactics to get the KOM in July and was at the front whenever was necessary, and only whenever it was necessary. He is my favourite. I want to become French just because of him.
Another Polka Dot jersey to add to the Green,Pink and Amarillo ones. Consistent, brave and tactically astute to the very end and with the class to bow out gracefully whilst still at the very top of the tree. Pure class.
Another dramatic season with outstanding results and pure class. Another inspirational rider leaves the ranks...
Because he is the epitome of what a true cyclist is. He is ageing and weathered but He races with HEART. NOT something a lot of today's cyclists have. He tries, even when he knows the odds are stacked against him. He rides all year long and NEVER rides Tempo!
Top rider. Top bloke.
Johan Museeuw
ONE season of results for this guy could make a career. He is the consummate professional. His palmares is extensive. He will be immortalized as a Master of Classics
He already is a legend and will always be so.
He never stops, 2nd in the world cup at his age, what an effort!!
He was going to retire after failing to win the Tour of Flanders and a week later destroyed the field and made the Paris Roubaix look easy in victory
He has been there for so long, came back after each of his heavy injuries and is a role model for every cyclist
Paris Roubaix win, consistency
Too many to list, but how about 3 Flanders & Roubaix wins
A great cyclist, a great man. His break in '02 Paris-Roubaix was unbelievable and inspiring
Mr Comeback, and an inspiring man for the would-be Flandriens
So long at the top. And 2 world cup victories (+the best in the Ronde van Vlaanderen) in what could have been his last year
He's on top for years now. He's gone through some really tough moments! He's legs almost got amputated and he nearly lost his life, but he got back and how !!!
The man is invincible after so man setbacks
He's still the best one-day racer and is an inspiration for a lot of young cyclists. If he were an Italian, he would already have his statue and his birthplace named after him.
The best classics rider since Kelly. In an era of here today gone tomorrow stars he has stayed at the top winning the best races for years.
He owns P-R and the World Cup is almost always his to lose He may not be a great stage racer anymore, but he does know how to suffer and reclaim his brilliance.
The ultimate hardman
10 reasons
Best classic rider of last decade
Paris Roubaix at his age after such devastating injuries was an amazing cap on his career -- unfortunately, I suspect it will be his last
he is just the best modern day classics rider. I just admire his guts, determination, and work ethic
His record speaks for itself ...
unstoppable in the classics
Never say die attitude. Unbelievable determination to give all he has.
He's been going strong for years. Who's tougher?
He retires more times than Michael Jordan and not only deserves respect but inspires fear among his peers.
This year's PR and his World Cup season.
Consistently wins the toughest one day races
he has won many major classics, often in fabulous ways. And he did some of this after two amazing come backs (one time he was even almost dead)
Most successful one day racer of his generation
No reasons are necessary for this man
His age & number of wins in the classics
No reason is necessary for a true Legend
He never quits. He's tough. He wins.
Still king of the Classics.
Always in the action in the classics. Well-prepared and tactically superb. Delivers when it matters most.
Mario Cipollini
Best sprinter of all time?
Cycling best character. Lots of personality.
His faux retirement was silly, but with his number of wins getting higher and higher, it's time to acknowledge that he ain't just a pretty face, so to speak.
Superb performance, great character, amazing palmares, he is a credit to the sport
He's done it all, even at this late stage in his career, for a sprinter
Finally achieved actual legend status and acceptance as a real cyclist
Makes sprinting seem easy
160+ victories and COUNTING!
Better out of retirement than Mike Jordan
Not just for his stage wins, but a classic and the world's in the same season - not bad for a retiree!
He has had a great career and is one of the best sprinters of all time.
A true leader of the racers in the peloton
I would have liked a second vote to say Jalabert, but Cipo won because he finished his desires of all the previous years, and won some great races with fantastic rides: Milan-San Remo, Gent Wevelgem, the Giro, and then coming out of retirement to ransack the Vuelta and take the rainbow jersey. This man was already a legend but he showed everyone who didn't think he was that he is.
The sheer presence of the man. I saw him at the start of the Giro stage in Viareggio. He knows how to wow a crowd. His performances are legendary stuff. Big mouth - big results!
Sex bomb on and off the bike
Age and excellence - determination
He represents tradition coexisting with the present.
Milan-San-Remo, Giro, Vuelta, Worlds
Has won every one day race there is to win, including world Championships
He is the BEST!!!!
Other riders are retired at his age - he is winning world championships
He has done so much for the profile of cycling and because of his wins a Milan San Remo and at the worlds
What a sprinter
For the style, the mystique, and the wins!
There will never be another like Cipollini!!!
Got all the things he wanted. Worlds & Milan-San Remo.
He won the Worlds, two Classics, six stages at the Giro, 3 in the Vuelta at the age of 35!
Win at Milan-San Remo, Giro stages, Vuelta Stages, Worlds ... such results after all those years. A true legend! And I will vote for him after he passes Binda's record for Giro stages
He reached Immortality this season, with a SuperStar performance. He doesn't talk as much as the other wanna-be's. He just makes it happen. The rest ought to try to learn a little from him.
Elevates himself by winning World Championship, Milan San Remo, Gent Wevelgem
He continually sets his sights on winning the hardest races and does so consistently
It's time to recognize Super Mario as an all-time great. We'll miss him when he's gone. Hope he stays around for a little while longer.
So many, particularly the Giro total
Still kicking arse at 36.
I like his hair.
For a person that didn't see Eddy Merckx in any race, Mario is definitely the successor...
He is closer to the end than the beginning and managed one of his best seasons to date.
He's established his greatness this year, winning worlds, riding to the front at Gent.
The best sprinter ever
Maybe it is too early to be naming Cipo thus, as there is still a lot more to come from the great man, I look forward to seeing 'The Lion King' break yet more records in 2003.
After many years he was win the Gold Medal in the World Championship.
Lance Armstrong
4x, his class after Fabio Casartelli's death and his reaction passing his memorial, and the generosity towards Pantani last year, and for finally trying to help Georgie boy
The first man to win his sixth Tour. Did I say that? I'd hate to jinx him!
Look at his season... winning 1 week stage races in his build-up, driving breaks on the bergs in his second race
Even without the cancer angle, he would certainly go down as one of the best. The drama of his life story will cement him into cycling's pantheon.
His cycling achievements speak for themselves. But what really makes him a legend is his attitude about face after cancer from a brash young Texan to a humble cancer survivor. It transformed him into someone who does more than any other active professional athlete for his charity and determination to find a cure for cancer and help other cancer fighters and survivors.
Against the greatest of odds, he won 6...err 4 for now
Legendary riding, legendary attitude
Can climb, time trial and has the yellow jersey looking the proudest yet
4-time consecutive Tour de France winner, works harder than anyone.
He commands respect and fear, measures his praise and punishment, can win any race he enters, and must be accounted for at all times. In short, he makes a difference in every race, every pre-event news conference, and every post-race party. He is a complete rider because he is a complete person.
Absolute domination of the Tour. Again.
He has beaten cancer and come back to win four consecutive Tours de France and he uses his public persona and sporting achievements to help other cancer sufferers - me included!!! His cycling achievements are quite simply awesome and legendary. I hope some day to shake his hand and say a heartfelt 'Thank you' for all his inspiration did to help me through a serious bout of Testicular Cancer.
Best American cyclists, cancer survivor, returned to dominate the sport, raises cycling awareness, class act on and off the bike
There aren't enough bytes.
Builds on his everyday. . .He had his best season yet. .. he was strong and present from March through the summer
If he is not a legend then no one deserves the title.
Andrei Tchmil
A real flahute
Hard man of the classics. But tends to get overlooked by the more glamorous stars of cycling when it comes to awards. My abiding memory of him was seeing him win Roubaix (94) after a lone break away in some of the toughest conditions for 20 years
One of the last of the hard men. How many riders left in the peloton can just burn somebody off there wheel like he could. I think one time he walked away from Museeuw and Museeuw was 5 seconds away but the rubber band snapped.
Really tough rider who always fought hard. An inspiration to others.
Everything you want in a cyclist - pity he ain't a Brit but at least he is more Flandrian than Flanders. What a goal to aim for ...!
A successful career that ended this year in a strong way.
He's old and rides like a horse
Hardman from Russia/Belgium
Do I need a reason? Classy racer.
I've got lots of respect for this guy
For his face of pain
Results
                                   Votes     %ge
1 Laurent Jalabert                   346    44.2
2 Johann Museeuw                     129    16.5
3 Mario Cipollini                    120    15.3
4 Lance Armstrong                    108    13.8
5 Andrei Tchmil                       17     2.2
6 Rolf Sorensen                        9     1.2
7 Andrea Tafi                          6     0.8
7 Marco Pantani                        6     0.8
9 Abraham Olano                        5     0.6
9 Eric Zabel                           5     0.6
11 Brad McGee                          3     0.4
11 Jan Ullrich                         3     0.4
13 Anna Millward                       2     0.3
13 Jacky Durand                        2     0.3
13 Thomas Frishknecht                  2     0.3
16 Alex Zulle                          1     0.1
16 George Hincapie                     1     0.1
16 Graeme Miller                       1     0.1
16 Javier Otxoa                        1     0.1
16 Jeannie Longo                       1     0.1
16 Kent Richardson                     1     0.1
16 Leontien Zijlaard-Van Moorsel       1     0.1
16 Ludo Dierckxsens                    1     0.1
16 Melchoir Mauri                      1     0.1
16 Michele Bartoli                     1     0.1
16 Paolo Bettini                       1     0.1
16 Paul Test                           1     0.1
16 Robbie McEwen                       1     0.1
16 Roger Young                         1     0.1
16 Roland Green                        1     0.1
16 Ryszard Szurkowski                  1     0.1
16 Scott Sunderland                    1     0.1
16 Stuart O'Grady                      1     0.1
16 Vera Koedooder                      1     0.1
 
Total                                782