Cyclingnews 2002 Reader Poll Results
Rider of the Year
Congratulations!
Photo: © Sirotti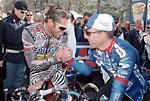 Cipo's dream goes to cycling's heart
If all the suffering and sacrifice which goes with being a cyclist at any competitive level is about fulfilling one's dreams, then Mario Cipollini's efforts rang home with our readers this year.
One of the best pictures we published this year showed the Cyclingnews rider of the year in 2001, Lance Armstrong, congratulating Cipo after his win at Milan San Remo. That win was The Dream part 1. Then came The Dream part 2 at the other end of the season with the sprinters' worlds course being taken over by a well-drilled team working for the el supremo sprinter.
What also convinced many of you was Cipo's hammering into a headwind in this year's Gent-Wevelgem as he bridged to a leading group that eventually determined the race. His effort demoralised the riders in that group, such as George Hincapie and Fred Rodriguez, who realised that only a puncture would stop the big Italian from winning.
Next stop for the Cipollini train was the Giro d'Italia where Supermario clocked up six stage wins including the final one into Milan - a reminder perhaps for his detractors that he's quite capable of getting over the mountains and finishing a major stage race. Those half-dozen wins put Cipo within reach of another of his dreams - to equal the Giro record of 41 stage wins set by the legendary Alfredo Binda. He just needs one more: a 2003 goal, we suspect.
In between Cipo's high points of the year, Rider of the Year runner-up Lance Armstrong once again showed his complete and utter dominance in what was arguably his easiest Tour win. Armstrong is now enjoying even greater recognition and respect within the USA, as evidenced by his athlete of the year award from the ball sports dominated Sports Illustrated magazine, as well as other mainstream media nominations. From a Cyclingnews perspective, what is most surprising is that these awards have come when Armstrong has won the Tour four times, when he should have been recognised this way in 1999.
The Blue Train rolled along not just in July, but in May and June as well. Armstrong was looking suitably motivated after yet another Amstel saga and an eventual victory or two in April will only help to firm his place among the greats.
Postal's mid-year focus was exposed at the Vuelta. The team was struck by bad luck and was less experienced than the TdF squad, so it was unable to really support Heras. At the same time, the lead rider is on his own during the time trials but the Vuelta could have easily been Postal's second big win.
Meanwhile, Cipo's ongoing frustration with the attitude of the Tour de France organisers toward him saw him announce his retirement in July, though nobody really believed he was gone for good. He returned for the Vuelta and before departing the Spanish Grand Tour to prepare for the world's, he ran up another three stage victories.
But the stage wins looked like snacks compared to Cipo's two main courses for the year. Both of them represented dreams; dreams which he'd held and cherished and used for motivation to keep going all these years. In being so open, he let us share his desire so when crossed the line in San Remo and Zolder, we could also celebrate his great victories. Bravo Cipo!
The others
While Cipo and Armstrong dominated the voting, you also recognised Robbie McEwen's numerous wins this year, Laurent Jalabert's excellent career finale and Santiago Botero's sheer grit.
Your comments
Mario Cipollini
A brilliant season with classic wins and great Giro
His capacity for self-publicity is boundless. Thankfully it is backed by his talent. And he is Mr Super Cool
Mario achieved things this year that he never did in the past. Bridging up to the winning break at Ghent-Wevelgem showed us that he meant business this year. Winning the World Chanpionship put the finishing touches on the masterpiece.
He won in one season, what most people win in a career. 6 stages of the Giro, 3 at the Vuelta, La Primavera, Ghent-Wevelgem, and the World's! What more could one ask for?
Just too many big wins across the whole season to deny him this award too.
The Giro, Milan San Remo, Gent, the Vuelta and the Worlds. He made a difference everywhere. If he is not invited to Le Tour, it will be a tragedy to be revisited on LeBlanc at every opportunity.
At 35 found the motivation to win at will and add the necessary feathers to his cap that will keep him counted amongst the all time greats in the sport. He's got a lot of swagger but backs it up in his brilliant riding.
Hey, I can hardly stand the guy but his accomplishments this year were un-deniable
Much as I don't like Cipo, you habe to give credit where credit is due. He finally won MSR, actually got in a break (!) at GW and finished the season with the Rainbow Hoops. yeah, not bad
Hands down the greatest sprinter of his generation. I only hope he gets one more shot at racing in the TDF.
Absolutely no question. He won races like clockwork -- and not just flat sprints, but MSR and G-W. He won everything there was to win, from Giro and Vuelta stages to the World Championship. Long live the lion king!
Who has done more?
From Milan-San Remo to Gent-Wevelhem to the Giro to the Vuelta then to the Worlds-The Lion King shows that his dreams can come true and, in doing so, brings much needed romance back to our great sport
He won everything he set his mind to - plus I love the story a reader sent in about him giving his cap to a kid in a wheelchair and waiting for the kid's mum to take a photo. Never thought much of him before, but utter respect based on that alone.
Said he'd deliver and did, the hardest possible thing to do in professional sport. In a one day race like the Worlds you've got to be super to make it happen.
In another year of drug shame and farce (the Giro anyone) his two victories brought a huge smile to everyones' face. How can you not celebrate when, in the autumn of his career, he finally wins the two races that he really cared about. A man riding for pride and the love of two of the greatest one day races, not chasing money or world cup points. Made the tour organisers look very very foolish.
For winning when everyone expected him to. For showing that winning does not require head butting tactics.
At 35 the Lion King finally takes an emotional Milan San Remo, wins Ghent-Wevelgem by joining a breakaway, takes numerous major stage races, and then caps it all by riding a faultless, nerveless World Championship to take the biggest title of his life. As a fellow 35 year old who feels his age, I salute him!
Lance Armstrong
Won the TdF as expected and also the Midi Libre and Dauphine. Did well early at the Criterium Intl and Amstel Gold. Finished with a nice result in San Francisco.
The singularly determined focus on his objectives. And of course - the payoff.
Once again he obliterated the rest of the field in Le Tour, reducing the greatest cycling race in the world to a procession. Boring to watch but you have to hand it to the man.
half the world wants him to win and half the world wants him to lose, that is a tone of pressure and he is able to satisfy half the world and dissappoint the other half year after year
His fourth Tour win was backed up my impressive showings and victories in other races. He plays a role in every race in which he competes, Eddy Merckx style.
He remains the most complete cycling athlete around - a 4th Tour just proved that
he did well at everything, winning three stage races, and going well in classics and Zurich...unstoppable!
He is the only rider who you have complete and utter right to be scared silly of. The mental, the physical, this dude has it all- and shows it time and time again. And, behind the portrayed image, ego and outer-face, you can sense he is a decent, genuine dude - something a lot of the riders will never taste in their lives.
His dominance of the tour is masterful, and he seems to have mellowed a little as a human being as well!
I think his domination of his prep races showed just how commited this guy is to The Tour. There just isn't anyone that has the will to win like this guy.
Robbie McEwen
The Green Jersey, the Giro & TDF stages, & would have won the worlds if he had Cipo's train. The most wins of the year !!
Finally realized his potential.
The man has won all season & shown his true ability we knew he has. Classy bike rider
Won all year long
Won from start to finish of season
Has had a fantastic year, 2nd in the worlds,won 19 races won the green jersey
Really confirmed that he's among elite riders in the World and will cleary get better in the next few years.
I've always liked Robbie Mcewen as the underdog but I like him more as a dominant force. When he won the Champs stage of the Tour in 99 I hit the roof. To see him win one beautiful win after another this year Iam beside myself. As for the little bumping and butting in the worlds with Zabel, that's part of racing.
Results
                               Votes     %ge
1 Mario Cipollini                425    49.9
2 Lance Armstrong                185    21.7
3 Robbie McEwen                   40     4.7
4 Laurent Jalabert                39     4.6
5 Santiago Botero                 24     2.8
6 Erik Zabel                      15     1.8
7 Paolo Bettini                   14     1.6
7 Johan Museeuw                   14     1.6
9 Tyler Hamilton                  11     1.3
10 Roberto Heras                  10     1.2
11 Brad McGee                      7     0.8
11 Aitor Gonzalez                  7     0.8
13 Susanne Ljungskog               5     0.6
14 Tom Boonen                      3     0.4
14 Cadel Evans                     3     0.4
16 Roland Green                    2     0.2
16 Nicole Cooke                    2     0.2
16 Michele Bartoli                 2     0.2
16 Laszlo Bodrogi                  2     0.2
16 Joseba Beloki                   2     0.2
16 George Hincapie                 2     0.2
16 Eric Dekker                     2     0.2
16 Alex Zulle                      2     0.2
24 Zbigniew Spruch                 1     0.1
24 Yaroslav Popovych               1     0.1
24 Xavier Otchoa                   1     0.1
24 Vjatcheslav Ekimov              1     0.1
24 Vera Koedooder                  1     0.1
24 Trent Lowe                      1     0.1
24 Steve Peat                      1     0.1
24 Sean Eadie                      1     0.1
24 Raimondas Rumsas                1     0.1
24 Petra Rossner                   1     0.1
24 Paolo Savoldelli                1     0.1
24 Michael Boogerd                 1     0.1
24 Max van Heeswijk                1     0.1
24 Kurt Ashle Arvesen              1     0.1
24 Igor Gonzalez de Galdeano       1     0.1
24 Giovanni Lombardi               1     0.1
24 Freddie Hoffman                 1     0.1
24 Frank Vandenbroucke             1     0.1
24 Francesco Casagrande            1     0.1
24 Floyd Landis                    1     0.1
24 Filip Meirhaeghe                1     0.1
24 Fabian Cancellara               1     0.1
24 DeDe Demet Barry                1     0.1
24 David Millar                    1     0.1
24 Chris Hoy                       1     0.1
24 Chechu Rubiera                  1     0.1
24 Charles Dionne                  1     0.1
24 Bartoli Michele                 1     0.1
24 Baden Cooke                     1     0.1
24 Anne-Caroline Chasson           1     0.1
24 Andy Jacques-Maynes             1     0.1
24 Andrea Tafi                     1     0.1
24 Allison Dunlap                  1     0.1
 
Total                            851