Cyclingnews 2002 Reader Poll Results
Most improved rider
Gonzalez
Photo: © La Vuelta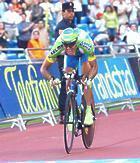 Another close one, but your selection for most improved rider of 2002 was a very deserving one: Vuelta winner Aitor Gonzales of Kelme, who, in the words of one voter went "from relative obscurity to grand tour winner in one year".
Close behind Gonzalez are two Australians whose backgrounds and styles couldn't be more different but who both delivered big on their undoubted promise this year. With just two votes between them mountain biker-turned-climber Cadel Evans and sprint powerhouse Robbie McEwen tool silver and bronze in this category.
We've culled the votes for 'me', though a big well done to those four riders for having a better 2002 than 2001, and special mentions to the person who voted for 'anyone other than me' (I know how you feel) and the proud parent who voted for "My 3.5 year old" who "wouldn't ride, tried it and fell over when the training wheels ran off the sidewalk, laughed, got back up and kept on going." The next generation is in good hands, it seems.
Here's a selection of the reasons you gave for your choices.
Aitor Gonzalez
He is not old rider by any means. This was his first big season - two big tours in great style (after good, not great Giro I didn't suspect, that he could do so well in last week of Vuelta). He is a great time trailer and he can be a danger for next year's Tour for Lance.
The name Aitor Gonzales was not particularly common in 2001. Now in '02 he has won the Vuelta.
If his emergence at the Vuelta is more than just lucky form, he is a rider to be reckoned with for years to come.
Came from almost no where to win the Vuelta.
First win in Grand Tour, by far his best finish, and winning a GT puts you up there.
No huge results last year, this year won 2 stages in the Giro and went on to win overall at the Vuelta.
Good big hearted Fighter.
Best spanish stage rider, victory at Vuelta
Honestly hadn't heard of the guy until the Vuelta, and yet his eventual victory seemed inevitable from the moment he won that first time-trial.
Cadel Evans
Showed great courage and heart in his first Giro.
From a very good mountain biker to a much better road cyclist.
From part-time roadie to major stage race contender
He stepped into road racing with a bang, but was never too cocky about it.
First Aussie in pink!!
Dirt to pink to T-Pink
Wearing the Maglia Rosa late in the Giro in his first full roadie season, and after working hard for his team leader the first week!
He has made the transistion from a single day rider from his mtb days to the next big thing in road stage racing so quickly
Robbie McEwen
Has shown what he can do with great team support & a season with no injuries. Has the perfect attitude to be a sprinter. Combine all this & you have one of the great sprinters. In previous years Robbie has lacked the team & has picked up injuries at bad times during the year.
Finally performed how he's promised to.
100th to 4th in UCI rankings. Nuff said.
Already damn good rider, but what a year! 19 wins. Dethroned Zabel and gave Mario all he could handle.
He finally had a team to help him in the sprints
Breakthrough year, big wins throughout 2002 plus a green jersey
He seems like a bit of a brat, but even so, 2002 was the year that McEwen tapped into his potential and showed his full potential. He has clearly become a much more driven and disciplined rider.
Established himself as one of the top sprinters in the peloton, consistently winning bunch sprints in major races.
Results
                                    Votes     %ge
1 Aitor Gonzalez                       99    13.4
2 Cadel Evans                          90    12.2
3 Robbie McEwen                        88    11.9
4 Tom Boonen                           48     6.5
5 Tyler Hamilton                       43     5.8
6 Baden Cooke                          34     4.6
7 Mario Cipollini                      31     4.2
8 Floyd Landis                         21     2.8
9 Raimondas Rumsas                     20     2.7
9 Santiago Botero                      20     2.7
11 George Hincapie                     16     2.2
11 Ivan Basso                          16     2.2
13 Paolo Savoldelli                    14     1.9
14 Christian Vandevelde                12     1.6
14 Roberto Heras                       12     1.6
16 David Millar                         8     1.1
16 Yaroslav Popovych                    8     1.1
16 Charles Dionne                       8     1.1
19 Michele Bartoli                      7     0.9
21 Bradley McGee                        6     0.8
22 Julio Perez Cuapio                   5     0.7
23 Danilo Di Luca                       4     0.5
23 Levi Leipheimer                      4     0.5
23 Michael Rasmussen                    4     0.5
23 Paolo Bettini                        4     0.5
23 Tom Danielson                        4     0.5
23 Igor Astarloa                        4     0.5
29 Alessandro Petacchi                  3     0.4
29 Jakob Piil                           3     0.4
29 Kurt Asle Arvesen                    3     0.4
29 Lance Armstrong                      3     0.4
29 Marcus Ljungqvist                    3     0.4
29 Mario Aerts                          3     0.4
29 Ryder Hesjadahl                      3     0.4
36 Alex Zulle                           2     0.3
36 Bradley Wiggins                      2     0.3
36 Chris Newton                         2     0.3
36 Dario Frigo                          2     0.3
36 Franco Pellizotti                    2     0.3
36 Frank Vandenbroucke                  2     0.3
36 Jamie Staff                          2     0.3
36 Jimena Florit                        2     0.3
36 Johan Museeuw                        2     0.3
36 Joseba Beloki                        2     0.3
36 Marty Nothstein                      2     0.3
36 Mike Barry                           2     0.3
36 Nicolas Vogondy                      2     0.3
36 Susanne Ljungskog                    2     0.3
36 Jeremy Hogan-Korbolski               2     0.3
51 Adam Craig                           1     0.1
51 Andrea Tafi                          1     0.1
51 Angel Casero                         1     0.1
51 Angelo Furlan                        1     0.1
51 Anthony Smith                        1     0.1
51 Anyone Other Than Me                 1     0.1
51 Baden Burke                          1     0.1
51 Bobbie Traksel                       1     0.1
51 Carlos Sastre                        1     0.1
51 Chris Hoy                            1     0.1
51 Daniele Bennati                      1     0.1
51 Daniele Nardello                     1     0.1
51 David Barnabeu                       1     0.1
51 Denis Lunghi                         1     0.1
51 Freddy Rodrigues                     1     0.1
51 Gina Hall                            1     0.1
51 Gustav Larsson                       1     0.1
51 Igor Gonzalez De Galdano             1     0.1
51 Jeremiah Bishop                      1     0.1
51 Jeremy-Horgan Kobelski               1     0.1
51 Jessica Phillips                     1     0.1
51 Jose Azevedo                         1     0.1
51 Jose Maria Jimenez                   1     0.1
51 Judith Arndt                         1     0.1
51 Julian Dean                          1     0.1
51 Kevin Livingston                     1     0.1
51 László Bodrogi                       1     0.1
51 Laurent Jalabert                     1     0.1
51 Marc Lotz                            1     0.1
51 Marc Scanlon                         1     0.1
51 Marco Pantani                        1     0.1
51 Marek Rutkiewicz                     1     0.1
51 Mark Fitzgerald                      1     0.1
51 Mark Rich                            1     0.1
51 Matt Wilson                          1     0.1
51 Michael Rogers                       1     0.1
51 Miguel Martinez                      1     0.1
51 My 3.5 Year Old                      1     0.1
51 Pablo Lastras                        1     0.1
51 Pete Knudson                         1     0.1
51 Petra Schörkmayer                    1     0.1
51 Pippo Pozzato                        1     0.1
51 Richard England                      1     0.1
51 Rik Verbrugge                        1     0.1
51 Robert Hunter                        1     0.1
51 Ruebens Bertagliati                  1     0.1
51 Rui Sousa                            1     0.1
51 Sal Ruibal                           1     0.1
51 Sean Eadie                           1     0.1
51 Sebatian Lang                        1     0.1
51 Sigvard Kukk                         1     0.1
51 Stuart O'Grady                       1     0.1
51 Thor Hushovd                         1     0.1
51 Tina Mayolo Pic                      1     0.1
51 Trent Lowe                           1     0.1
51 Vera Koedooder                       1     0.1
51 Viatcheslav Ekimov                   1     0.1
51 Wade Boots                           1     0.1
51 Walter Lapcyhnski                    1     0.1
 
Total                                 740