Cyclingnews' 2002 Top Ten - Personalities of the Peloton
You know who the Top Ten Riders are based on performance, but who are those riders that have made cycling interesting, colourful and sometimes funny - the personalities of the peloton? Anthony Tan reviews the geezers responsible for making you follow the sport with even more passion, despite pleas from your partners to do otherwise.
In reverse order, here's Cyclingnews' 2002 Top Ten Personalities of the Peloton.
10. Frank Vandenbroucke
2003 - last chance?
Photo: © CN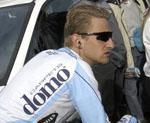 He hasn't finished a top level UCI event all year, but no matter, Frankie's still making the headlines in Belgium. How VDB manages to capture so much public attention without turning the pedals over never ceases to amaze me.
Let's hope his wife, psychiatrist, uncle Jean-Luc - or anyone - can help turn Frankie's cycling fortunes around soon, so we remember him for something other than his all too frequent mishaps.
It's not too late Frank - now git on yer bike!
9. Aitor Gonzalez
It takes a brave man to defy the orders of Vicente Belda, directeur-sportif of Kelme.
But that's exactly what Gonzalez did on the climb of Angliru in the 2002 Vuelta. Gonzalez was ordered to follow any attacks instigated by Heras or Beloki, but instead, the Spaniard did the total opposite, becoming the protagonist behind Heras' rise and teammate Sevilla's demise on the slopes of this most vicious of climbs.
The following day, he admitted his error, but was it a calculated error?
Either way, Gonzalez never gave in after that incident, subsequently winning the Vuelta and earning himself the right to become team leader at Fassa Bortolo.
All in a month's work, right Aitor?
8. Santiago Botero
I may not understand Spanish, though it's not hard to tell Santi Botero is a character unto himself.
Those fiery blue eyes were full of zest on the day of the first time trial in this year's Tour, and again on the stage to Les deux Alpes, where the man from Medellin destroyed the field in an unbelievable display of power riding.
Botero's race strategy appears to be one of "fight fire with fire", and if the kettle was boiling this year, 2003 should be a volcanic eruption.
7. Johan Museeuw
Can't stop winning
Photo: © Quick-Step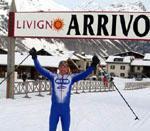 Like Armstrong, the Lion of Flanders rarely changes his course from year to year. Museeuw's main objective has and always will be the Spring Classics - especially a race they call "The Hell of the North", Paris-Roubaix.
Although responsible for almost ending his career, Paris-Roubaix will always be dear to Johan's heart, and this year, Museeuw showed the heart and strength of a lion to win the race for the third time, sealing his reputation as one of the finest Classics riders of all time.
Museeuw may be a man of a few words but his actions and results speak for themselves, and his presence on a two wheeled machine has a mystical personality all on its own.
6. Lance Armstrong
In the last five years, there's been more written about this man than any other professional cyclist.
Armstrong began the sport as a brash, precociously talented youngster who oft defied the unwritten rules of the peloton. A decade on, he's still incredibly talented but now a man of substance, much more philosophical about life and an admired and well respected personality.
Cancer has humbled him. Sure, Lance knows he's a great rider and carries himself accordingly, however, he now gives plenty of time to other cancer patients, countless speeches off the cuff that can captivate and move an audience, and in the space of 48 hours, flies half way across the world and back again - all for a charity ride to support the cancer foundation he created, the Lance Armstrong Foundation.
Just like your local milkman, the Texan's been "doin' the rounds" ever since his comeback in the 1998 Vuelta. Nothing much has changed since then (apart from four straight Tour wins) and for this reason, he ranks not as Cyclingnews' biggest personality of 2002, but as one of the biggest.
5. Susanne Ljungskog
Even Vikings cry
Photo: © AFP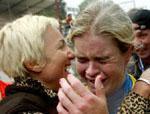 Thor Hushovd may be the Viking guy, but Susanne Ljungskog is most certainly the Viking gal of professional cycling.
Her flowing blonde locks and well defined features, combined with her tenacity, pure aggression and an acute ability to read a race, is quite simply, a marvellous and exciting package. I don't believe there's been a scintillating a rider as Ljungskog in the last decade of women's pro cycling.
Hopefully in the not too distant future, Ljungskog's exploits will be replicated by the next generation of female cyclists. Already, we are starting to see some encouraging signs in the form of Swiss sensation Nicole Brändli, who displayed a Ljungskog-like style of opportunistic riding on one of the toughest stages of this year's Grande Boucle Féminine.
Bravissima Susanne. More please.
4. Jan Ullrich
OK - he hasn't raced much this year. Actually, it's been that long, I can't even remember the last race Jan Ullrich rode.
But that hasn't stopped the cream puff-challenged German grabbing the headlines almost as often as the year he won the Tour de France. The majority of European media are just as eager to cut Ullrich down as they are to hail him as Armstrong's only rival of worth - which, unfortunately for the sport of cycling, still holds true. A Tour without Ullrich is a Tour de Lance.
And that is what makes Ullrich a great cycling personality, on or off bike. He was and still is the only real challenger to Armstrong whether he rides the Tour or not - thus his actions are followed in minute detail wherever he goes.
It could even be argued that Ullrich aggravated his knee as a result of intense media pressure to be a worthy contender for overall honours in the 2002 Tour, over training as a consequence. It was certainly the pressure of fans, peers and teammates that caused his experimentation with ecstasy and a subsequent altercation with a bicycle rack and the police.
While the bicycle rack soap may have been a touch amusing, it was also an unfortunate and sad moment for Ullrich and the sport of cycling. I would much prefer to write about Ullrich's modesty and dry sense of humour at a press conference after another TdF win, rather than his inability to handle himself in a difficult situation.
Jan, all the best for next year and please, try and stay out of trouble.
3. Sean Eadie
Hey coach, my beard's getting itchy!
Photo: © Mike Gladu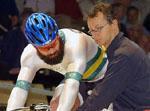 Shaving his legs to "feel" speedy but letting his facial hair grow out for six months may defy the laws of both logic and aerodynamics, but you can't say Eadie hasn't been one of the protagonists responsible for the renewed interest in track cycling over the past 12 months.
Before recently becoming clean-shaven - courtesy of another sprint legend Arnaud Tournant - Eadie accumulated more names than Chevy Chase in Fletch, ranging from Rasputin, to Yeti, to Brutus - and as his number of aliases grew, so did his popularity.
Not only did his following escalate, the New South Welshman also had his best year ever, defeating fellow Australian Jobie Dajka in the final at Copenhagen to become World Sprint Champion at 33 years old.
Eadie has lapped up the publicity like a kitten to its milk, but at the same time, he has been gracious in defeat and gracious in glory - the sign of a true champion.
The ex-schoolteacher from Sydney certainly taught his rivals a lesson last year, and the 2003 curriculum is looking just as challenging.
2. Mario Cipollini
So long as Super Mario keeps turning up to press conferences wearing the latest Dolce & Gabbana casualwear, standing on the prologue start line wearing a lion-striped skinsuit, winning sprints so comfortably it almost looks staged, and generally behaving like your everyday playboy rock star, the man from Lucca will continue to dominate the headlines in Europe.
2002 was no exception. Whether it be the L'Equipe sports newspaper or the latest issue of GQ, you're sure to find the heavily gelled hair, the chiseled features, the aqua blue eyes and the three day growth that is Mario Cipollini somewhere among the pages.
However Mario's antics - while still highly entertaining - are becoming slightly predictable. When he decides to quit a race to chair a beauty contest, it's no longer perceived as out of the ordinary. And did anyone truly believe Cipollini was going to make a quiet exit from cycling after such a colourful and illustrious career? C'mon Cipo, we all know you better than that!
For this reason, Mario stands on the second highest step of the Cyclingnews personality podium for 2002. But don't hold back Mario - we still adore you!
1. Robbie McEwen
Someone loves Robbie
Photo: © AFP
When it comes to the Thunder from Down Under, most cycling fans stand well clear of both sides of his picket fence in Everbeek, Belgium. Though love or hate him, no one can deny public interest in McEwen has risen in line with his results and his often outspoken comments, and in the space of 12 months, he's become one of the most recognisable personalities in the European peloton.
It's not like the Queenslander goes out of his way to stir up trouble, but when there's something to be said, the pocket rocket will tell it like he sees it.
And is that really so bad or unexpected?
McEwen never asks anyone to agree or disagree with what he says or believes, nor are the majority of comments without foundation. His exchange of words with Armstrong during the Tour was, in retrospect, something that happens when two people are fighting tooth and nail to keep their respective leader's jerseys all the way to Paris.
To both of their credit, the rift between the two guns of cycling appears to have quelled, which is what gentlemen and professionals do - forgive and forget. To quote the old but wise saying quite literally, "what goes on Tour stays on Tour."
While fuelled by McEwen's actions, dummy spit number two was in fact courtesy of one Mr Erik Zabel, immediately after the final sprint to the line at this year's World Championships.
Those last two words are what's important here, not McEwen's comments.
Try to imagine yourself in McEwen's Sidi shoes: it's yours and your country's best chance to take the rainbow jersey in years, however, in the final kilometres, you're up against a full complement of the Squadra Azzurra, driving Cipollini to the line at 70 kilometres an hour. Wouldn't you be getting up close and personal?
He might be the Lleyton Hewitt of modern day cycling, but ask any tennis fan who's the most colourful character on the tennis circuit at the moment. Which is what we're measuring here - colour, not likability - and in my mind, Robbie McEwen is cycling's chameleon.