Sydney Track World Cup - CDM
Sydney, Australia, May 14 - 16, 2004
Women's Team Sprint
Cop that: Germans take women's team sprint
By Karen Forman in Sydney
Kathrin Freitag & Katrin Meinke (Germany)
Photo ©: Mark Gunter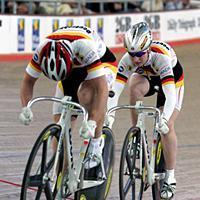 The German team of Katrin Meinke and Kathrin Freitag made a clean sweep of the women's team sprint on the final day of the UCI Track World Cup in Sydney today. The delighted pair beat Australians Rosalie Hubbard and Rebecca Ellis in a hard fought final in front of a large crowd.
Meinke, 24, a police officer from Cottbus in east Germany said she and the 30-year-old Freitag had not ridden together for a year. They last teamed up to win in Cape town. "I rode with Susan Panzer in [the last World Cup round in] Manchester," she told Cyclingnews. "But it was good today with Kathrin. We went together well."
She said she thought the Germans had romped it in because most countries didn't have two sprinters of the same ability to enter. "That's why we did well for Germany, because we are both the same."
Unfortunately there is no women's team sprint at the world championships in Melbourne, but Meinke intends to ride the sprint, the 500-metre time trial and the keirin, and she has her goals set high. "I am hoping the German team will select me for Athens," she said. "If we are under the first 10 in Melbourne we can go to the Olympics."
Meinke has been riding since she was seven and has an 18-year base. "At first I went on the road then in 1995 I started to train for the sprint," she said. "I am a police woman for my job but it allows me also to train for cycling." Maybe that's what makes her tough, although with her blonde hair and complexion and lithe figure, she doesn't look it.
"Actually I don't feel I am powerful enough at the moment," she said. "I am a bit tired. I came to Australia on Thursday and have some jetlag still. We arrived in the morning and in the night we had our first training session. That is the first time I have done that."
She heads to Melbourne on Wednesday to join the rest of the German worlds team and start training for the worlds.
Results
Women's Team Sprint Qualifying
 
1 Germany                          35.693 (50.430 km/h)
  Kathrin Freitag
  Katrin Meinke
2 Australia                        35.791 (50.292 km/h)
  Rebecca Ellis
  Rosealee Hubbard
3 Russia                           36.942 (48.725 km/h)
  Oxana Grishina
  Anastasia Chulkova
4 Ukraine                          37.214 (48.369 km/h)
  Irina Janovich
  Sofiya Prychshepa
5 Greece                           38.650 (46.572 km/h)
  Eleftheria - Maria Ellinikaki
  Kyriaki Konstantinidou
 
Final for third & fourth
 
1 Russia                           36.759 (48.968 km/h)
  Oxana Grishina
  Anastasia Chulkova
2 Ukraine                          37.364 (48.175 km/h)
  Irina Janovich
  Sofiya Prychshepa
 
Final
 
1 Germany                          35.428 (50.807 km/h)
  Kathrin Freitag
  Katrin Meinke
2 Australia                        35.775 (50.314 km/h)
  Rebecca Ellis
  Rosealee Hubbard