Sydney Track World Cup - CDM
Sydney, Australia, May 14 - 16, 2004
Event program and results Qualifying Finals
Men's 4000m Team Pursuit
Great teamwork gives pursuit to Great Britain
By Karen Forman in Sydney
Team GB, led here by Paul Manning
Photo ©: Mark Gunter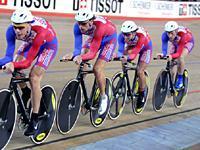 British national team members Rob Hayles, Paul Manning and Brian Steel combined smoothly with former iteamNova.com - now www.recycling.co.uk/MGX rider Russell Downing to win the team pursuit from a strong Netherlands outfit at the UCI Track World Cup in Sydney tonight.
The trio - who jokingly dubbed 25 year old Downing their "mascot" - often ride together in pursuit form - and it showed tonight. They rode at consistent speed, shared equal turn of pace and were the proverbial well oiled machine. Nobody was surprised when they took the gold medal in 4.07.
"It was good to win today," Hayles, 31, of Manchester said.
"We've still got final preparation to do though, for the worlds. We have only been here a week."
Steel, 35, who hails from Rugby said the team was happy with progress to date, with speed really the only dynamic separating them from a world championship gold.
"To win in Melbourne we will have to go faster than this," Manning, 29 from Manchester said. "Another 2km an hour on top. But you are talking about fractions of seconds per lap…which are the hard ones to get when you are going at that speed. Tonight we did 4.07 but we can do better… our best was 4.03 three or four weeks ago."
Results
Men's 4000m team pursuit qualification
 
1 Great Britain                       4.06.399 (58.442 km/h)
  Robert Hayles
  Paul Manning
  Christopher Newton
  Bryan Steel
2 Netherlands                         4.09.991 (57.602 km/h)
  Levi Heimans
  Jens Mouris
  Peter Schep
  Jeroen Straathof
3 New Zealand                         4.11.250 (57.313 km/h)
  Hayden Godfrey
  Peter Latham
  Matthew Randall
  Marc Ryan
4 Germany                             4.11.598 (57.234 km/h)
  Robert Bengsch
  Guido Fulst
  Christian Lademann
  Leif Lampater
5 France                              4.13.177 (56.877 km/h)
  Anthony Langella
  Fabien Merciris
  Neuville Jérôme
  Fabien Sanchez
6 Belarus                             4.13.575 (56.788 km/h)
  Vasil Kiryienka
  Andrei Kunitski
  Viktor Rapinski
  Yauheni Sobal
7 Australia                           4.14.780 (56.519 km/h)
  Bradley Norton
  Christopher Pascoe
  David Pell
  Christopher Sutton
8 Ukraine                             4.14.888 (56.495 km/h)
  Volodymyr Dyudya
  Roman Kononenko
  Lyubomyr Polatayko
  Vitaliy Popkov
9 Chile                               4.15.276 (56.410 km/h)
  Marco Antonio Arriagada
  Enzo Cesario Farias
  Gonzalo Miranda
  Luis Fernando Sepulveda
10 Denmark                            4.16.575 (56.124 km/h)
   Casper Jorgensen
   Jens Erik Madsen
   Michael Morkov
   Alex Rasmussen
11 Colombia                           4.17.006 (56.030 km/h)
   Carlos Eduardo Alzate
   Arles Antonio Castro Laverde
   Alexander Gonzalez
   Jose Serpa
12 Argentina                          4.20.019 (55.381 km/h)
   Jose F. Antogna
   Guillermo Brunetta
   Sebastian Cancio
   Oscar Villalobo
13 Greece                             4.21.712 (55.022 km/h)
   Vassileios Giannosis
   George Ninos
   Ioannis Tamouridis
   Ioannis Tsakouridis
14 Italy                              4.23.598 (54.629 km/h)
   Francesco Giuliani
   Loris Gobbi
   Stefano Marenco
   Claudio Masnata
 
Final for 3rd & 4th
 
1 Germany                             4.11.151 (57.336 km/h)
  Robert Bengsch
  Guido Fulst
  Christian Lademann
  Leif Lampater
2 New Zealand                         4.11.186 (57.328 km/h)
  Hayden Godfrey
  Peter Latham
  Matthew Randall
  Marc Ryan
 
Final
 
1 Great Britain                       4.07.385 (58.209 km/h)
  Robert Hayles
  Paul Manning
  Russell Downing
  Bryan Steel
2 Netherlands                         4.12.647 (56.997 km/h)
  Levi Heimans
  Jens Mouris
  Peter Schep
  Jeroen Straathof