Sydney Track World Cup - CDM
Sydney, Australia, May 14 - 16, 2004
Yvonne Hijgenaar (Netherlands)
Photo ©: Mark Gunter

Day 2 round-up
Afternoon session
The afternoon session of the second day of the Sydney track World Cup mostly comprised qualifiers, with elimination and selection occuring for the men's sprint; men's team pursuit; Women's IP; and men's points. In the session's only final, the women's 500m time trial gold went, rather nicely, to a rider celebrating her birthday today!
Evening session
Heads down, no-nonsense, mindless boogie
Photo ©: Mark Gunter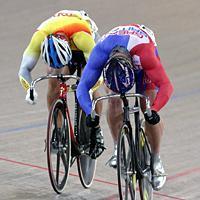 Saturday evening saw a near-capacity crowd turn out at Dunc Gray to watch a packed evening of finals. After a tense bronze medal ride-off came down to a photo in the team pursuit, the British squad gave a fine display of well-drilled teamwork to take the gold - though they admit they'll have to go faster to repeat the feat in Melbourne or Athens.
Next up were the finals of the women's individual pursuit and her home crowd cheered Australian Alexis Rhodes to the bronze, coming back from almost a second down, then adopted New Zealander Sarah Ulmer who repaid the favour by riding a personal best and getting within four-tenths of a second of the world record.
The men's points race was one of the fastest and most exciting of its kind ever as American Colby Pearce rode a hard, attacking race to lap the field twice and score a classy victory.
The women's keirin went from start to finish in the evening session and was teken out by China's Shuang Guo - who said she'd rather have had th sprint!
Finally, the men's sprint turned into a European showdown as the two Japanese riders who'd made the final four were both eliminated in the semis, leaving Craig Maclean (Great Britain) to take on and best Spain's Josť Antonio Villanueva.
Photography
Evening session
Images by John Stevenson/Cyclingnews
Images by Mark Gunter
Morning session
Images by Mark Gunter