Sydney Track World Cup - CDM
Sydney, Australia, May 14 - 16, 2004
Event program and results Qualifying Round 1 Finals
Men's Team Sprint
Great Britain takes the men's team sprint
By Karen Forman in Sydney
The British team sprinters
Photo ©: Mark Gunter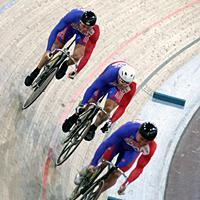 Jamie Staff, Chris Hoy and Craig Maclean added a team sprint gold medal to the British squad's impressive bag of Sydney metal with a sensational ride on the final day of the 2004 UCI Track World Cup today.
Staff, 31, from Manchester, said the team was very proud of its efforts and was looking forward to a tight world championships and Olympics campaign in the next three months.
"We're got a really strong team of five riders, who are always fighting for four spots," he said. "There is never any guarantee of a spot in any race, it is decided before each individual event, so that keeps us all on our toes."
He is personally aiming for the team sprint and keirin in Athens. "I had a bad year last year, I wasn't in good shape," he said.
"I had a virus in March 2003 which took all my energy. I missed our training camp in Perth and a lot of training generally. The doctors did a lot of tests but there was never a real diagnosis. I was always fatigued. In the end I took a lot of rest, five to six weeks over Christmas. Possibly I was just overtrained. It catches up with you."
Staff said, however, he was now confident that he was going well for Melbourne and hoped the team would repeat its performance from today in two weeks' time.
Results

Men's Team Sprint Qualifying
 
1 Great Britain                    44.838 (60.217 km/h)
  Chris Hoy
  Craig Maclean
  Jamie Staff
2 Poland                           45.298 (59.605 km/h)
  Rafal Furman
  Grzegorz Krejner
  Damian Zielinski
3 Japan                            45.401 (59.470 km/h)
  Toshiaki Fushimi
  Masaki Inoue
  Tomohiro Nagatsuka
4 Cuba                             46.314 (58.298 km/h)
  Reinier Cartaya
  Julio Cesar Herrera Cabrera
  Ahmed Lopez
5 Slovakia                         46.573 (57.974 km/h)
  Peter Bazalik
  Jaroslav Jerabek
  Jan Lepka
6 Greece                           46.677 (57.844 km/h)
  George Cheimonetos
  Dimitris Georgalis
  Labros Vasilopoulos
7 United States                    46.690 (57.828 km/h)
  Adam Duvendeck
  Giddeon Massie
  Christian Stahl
8 New Zealand                      47.048 (57.388 km/h)
  Daniel Beatson
  Anthony Peden
  Jonathan Hamlin
9 Czech Republic                   48.267 (55.939 km/h)
  Filip Ditzel
  Adam Ptacnik
  Petr Klimes
 
Men's Team Sprint Final
 
Final for third & fourth
 
1 Japan                            45.426 (59.437 km/h)
  Toshiaki Fushimi
  Yuichiro Kamiyama
  Tomohiro Nagatsuka
2 Cuba                             46.814 (57.675 km/h)
  Reinier Cartaya
  Julio Cesar Herrera Cabrera
  Ahmed Lopez
 
Final 
 
1 Great Britain                    44.384 (60.833 km/h)
  Chris Hoy
  Craig Maclean
  Jamie Staff
2 Poland                           45.688 (59.096 km/h)
  Rafal Furman
  Lukasz Kwiatkowski
  Damian Zielinski