Sydney Track World Cup - CDM
Sydney, Australia, May 14 - 16, 2004
Women's 20km points race
"Aggressive enough" Rhodes attacks to points race gold
By Karen Forman in Sydney
Alexis Rhodes
Photo ©: Mark Gunter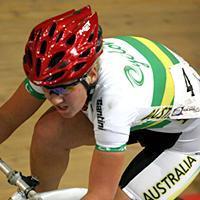 Australian Alexis Rhodes was the standout winner of the 20km women's points race at the UCI World Track Cup in Sydney tonight. The second year senior rode aggressively throughout the event, attacking after the first sprint to lap the field and then repeating the manouver mid-race to earn another 20 points and put herself in an almost-unassailable lead, despite taking Ukrainian Lyudmyla Vypryraylo along for the ride on her second adventure.
With seven laps to go Rhodes was well out in front with 45 points, with Vypryraylo second with 23 and New Zealander Sarah Ulmer on 13. Ulmer led out at the final bell and crossed the line first to win the final sprint. Rhodes, knowing she had won, crossed the line last but managed a victory salute supported by a wildly cheering home crowd.
The 19 year old said afterwards she had been feeling "pretty good" and that the event had gone to the plan set out for her by her coaches. "I rode fairly aggressively and it paid off," she said. In fact, coach Gary Sutton had instructed Rhodes to ride aggressively, and after her win she'd rolled over to Sutton and jokinly asked "Was that aggressive enough for you?"
She said she had been a bit tired after the Australian national championships two weeks ago, where she won the scratch race gold, but had freshened up well for tonight. "After I got the points up, I thought if I could just hold on and not let anyone get away that I would be alright," she said. "I knew the best - and safest - place to be would be the front. Obviously (the win) was a good confidence booster. I am really happy."
Unlike many of her team mates, Rhodes won't contest the world's in Melbourne. "This is the end of my season now,' she said. "So I will go back to uni for a while (she is in the second year of a podiatry degree) and I am also hoping to go to Holland to race for six weeks with a team. I sort of have one lined up." Rhodes will then tackle the next round of World Cups when they start again in December.
It's been a golden journey for the Alice Springs born 19 year old who started cycling at the local 333 metre concrete velodrome on school sport afternoons as a 14 year old. Now her 14 year old brother and 16 year old sister ride bikes, too, and her brother is a regular training partner for her.
Having moved to Adelaide to go to school four years ago (her parents also made the move two years ago) she also trains at the South Australian Sports Institute. Looking back, she admits that "you always dream a bit (about doing big things) but then there is reality." That's why she has continued with her studies. "You have to make sure you have something in case the cycling doesn't work out," she said.
She is motivated, she says, simply by riding. "I love winning, too," she said. Rhodes has been lucky so far in her chosen sport, escaping serious crashes. "I fell off in Mexico and damaged my bike, but I was okay," she said. She lists as her heroes some of the current Australian heroines - Katie Mactier, Kate Bates, Alison Wright and recently retired Anna Millward.
Results
1 Alexis Rhodes (Australia)                    45 pts
2 Lyudmyla Vypyraylo (Ukraine)                 23
3 Sarah Ulmer (New Zealand)                    18
4 Adrie Visser (Netherlands)                   14
5 Yong-Mi Kim (Korea)                          13
6 Yoanka Gonzalez Perez (Cuba)                 10
7 Belem Guerrero Mendez (Mexico)                7
8 Rebecca Quinn (USA)                           7
9 Juliette Vandekerckhove (France)              5
10 Vera Carrara (Italy)                         3
11 Mandy Poitras (Canada)                       1
12 Song Hee Han (Korea)                         1
13 Kyriaki Konstantinidou (Greece)              0
14 Anastasia Chulkova (Russia)                  0
15 Eleftheria - Maria Ellinikaki (Greece)       0
16 Santia Tri Kusuma (Indonesia)                0
DNF Uyun Muzizah (Indonesia)
DNF Eleonora Soldo (Italy)