Sydney Track World Cup - CDM
Sydney, Australia, May 14 - 16, 2004
The Dutch
Photo ©: Mark Gunter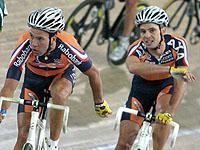 Day 3 round-up
Morning session
The organisers made the morning session qualifiers of the final day at the Sydney track World Cup free to spectators and it seemed to work, producing a decent afternoon turn-out despite the glorious, sunny, 22-Celsius weather outside.
Inside the velodrome, an eventful Madison qualifier saw the Greek team expelled from the race for dangerous riding after one of them took out American endurance rider Jame Carney who was fortunately unharmed by his fall.
Afternoon session
Britain's Downing brothers in the Madison
Photo ©: Mark Gunter

The women's scratch saw controversy as a Korean rider seemed to take it out, only to be relegated for an illegal move in the final metres.
The women's team sprint showed what happens when you have two very similar and very talented riders in this discipline.
Riders in the Madison put on a spectacular high-speed show of precision riding, with the gold and silver medalists doing it the hard way, taking almost a quarter of the race to anogisingly hack out a lap advantage.
One of the least surprising victories went to the winners in the men's team sprint, a trio of big blokes who'd come halway round the world to put on a display of raw power on six wheels.
Finally, medals were awarded to the event's overall best team, and the the World Cup series champions.
As the shadows lengthened
Photo ©: Mark Gunter

Photography
Morning session
Images by Mark Gunter
Jame Carney was unlucky in the Madison qualifying heats today, falling because of dodgy riding by the Greek team, who were subsequently expelled.
The desperate dash for the last sprint in the first heat of the Madison qualifying round
The Dutch combined well this morning
Afternoon session
Images by Mark Gunter