Sydney Track World Cup - CDM
Sydney, Australia, May 14 - 16, 2004
Tales from the track
News from Day 3of the 2004 Sydney Track World Cup
By Karen Forman in Sydney
Renshaw targets Madison in Melbourne
Mark Renshaw (left) rides the madison with Chris Sutton
Photo ©: Mark Gunter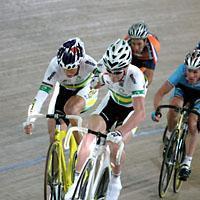 He and team mate Chris Sutton may have only finished seventh, but Australian professional roadie Mark Renshaw will take a lot of confidence from today's Madison at the 2004 UCI Track World Championships with him when he lines up for the same event at the world championships in Melbourne in a fortnight's time.
The 21 year old from Bathurst in western NSW says he was very happy with today's ride, which was pretty much set as a "hit out" for him after a busy start to the road season with his French team FdJeux.com and a 24 hour flight home on Friday to prepare for the worlds.
Renshaw, who is 75 per cent sure he will ride the Madison at the world track championships with South Australian Luke Roberts, is looking forward to representing his country in an event he has only recently begun to target.
"It will be the first time we have ridden together," he said. "But it's always tough, coming into these events, let alone with a new partner. We do know each other's style, though, so I think we will be able to put it together."
Renshaw, who said he and Sutton got "carved up a bit today by our good old friends the French (but I used some good old French phrases I know back on them!)" indicated the Australians needed a top eight finish in Melbourne to qualify them for the Athens Olympics. "The same guys will be riding the worlds as today," he said, "so we have a pretty good idea of what the competition will be like."
Renshaw said he was happy with the seventh spot he and partner Chris Sutton recorded today, especially given that he only got off a plane from Europe on Friday, after starting his first season as a pro with FdJeux.com based in France.
"I came back for the world's and came to the World Cup to get a bit of training in for that, get the kinks out. This has been a good hit out. I have recovered from the jetlag now and am feeling pretty good."
Renshaw said he had a hectic schedule ahead of him in Melbourne, with the points race, the teams pursuit and the Madison to ride. The Madison, he said, remains his major goal.
"I've been trying to nail a spot for two years, since I defected from the teams pursuit (Renshaw was part of the record breaking Australian world champion teams pursuit team but decided to concentrate more on the Madison).
He believes if he makes the Australian team, he will probably be partnered by Graeme Brown (who rides with Panaria Margres in Italy) in the Madison at the Olympics. "We rode the world's last year together and went well," he said. He has been training a lot, he said, for the Madison but "at this stage it's just a matter of making the squad first!"
He doesn't feel that he is letting the pursuit team down by not being available to them. "When you look at the quality of riders we have - like Brad McGee who has been up there in the Giro (Tour of Italy) every day this year and will come out of the Tour de France with the best form of his life . . . and there are nine to 10 guys who can all fill the spots."
He said he hadn't totally given up on the team pursuit but the Madison was it for him for now.
"My goal is to excel at every event I am in at the worlds, but particularly the Madison," he said. "Getting onto the Olympic team will be tough."
He is looking forward to racing in Melbourne in front of a home crowd - especially as his family will be there to cheer him on. He will return to Europe a week after the worlds finish - "I am having a week at home with Mum and Dad first" - to contest the final tour before the Tour de France with FdJ.
As to his new team: "Look at Brad (McGee's) performance in the Giro this week. It's awesome for the team. When he won the prologue one of the directors started bawling his eyes out!"