World Track Championships - CM
Melbourne, Australia, May 26-30, 2004
Tales from the track
News and gossip from day 5 of the Melbourne World Track Championships
Rousseau's poignant cycling adieu
By Karen Forman in Melbourne
Florian Rousseau (France)
Photo ©: Mark Gunter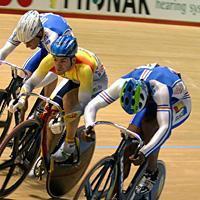 Florian Rousseau has one of the most impressive palmares in all of track racing. Three world sprint championships (Manchester 1996, Perth 1997 and Bordeaux 1998); twice world kilo champion (Hamar 1993, Palerme 1994) and five-times men's team sprint champion (Perth 1997, Bordeaux 1998, Berlin 1999, Manchester 2000 and Antwerpen 2001). Not forgetting the two gold medals in the sprint and keirin at the 2000 Sydney Olympics and the gold sprint medal in the 1996 Atlanta Olympics…
With a career like that behind him, he was hoping to take away happy memories from the 2004 World Cycling Championships at Melbourne; memories of qualifying for a berth at the 2004 Athens Olympic Games.
Granted, so was everybody else…but what made Rousseau's bid for Athens more special was the fact the Games were going to be his last hurrah. His cycling adieu.
Earlier this year, the 30 year old announced he planned to retire from professional cycling after the Olympics and naturally added that he would love to go out on a high. A medal, particularly a gold one
But much to the shock of cycling insiders, the classy sprinter simply hasn't performed well enough this week to ensure his spot. Rather than being a city of happy memories, Melbourne has become a city of sad memories and a lost dream.
Now the French team's attention will probably be on its younger gold medal winning team sprint group comprising Arnaud Tournant, Laurent Gane' and Mickael Bourgain. Considering Rousseau's glittering resume and his experience, one can only marvel at the current strength of this also classy trio to have managed to eclipse him.
There was another thing about coming to Australia, too. Last time Rousseau was down under for a world championship, he showed himself to be unbeatable in the sprint against German Jens Fiedler. Although hoping for a repeat performance, he didn't come close to managing that this time.
He had two events on his schedule this week - the keirin and the sprint - and he wasn't successful in qualifying in either of them.
Racing in the second heat of the second round on Friday, he finished fifth behind team mate Gane, with only the first three riders going to the final (which was eventually won by another of his team mates, Bourgain. In the next race, vying for 7th-12th, Rousseau could only managed 12th.
After that the sprint was his only hope to get to Athens. In the qualifier for his pet event earlier this week, Rousseau had scaped through with a flying 200-metre time of 10.457. Not too much wrong with the time (the world record held by Canadian Kurt Harnett stands at 9.685)…the trouble was that there were 11 other riders faster than him.
He was then beaten by Australian Ryan Bayley in the first round on Saturday afternoon but came back hard in the repechage to beat Spaniard Salvador Melia and Frenchman Gregory Bauge in 11.369.
That earned him a spot in the second round on Saturday night where he met Dutch rider and eventual world champion Theo Bos but Bos was in sizzling form and Rousseau didn't get any further, his Olympic dream shattered.
"I am not happy," a dejected but philosophical told Cyclingnews with obvious sadness as he watched his peers go through the final rounds from the French compound.
"In Melbourne I played my hand for Games selection and I lost. There was a very high level of competition, many riders were very close. My conditions were not enough for a good ride."
And then he dropped his bombshell. "This has been my last race." As our jaws dropped with shock and sadness, he continued: "This year I said I would retire after the Olympics. Now I do not get to go to the Olympics so I am finished."
With a French cameraman crying openly next to the idol as he videoed the moment, Rousseau went on to say that he didn't even think he would continue to ride the bike at all.
CN: "Will you keep riding, perhaps for fitness and fun?"
Rousseau: "No. I don't think so. I will not be riding again."
Rousseau entered international competition in 1993 and has barely been out of the news since then. He has a plethora of memories from his eleven years of elite racing but says it's difficult to choose just one as a favourite.
When he does decide, it turns out that he has good memories of at least one Australian city, even if Melbourne hasn't turned out as he had hoped.
"I think it's the Sydney Olympics. I won three medals there," he said. "I have good memories. I like Australia, normally it is good for me. I won the world championship in Perth, too…. but this year…. not this year."
Footnote:
No ovation for Florian
By Gerard Knapp
The sprint final for 9 - 12 placings was the last-ever race for 10-time world champion and triple-Olympic gold medallist Florian Rousseau. However, the packed house at Vodafone Arena did not have a real chance to give the legend an appropriate farewell.
As the riders assembled on the track for the next event, the final for 5 - 8 placings, individuals in the audience bid au revoir to Florian as he did one solitary, extra lap after his final race. The commentator, Mike Smith (imported from England) did not inform the crowd they had just witnessed what was probably Rousseau's last-ever race.
There is an outside chance the great rider may still be selected for the French Olympic team, but the word from Florian himself - and his wife - is that it's over.
Certainly, Rousseau was humble when approached after his final race; felt it would be too emotional for him to be interviewed in front of the packed arena. Perhaps the only thing missing from Melbourne's world championships was the send-off this crowd would certainly have given him had they been properly informed.
Day 5 News from the Melbourne World Track Championships
A perfect world's, according to the UCI As the final medal ceremony concluded and the sell-out audience's applause subsided, the UCI press officer, Enrico Carpani, told Cyclingnews the 2004 Track Cycling World Championships had been "perfect".
Florian Rousseau has one of the most impressive palmares in all of track racing. Three world sprint championships (Manchester 1996, Perth 1997 and Bordeaux 1998); twice world kilo champion (Hamar 1993, Palerme 1994) and five-times men's team sprint champion (Perth 1997, Bordeaux 1998, Berlin 1999, Manchester 2000 and Antwerpen 2001). Not forgetting the two gold medals in the sprint and keirin at the 2000 Sydney Olympics and the gold sprint medal in the 1996 Atlanta Olympics…
It hasn't been an easy year for two-times world scratch race silver medallist Rochelle Gilmore. First she was laid low by a mystery illness which left her so fatigued that she found her performance was severely lacking during the women's World Track Cup series for 2004.