World Track Championships - CM
Melbourne, Australia, May 26-30, 2004
Event program and results First round Repechages Second round Finals
Keirin final - May 28, 2004
Great Britain keeps on rolling
By Mal Sawford
Staff gets it
Photo ©: Mark Gunter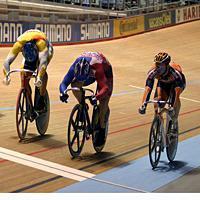 May 28, 2004: An elated Jamie Staff claimed the 2004 World Championships in the keirin with a fantastic ride from the front of a well credentialed and pumped up bunch.
Spanish strongman José Antonio Escuredo settled in behind the derny as the final got underway, with an in-form Ryan Bayley (Aust) leading Laurent Gane (France), Teun Mulder (Netherlands), Staff and Ivan Vrba (Czech Republic). Once again, all seemed happy with the mix, with the order staying unchanged until three laps to go.
Staff timed his surge to the front to perfectly coincide with the derny leaving the track down the back straight, and propped briefly on Bayley's hip. As he told Cyclingnews after the race, he sensed that Bayley had waited too long to make his move past Escuredo, and hit out hard with two to go.
"No one was really jumping or reacting, I was on Ryan's hip, and we had everyone boxed in behind, but he didn't seem to want to go. So I just went. I remember being in front; I had a couple of bike lengths so I put my head done and went."
Escuredo leads (Spain)
Photo ©: Mark Gunter

Escuredo won the tussle for the Brit's wheel, and made a late charge out of the final bend, looming quickly on Staff's right, but the line came too quickly and Staff took his biggest win by a few inches. "I was waiting for everyone to pile around me on one of the turns, but this track just seems to be one of those ones (where) you have to be in front, it's really hard to come round".
He wasn't too concerned that he may have jumped too early, saying, "my coach said I'm the best kilo rider in that race, so I've got the endurance in me, I've got really good 500 meter speed. I was running it through my head 'it would be a dream to win it, believe in yourself' – and that's what happened; it's amazing really".
Mulder also flew home, sensing an opening on the inside, and crossed the line in third place, but was relegated to last, after officials deemed he had made up ground via the duckboards. A delighted Ivan Vrba inherited the Bronze Medal.
Escuredo was very happy to have added to Spain's impressive medal tally, but was ruing what he thought was a missed opportunity. "I think I just took off a bit late," he explained through an interpreter, "as I was worried about the five guys on my wheel. A metre more and I would have overtaken him! The keirin is always an open event, and I never counted myself out even though I had to go through the repechage."
The kierin podium
Photo ©: Mark Gunter

A very disappointed Bayley was frank in his assessment of his efforts. "I had everything. I had the crowd, I had the legs, and I had the speed - so much speed. The turbos were flying! I had the lungs but I blew it. I put myself in a few bad positions, and when you do that it doesn't matter how fast you are. There are six people on the track and if you can't take care of the others you can't win. I let Staff and Gane control the race when I should have been controlling them. I just stuffed up."
Photography
Images by Mark Gunter
Results - finals

Final 1-6

 
1 Jamie Staff (Great Britain)
2 José Antonio Escuredo Raimondez (Spain)
3 Ivan Vrba (Czech Republic)
4 Ryan Bayley (Australia)
5 Laurent Gane (France)
REL Teun Mulder (Netherlands)
 
Final 7-12
 
1 Mickaël Bourgain (France)
2 José Antonio Villanueva Trinidad (Spain)
3 Jan Van Eijden (Germany)
4 Shane Kelly (Australia)
5 Jens Fiedler (Germany)
6 Florian Rousseau (France)

Start list
Finals
Final 7-12
 
103 Jens Fiedler (Germany)
72 José Antonio Villanueva Trinidad (Spain)
112 Jan Van Eijden (Germany)
14 Shane Kelly (Australia)
82 Florian Rousseau (France)
74 Mickaël Bourgain (France)
 
Final 1-6
 
8 Ryan Bayley (Australia)
155 Teun Mulder (Netherlands)
97 Jamie Staff (Great Britain)
75 Laurent Gane (France)
55 Ivan Vrba (Czech Republic)
66 José Antonio Escuredo Raimondez (Spain)