Latest Cycling News, May 27, 2008
Edited by Bjorn Haake
Gasparotto on Plan de Corones: "It is impossible"
By Gregor Brown in Plan de Corones
Enrico Gasparotto prefers to race on the road, which is why didn't become a mountain biker
Photo ©: AFP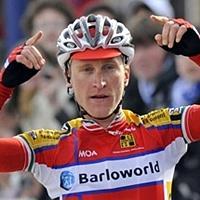 Italy's Enrico Gasparotto, six minutes back on the Giro d'Italia's stage to Plan de Corones, was not impressed with the mountain time trial on Monday, 12.9 kilometres from San Vigilio di Marebbe. He insisted that the rules of cycling need to be changed to avoid such a stage.
"It is too hard. It is not a normal day. It is impossible," were the words of 26 year-old Gasparotto to Cyclingnews after his run up to Plan de Corones. "This stage is not cycling, if it was on a mountain bike then okay. This is a ski pass, not a road for cycling."
He leveled his complaints at RCS Sport, "I would like to give [Angelo] Zomegnan a bike, tell him to come and race this."
Fortunately, unlike in 2006 when the a road stage to Plan de Corones was cancelled, the weather has tilted in the riders' favour. "It is lucky it has not rained so much these days. The road was okay, but it is not road cycling.
"We must change the rules. We do anti-doping controls -- what they want -- but this type of racing is impossible. And tomorrow, a rest day, and four-hundred kilometres. The team drives tomorrow morning, we stay here tonight."
Race Director Zomegnan noted it was a way to test the riders' limits and put on a great show for the fans.
"Have a look around," said the Italian from Erba to Cyclingnews in Plan de Corones. "This is a countryside that does not exist in the world and cycling races need to exist to show off the countryside. It is too bad there is not sunshine – [imagine] if there was sunshine today."
According to Zomegnan, the stages in the Dolomites are beautiful displays of cycling and serve to show off the sport that has been dragged through the mud. "I think that we need spectacular shows in cycling to pull ourselves out of this mediocrities. Without something spectacular it would be normal, and this is something is extra."
He noted that the riders had a chance to test the parcours, 5.3 kilometres, which are on sterrato ('gravel'). "All of the riders came here on April 30 -- Di Luca, Simoni, Riccò, Bruseghin -- and they said it was a new way of testing the athletes' limits and this is an accurate interpretation according to me. And we have to stop here, maybe the limit is here, nothing more."
Zomegnan noted that the rest day involved nearly four hours in the car from the Dolomites to Sondrio, in the Alps. "Tomorrow is a day of rest and half the distance of a transfer on the last day of the Tour de France," said Zomegnan with a smile. True, but the riders in the Tour de France took a TGV from Angoulême to Marcoussis, where as tomorrow the riders face a mountainous run in the back of a team bus.
"The Giro is like this, who wants to do it can come here and who does not can stay at home," Zomegnan concluded.
Millar not impressed with Corones circus
By Gregor Brown in Plan de Corones
David Millar doesn't mind some spectacle, but three days in a row is too much in his opinion
Photo ©: Roberto Bettini

"There is no doubt it is spectacular, but it is just a circus now," stated Britain's David Millar to Cyclingnews after his run up the Plan de Corones ski slope. The 31 year-old of Slipstream rode the 12.9-kilometre Giro d'Italia stage from San Vigilio di Marebbe in a time of 46'48", 6'22" behind winner Franco Pellizotti, but was concerned with the overall difficulties of the Italian Grand Tour.
The 91st Giro d'Italia started off in Italy's south, on the island of Sicilia, and it was marked by a first week of long transfers and sketchy roads, made worse by inclement weather. The finale of the three-week races is not letting up: the race has entered its first high-mountains stages, including three days in the Dolomites – Alpe di Pampeago, Passo Fedaia and Plan de Corones.
"Yes, definitely," Millar responded, when asked if the Plan de Corones mountain time trial stage was too much of a show. "You can do this stage one off, but not after the two mountain stages we had just done and the first week we did. It is the combination of everything that is getting to us. It is a good idea to do spectacular stuff like this, but not day in and day out, day in and day out."
Slipstream and many other teams face long drives off of the mountain passes to reach their hotels, and today, on Plan de Corones, the riders took the cable car to arrive back down at the Passo Furcia. "We got to our hotel at 8:30 last night, and that is about the norm." The US-based team is doing the four-hour transfer to Sondrio tomorrow, on the Giro d'Italia's second rest day.
Millar had a satisfactory ride. "I was using it as training, with a serious warm-up, trying to replicate it. ... You don't really see it, but it is so hard." The last time he can remember such an event was the 2003 Vuelta a España, when he raced up the Alto de Abantos.
Surprises in the mountains
Contador hangs tough, but gauntlets are down
By Bjorn Haake
Not all the mountains are behind Contador yet, but he has a good position of riding into Milano with pink on his shoulders
Photo ©: AFP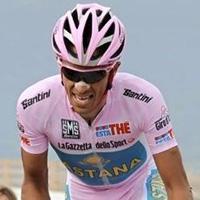 Three long days in the mountains have left their mark on the racers, and several surprises have surfaced. Last year's winner Danilo Di Luca (LPR Brakes) started to show signs of weakness, with Alberto Contador (Astana) taking the maglia rosa of race leader. The Spaniard wasn't dominating the mountain stages, as some had feared, following his performance in last year's Tour de France. But he hung tough when the others threw down the attacks, with youngster Riccardo Riccò (Saunier Duval - Scott) looking to be in the best position to seriously challenge Contador, with his gap of only 41 seconds.
Then there was the amazing performance by CSF Navigare, with their new emerging climbing star, Emanuele Sella grabbing the headlines. They started out quietly, with a lacklustre performance in the team time trial, but improved to a stage win via its sprinter, Matteo Priamo.
When the mountains started for real, the green team was on the front in force. And quickly, Sella made it clear that he preferred the green jersey for the best climber in the Giro over the similar-coloured team outfit. Three amazing performances and two stage wins and a second place later, he looked solid in the mountains classification. Especially on the rainy day up to the Passo Fedaia/Marmolada the team was incredible, with Fortunato Baliani, Mexican Julio Pérez and Domenico Pozzovivo providing excellent assistance to Sella.
Of note was also the unexpected performance of Belgian Jurgen Van Den Broeck. The Silence - Lotto rider showed his climbing prowess and impressed in both weekend stages, staying with the climbing masters and producing a solid time trial to the Plan de Corones. The move to Italy had paid off, as he could get some good vertical training in.
Read the full rest day wrap-up.
Gerolsteiner: From nine to two
By Susan Westemeyer
Johannes Fröhlinger is one of two riders left for the team. He and Sven Krauss will try to not repeat Lotto's one-man arrival in the 2003 Giro
Photo ©: Roberto Bettini

Gerolsteiner started out with the regular nine riders in the Giro d'Italia, but by the second rest day, it was down to two. Having this miniature team allowed the management to send home a number of soigneurs and mechanics as well.
The little team isn't giving up, though. "I can remember Lotto once ended the Giro – in 2003 – with only one rider," spokesman Jörg Grünefeld told Cyclingnews. "We will do it better and fight on with Sven [Krauss] and Johannes [Fröhlinger] until Milano."
The race was going reasonably well for the team. It didn't bring in any of the hoped-for stage wins, but, with the exception of the team time trial and individual time trial, placed a rider in the top ten in every stage up through the 12th stage.
Before the Giro, sports director Christian Henn had said optimistically, "Maybe one of our younger riders will have the luck to be in a successful escape group." Matthias Russ, 24, had that good luck, by getting in the escape group in stage six, which came to the finish 11 minutes ahead of the peloton. But he also had the bad luck to be tied in time for first place overall with Giovanni Visconti, who took over the maglia rosa based on his better finishing time in the opening team time trial.
It was on the 11th stage that things started falling apart. The first to go was Andrea Moletta, who was withdrawn from the race when his father was involved in a doping investigation. In that same stage, Volker Ordowski had to retire with health problems, bringing the team down to seven.
The 14th stage was the first big mountain stage, and Davide Rebellin and Robert Förster did not start. Rebellin was paying the price for his long, successful Spring Classics season, and Förster decided he could find more sprinter-friendly training for the upcoming Tour de France elsewhere. Oscar Gatto dropped out shortly after the stage started, exhausted.
That left four German youngsters, ranging in age from 22 to 25. But on the very next stage, Russ had to drop out with a combination of stomach problems and a cold. Fothen didn't survive the mountain time trial on Monday. His combination of a bad day and a mechanical underway put him last on the stage, with his time of 53'48 missing the cut-off for the time limit by some three minutes.
That left only Johannes Fröhlinger (22) and Sven Krauss (25) to represent the team. The team also carried out a planned change of directeurs sportifs and the two are now accompanied by the team's youngest sports director, Christian Wegmann, 32.
A Major moment
Backside of the Taylor statue
Photo ©: Alan Cote

The story of late 19th century American track racer Marshall "Major" Taylor is well-known among cyclists, with the rags-to-riches-to-rags tale of triumph and tragedy. But thanks to a decade-long effort by passionate locals, Taylor's memory has finally been honored by the city where he lived during his rise to world fame and heartbreaking decline to poverty. Alan Coté was in Worcester, Massachusetts for the unveiling of the monument to honour the late champion.
The African-American Taylor, born in 1878, set seven world record times on the track in 1896, before earning a world championship title 1899. He ranks as the second black athlete to achieve a world title (after boxer George Dixon), only a generation after slavery was abolished in the US. But the speed of Taylor's competitors was less of an obstacle for him than the oppressive racism of the times. Despite earning a substantial fortune as an international sports star, limited opportunities and unfortunate business ventures later sent Taylor's life spiraling downward. Estranged from his wife and daughter, he died in a Chicago charity ward at age 54, a forgotten and broken man buried in an unmarked grave.
Raised in Indianapolis, Indiana, Taylor moved to Worcester, Massachusetts in 1895 to escape the overt discrimination found in the Midwest. He found much more progressive thinking in this New England city, which he'd call home for the next 35 years.
Taylor's memory went unnoticed by his adopted hometown for decades. There was a downtown criterium for a few years in the early 1980s, paying tribute by borrowing Taylor's nickname, the Worcester Whirlwind, for the event. Then in the late 1990s, a group of dedicated locals formed the Major Taylor Association.
The Major Taylor Association's indefatigable efforts, spearheaded by cyclist Lynne Tolman, a staffer for The Worcester Telegram newspaper, culminated in a glorious morning on May 21, 2008. Under blue skies, a crowd of hundreds gathered in the garden courtyard of Worcester's city library to witness sport luminaries, Taylor's descendents, Association members, and local politicians unveil an impressive bronze and granite statue.
Read this Major feature.
Milram injuries adding up
Team Milram's new motto must be "one step forward and two steps back". Artur Gajak has recovered from his injury, but two other riders have been put on the injured list. The two Italian riders Luca Barla and Fabio Sabatini will take an enforced break from racing, following crashes.
Barla dislocated his shoulder in a crash in the final stage of the Volta a Catalunya. The doctors popped it back in, but he has to wear a support bandage for two weeks and will be unable to race for at least a month. Fabio Sabatini hurt his knee in a crash in the Giro d'Italia. He continued to ride for several stages, but the pain caused him to pull out on Friday. Team manager Marlies van Gerwen said that he had a cartilage problem and would rest from training for a week.
The team is still without Martin Velits, who broke his wrist in the Ronde van Vlaanderen and isn't expected to race again until the end of August.
Gajek will return to racing in the Bayern Rundfahrt, which starts on Wednesday, for the first time, after suffering a serious bruise to his buttocks in a crash at the Tour of Turkey last month.(SW)
Barloworld injury update
Barloworld has lost two riders from the Giro d'Italia with broken bones in their arms, and both are hoping to recover in time to ride the Tour de France. Francesco Bellotti has his fractured elbow in a plaster cast, but hopes to start training again soon.
Last year's Tour de France King of the Mountains Mauricio Soler has returned home to Colombia to heal the micro-fracture in his left wrist. He had a final check up in Italy, with a scan showing the fracture in detail. The 25 year-old has been fitted with a special wrist brace which will allow him to keep on training.(SW)
Gerdemann cancels Bayern Rundfahrt appearance
Linus Gerdemann crashed out of Tirreno and has not fully recovered yet
Photo ©: Roberto Bettini

Linus Gerdemann of Team High Road has had to cancel his planned appearance in the Bayern Rundfahrt this week. The 25 year-old is still recovering from injuries suffered in a crash in the Tirreno-Adriatico time trial. He had hoped to be able to start in the Bayern Rundfahrt as preparation for the Tour de France, but told the dpa press agency "It doesn't make any sense right now. I am not ready for it."
Instead, Gerdemann will undergo further examinations of his knee, since he continues to have pain in it. His next planned start is the Ster Elektrotoer, as of June 17. As for the Tour de France, he said, "The possibility that I will start has not yet been entirely eliminated, but it is pretty unlikely."(SW)
Garzelli and Acqua & Sapone at Europe's top
Stefano Garzelli leads the UCI Europe ProTour – and so does his team
Photo ©: Acqua & Sapone

Stefano Garzelli of Acqua & Sapone Caffè Mokambo were prevented from riding the Giro d'Italia this year, but at least the Italian can celebrate his leading of the UCI Europe ProTour. Not only is Garzelli ahead in the individual classification, but his team is also leading the teams' ranking.
The squad had taken out six third-place results, 15 runner-up spots and 11 victories, for a total of 32 podium spots.
The team announced that Garzelli spent the winter preparing for the Giro, but used his stellar form instead to take out four victories already.
Garzelli will get to wear the leader's jersey in his next race, which will be the Tour de Slovénie, from June 10 to 14. This will kick off Garzelli's second part of the season.

Individual ranking:

1 Stefano Garzelli (Ita) Acqua Sapone-Caffè Mokambo  347.2
2 Bobbie Traksel (Ned) P3Transfer - Batavus            325
3 Enrico Gasparotto (Ita) Barloworld                   288
4 Hector Guerra Garcia (Spa) Liberty Seguros           265
5 Angel Vicioso Arcos (Spa) LA-MSS                     241
6 Daniele Pietropolli (Ita) LPR Brakes               228.2
7 Danilo Di Luca (Ita) LPR Brakes                    224.2
8 Stefan Van Dijck (Ned) Mitsubishi-Jartazi            221
9 Jimmy Casper (Fra) Agritubel                         215
10 Aleksejs Saramotins (Lat) Rietumu Bank - Riga       210

Team ranking

1 Acqua & Sapone Caffè Mokambo     925.4
2 Agritubel                          878
3 LPR Brakes Ballan                737.8
4 Barloworld                         730
5 LA–MSS                             699

Photography
For a thumbnail gallery of these images, click here
Images by Acqua & Sapone
(Additional research and assistance provided by Susan Westemeyer).
(All rights reserved/Copyright Future Publishing Limited 2008)