Giro d'Italia feature, May 31, 2008
Kiryienka holds off wave of Giro hopefuls
"I was secure of myself today"
By Gregor Brown in Monte Pora
Vasili Kiryienka (Tinkoff Credit Systems)
Photo ©: AFP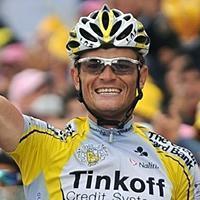 Belarus' Vasili Kiryienka pulled off a number on the drenched Lombardia day to Monte Pora, Giro d'Italia stage 19. The 26 year-old of Tinkoff Credit Systems joined the day's major move at kilometre 57 and then confidently ditched his companions with 16 remaining, riding ahead of the overall classification slugfest between Contador, Di Luca and Riccò.
Kiryienka, a third-year professional, got on with his battle ahead of what was left of the day's original seven-man escape group and the charge of Italy's Danilo Di Luca, who was on the hunt for time over race leader Alberto Contador. He kept clear by 4'36" to claim his biggest win today over the 2007 Giro d'Italia winner, Di Luca.
He comes from a track background and comparisons were made to his 2006 World Points Race Championship title. "I had bigger emotions with with my gold on the track," he recalled after the stage. "However, today was great for me and the team." He added to Pavel Brutt's win in stage five to Contursi Terme.
Though he is known for his speed on the track, Kiryienka showed well over the stage-ending climbs of Passo della Presolana and Monte Pora. "It worked out this way," he reckoned. "I am a world champion on the track and, unfortunately, I am not that strong on the climbs. I have become better on the climbs and usually don't go that slow."
When he bridged to join the escape it was done so with precision. "In a way my track background helped me out today. I calculated my leg spins, said 'If I don't enter the escape immediately, then it won't work.'"
"I am a used to this. I throw the bike to the side of the road and I asked for another with a smile."
-Kiryienka describes how he calmly handled his mechanical..
The Belarusian might have been missing his simplified track bike at the base of Presolana. He was forced off his road machine and, for a minute, looked to be out of contention after suffering from a mechanical. However, a quick bike change and hard surge got him back to the front three riders, Nicki Sørensen (Team CSC), Alexander Efimkin (Quick Step) and Steve Cummings (Barloworld).
"I am a used to this," he explained "I throw the bike to the side of the road and I asked for another with a smile. They gave me another bike and I took back the others – I was secure of myself today."
Italian knowledge
Kiryienka lives in Italy's Toscana region, but he was able to train with Italy's Paolo Savoldelli over the winter. The two rode part of the stage, including the final climb of Monte Pora. The knowledge of the climb might have given the lone rider confidence when he was battling to maintain the gap over his dropped escape companions.
He explained, "I live in Toscana, but this winter we trained with my friend and also Paolo Savoldelli, who took us to have a look at the Monte Pora. So, I knew the last climb."
Back home, near one of man's biggest environmental disaster areas, there must have been fans and family glued to the television as their own rode to win one of the Giro d'Italia most prestigious stages. "I have already got compliments from my family, they watched on television.
"I live in Russia, which is unfortunately near Chernobyl, by 150 kilometres. My city was not very dirty, so we were able to remain there. And as you see, we are normal," he continued with a laugh. "I don't have any problems with health, I have a clean bill of health."
Looking ahead
Kiryienka will represent his country for the Olympics and then ride his second-ever Grand Tour, the Vuelta a España. "I will aim for the road time trial at the Olympics. I did not do so well on the road in Salzburg and Stuttgart, so I am looking to do something in the time trial, only the time trial and not the road race."
He will likely skip the World Championships in Varese, a parcours he was able to preview as part of yesterday's stage. "I will not do Varese, because I did not like the course," declared Kiryienka. "I will see about the time trial. I will see because I am also racing the Vuelta a España this year; two Grand Tours in one year is hard, so I don't know about the Worlds."