Recently on Cyclingnews.com
Markus Eichler's Giro diary
Markus Eichler rides the Giro for Milram
Photo ę: AFP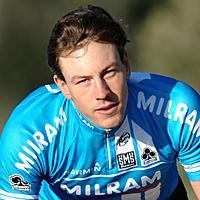 Markus Eichler of Team Milram is actually a Classics specialist, who is riding his first Grand Tour. The 26 year-old turned pro in 2004 with the Continental Team ComNet-Senges. In 2006 he signed with Unibet.com – which means he didn't have many opportunities to show what he could do, although he did win the Ronde van Drenthe. This season he signed with the German ProTour Team Milram.
His Grand Tour started out with a 13-hour journey from his home in M÷nchengladbach, Germany, to Palermo, and thanks to the long transfers, he is still trying to catch up on his rest. Going into the eighth stage, he was 175th overall, over an hour and 12 mintues down. But Milram is a sprinter's team, and this is not really a sprinter's Giro. Eichler is enjoying the experience, anyway .... at least so far.
Saturday, May 17, 2008
Stage 7 - Struggling in
Hello everyone,
What a day today!
Actually, everything started out just fine. I slept really well ľ in a Grand Tour you learn to really appreciate a good bed. After a good breakfast we had the obligatory cup of coffee in the "Tour Village" in the sun. Then the start, the first attack and then all I could was struggle, struggle, struggle....... The field rode what I thought was a totally disgustingly fast tempo, too fast to comfortably keep up with but too slow to fall back. And then came the climbs. I must say that I found out once again that the mountains are not my specialty.
The last climb up to Pescocostanzo really hurt. I was in the gruppeto with about 30 other riders, including Matej Jurco. It is actually rather funny when you think that the riders in front are doing their best to get away from each other and back in the gruppetto, we all help each other over the mountains and do our best to stay together. At any rate, we fought our way to the finish line to the minute and just made the time limit.
Fortunately, tomorrow will be a little flatter. The right stage for us comes on Sunday. It is flat and there should be something for us there. And when I see how routinely Erik and Marco recover from such difficult stages as today's, then I am optimistic.