Giro d'Italia feature, May 27, 2008
Pellizotti lives up to Giro promise
By Gregor Brown in Plan de Corones, Italy
Franco Pellizotti (Liquigas) grits his teeth
Photo ©: Roberto Bettini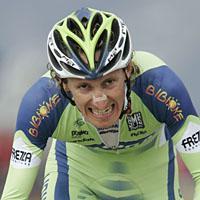 Franco Pellizotti - affectionately known as the dolphin of Bibione - has lived up to his promise in this year's Giro d'Italia by winning the mountain time trial to Plan de Corones. Pellizotti moved up two spots on the overall classification, where he now sits in fifth place 2'05" behind Spain's Alberto Contador (Astana).
The 30 year-old of Liquigas faced a tough day on Monday after losing time to his key rivals on the previous two days in Italy's Dolomites. Pellizotti lost nine seconds on Saturday's finish at Alpe di Pampeago and another 1'17" on the way to the finish of Sunday's stage up Passo Fedaia.
Time was running out for Pellizotti to move back up in the classification before the race enters its final mountain stages in the alps. Pellizotti is looking to prove himself as a true team captain ahead of Ivan Basso's arrival at the squad at season's end.
"It is very important for me, everyone was looking forward to this and were critical of the stage," said Pellizotti, who resides in Marene di Piave.
Pellizotti became the first King of Corones, as the climb has never been used before. It was scheduled to be part of the 2006 Giro, the year that Pellizotti secured his first stage win, but was dropped at the last minute due to heavy snow fall at the 2260-metre peak.
"When I saw that Alberto Contador did worse than me, that was enough."
-Franco Pellizotti knew he had won after Alberto Contador finished the stage
"It required a lot," said Pellizotti at a packed press conference on the mountain's peak. "It is a very hard climb. Luckily it was a good day and it went alright, if it had been a bad weather today it would have been a lot worse."
Sun shined down as Pellizotti sat patiently and waited for the next six riders to cross the line after posting his time. Once race leader Contador crossed the line Pellizotti knew that his time of 40'26" was good enough to seize the day and secure his second Giro stage win in eight years as a professional.
"When I saw that Contador did worse than me, that was enough," said Pellizotti.
Franco Pellizotti (Liquigas) is the king
Photo ©: AFP
The climb was feared and honoured thanks to its final 5.25 kilometre run over sterrato ('gravel') roads, which touched 24 percent gradient in some points. Pellizotti was only fifth best entering the final 5.25 kilometres, but gained back his 22 second disadvantage on Emanuele Sella (CSF Group Navigare) and added another six by the stage's end.
"I sought to manage myself well on the second part," he said. "I knew it was going to be hard then and that I could lose a lot. From there I sought to gain as much time as I could."
Pellizotti believes it is the riders that make a stage spectacular and not the parcours itself. It was that belief that pushed Pellizotti to put on a show over a course that was lined with fans.
"The riders create the show, even on a mixed stage or a flat stage," he said. "In the end it is always this way, sometimes on a tappone we don't have a show. I am happy that they did this time trial so that I could get my stage.
"I used mountain bike gearing - I never had done that," he added. "It is different than something like Monte Zoncolan [of the 2007 Giro d'Italia - ed.], here it is a time trial and you have to manage yourself."
Franco Pellizotti (Liquigas)
Photo ©: Roberto Bettini

Despite his time losses on the previous two stages Pellizotti denied that the recent days have been bad news for his Giro campaign. "I think that on Sunday I showed that Liquigas had tried to create something and gain on the others," he said. "I tried to attack and I entered with Danilo Di Luca and Gilberto Simoni, then behind were Marzio Bruseghin and Contador. But the others did not want to try and, unfortunately, I lost a little bit of time.
"Simoni said that we were scaredy cats yesterday, but maybe that was him who was a scaredy cat," he added. "When I tired no one wanted to give me a hand. We are here to try to win the Giro. In the end, I went to bed satisfied last night. I did not gain but it went okay."
Pellizotti said that his four days in the race leader's maglia rosa - between stage two to stage five - were significant. He gained important attention for the team that won last year's Giro with Di Luca.
"We cannot forget the four days in the rosa and we will still try to get it back," he said. "After I lost the jersey, I tired to stay in the group and save my energy for these coming stages. I knew these stages were going to be hard.
"The condition is there and I am calm," he added. "There is till a lot of stages before we head to Milano."
Pellizotti is keeping a close eye on Contador for the overall win. "Contador has a strong team and we have to see what happens," he said. "He has a team and he can do it. There are still lots of climbs for us to try, it is enough to have a little bit of courage."