Giro d'Italia feature, May 30, 2008
Voigt wins on instinct
By Gregor Brown in Varese
German Jens Voigt
Photo ©: Roberto Bettini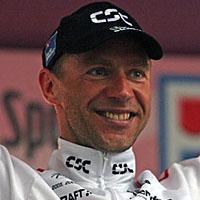 German Jens Voigt is well known for his propensity for getting into breakaways, and has used this characteristic to take the yellow jersey in the Tour de France as well as win stages in 2001 and 2006. And while the Team CSC rider's victory in stage 18 of the Giro d'Italia was accomplished with the same kind of panache as these previous wins, his race winning move was launched from so far out that even his directeur sportif felt it was too soon.
The 36 year-old hard-man of cycling joined the breakaway before it left the 2009 world championship circuit in Mendrioso, just 12 kilometres into the stage, but he found himself in the company of so many strong riders that it would make winning difficult.
"When I went in the escape, I said 'Wow, I am in a good group.' I felt a little small with others there: [Paolo] Bettini, the world champion, [Giovanni] Visconti, maglia rosa and Italian Champion, [Gabriele] Bosisio, maglia rosa..." explained the talkative German, who took the victory on the same circuit that will be used for the 2008 World Championships.
"It was a good group. I sought not to lose morale with such a group," he stated honestly. Voigt's last famous escape came during the 2006 Tour de France, when he won a two-up sprint in a breakaway which gained 30 minutes on the peloton, beating eventual race winner Oscar Pereiro.
Coming into the final 40 kilometres, Voigt's group held a secure seven minute lead on the peloton, but he attacked his eleven companions even before the race entered the two laps of the 17.4 kilometre circuit in Varese.
Directeur Sportif Kim Anderson may have not agreed with the timing of the manoeuvre, but Voigt had two good reasons to stage such an outrageous coup: Paolo Bettini and three-time stage winner Daniele Bennati (Liquigas), the maglia ciclamino in this Giro d'Italia.
"My directeur sportif told me maybe it was a long from the arrival. I had the instinct and it worked."
-Voigt explains how he defied his directeur's wishes but went on to win anyhow.
"I thought to do something before the others. I am not a good sprinter like Bettini or Bennati. My only hope was to attack from a long way out ... Luckily it went well.
He noted Anderson's opinion on the move, "My directeur sportif told me maybe it was a long from the arrival. I had the instinct and it worked." The win was the German's first ever Giro stage win, and came on the last possible day he felt he could accomplish that feat - the mountainous stages on Friday and Saturday will be for the pure climbers, while Sunday's time trial favours the specialists against the clock.
It was also last chance for glory in the Giro for the rest of his breakaway companions like AG2R's Rinaldo Nocentini, Felix Cardenas, whose Barloworld squad lost its GC hopeful in a crash, and Alan Perez who hoped to get a result for Euskaltel-Euskadi. But Voigt's instinct was aided by the others' inability to organise a chase immediately.
World Champion Paolo Bettini confirmed the problem, "When he took a gap we were watching each other."
The German also used some cagey mental tactics, feigning fatigue before hitting out on his own. "Voigt said that he was not riding well in the group, but it was a tactic," said Italian Champion Visconti, who led the race's overall for eight days. "We all know Voigt well; when he gets going you can't stop him. He deserves it."
Jens Voigt (CSC) storms to victory
Photo ©: Roberto Bettini
Voigt had already tried twice to win from breakaways in this year's race, having been a part of the escape on both stage 14 and stage 15. But this day, the composition of the group and the parcours came together to give the lanky German his advantage.
"Like the others times, it was an escape, always with the same riders – Bettini, Rodríguez and the riders from LPR – the difference is that the others were not ideally suited to take the stage," said Voigt.
He recalled stage 15 where he was in the escape with riders who were much better suited to the course. "When I was with [CSF Group's Emanuele] Sella, I thought there was no way of winning against such a climber. It was a good climb for my characteristics today. I thought there is not Sella, I can win!"
The advantage that Voigt after the first passage of the two circuits, 40 seconds, grew as closed in on his first Giro win, topped his personal best of 2006, when he finished second on a stage to Spain's Juan Manuel Gárate. He ended his day with 1'07" over Giovanni Visconti (Quick Step), Rinaldo Nocentini (AG2R La Mondiale) and Gabriele Bosisio (LPR Brakes).
The win cooled the jets of the 11-year professional, who, despite putting in a stellar performance on Monday's stage to Plan de Corones, was heard saying 'look at this, we are on top of a ski slope, this isn't bike racing, it's mountain bike racing.'
"After the stage, I was angry," recalled Voigt three days later. "It was beautiful, but very hard, also for the teams to organise. This three-week race has to be hard, it has a lot of history – it is justified. However, within the Giro there are some hard things to organise – there are small things that can be made better to make a race easier."