Giro d'Italia feature, May 22, 2008
Leader for a year
Italy's Franco Pellizotti, the Giro d'Italia's race leader for four days, has what could be his one chance to prove himself as a captain this year. As Cyclingnews' Gregor Brown found out, the 30 year-old, who rode for 2007 champion Danilo Di Luca and will have one Ivan Basso as team-mate next year, sees 2008 as his year to shine.
Franco Pellizotti (Liquigas) sees 2008 as his year to shine
Photo ©: Roberto Bettini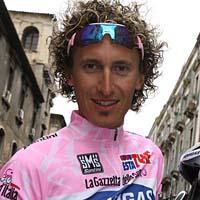 Franco Pellizotti has twice finished in the top ten of the Giro d'Italia. He finished ninth while riding in service of Danilo Di Luca last year, and was the team's highest finisher, scoring eighth place and took home a stage win in 2006, while Di Luca struggled in the mountains and was never in contention. This year, his four days in the pink jersey whetted his appetite to take home the final maglia rosa in Milano. However, he thinks that the last minute inclusion of the Astana team could make it difficult not just for him but for any Italian to achieve an overall victory.
"The team's arrival really changed the outlook of the race," Pellizotti said of Astana, which was given a last minute invitation by RCS Sport, the organisers of the Giro d'Italia. "Without the team it would be the Italians who would be battling it out over all the big stages. Even if they were called at the last moment they are prepared; I know Contador said that he came in unprepared, but he has been improving well in the last days."
The stage ten time trial showed just how prepared the Kazakh-backed team was, and at the end of the day their trio of leaders had all placed inside the top ten on the stage, and all had moved ahead of Pellizotti. Despite putting in a solid performance to finish 18th, 2'09" behind stage winner Marzio Bruseghin (Lampre), the situation put his team in a difficult tactical situation.
"Astana, they are in there and are able to play the cards with Leipheimer, Contador and Klöden. They are all riders who have experience and can do some damage," the blonde rider from Bibione commented.
Pellizotti expects Saturday's first true mountain stage to Alpe di Pampeago to make a difference. "It is the first true stage and I will have to feel out the force that is in the legs.
"We have still yet to ride the big mountain stages..."
-Pellizotti expects this weekend to start sorting out the contenders.
"We have still yet to ride the big mountain stages, 'un tappone.' Someone will want to attack to make a difference, for sure. Surely it will be Di Luca who will want to try; he has been distanced in the classification, so it makes sense."
In addition to Di Luca, he added that the teams of Astana and Saunier Duval-Scott would be forcing the pace. "Watch out for the Saunier duo of Riccò and Piepoli," he warned. Riccò "has gone strong in this first week and then demonstrated today that he can ride a time trial. So, if his condition holds then he will be one who could do some damage."
Pellizotti was also impressed with Russian Denis Menchov of Team Rabobank. "Menchov, we can never count him out," he said of the 2007 Vuelta a Espa˝a winner. "He has been there. He did a great crono."
"It will be hard for the Italians to win this Giro, but we can look at this Giro as one of the most beautiful in the last years, with more champions at the start of the race – more riders that want to take home the maglia rosa."
Fighting for the maglia rosa
Franco Pellizotti (Liquigas)
Photo ©: Roberto Bettini
After working for Di Luca last year and knowing that 2006 race winner, Ivan Basso, will be with the team next year, Pellizotti knows it is now or never if he wants to win the race overall and prove his leadership skills.
He had his taste of leadership thanks to the fourth place finish by the team on the first stage, which put him in contention for the race leader's maglia rosa. He took advantage of this on the second stage when he ousted USA's Christian Vande Velde (Slipstream Chipotle - H30) on the tough arrival to Agrigento.
"It really was a pleasure to have," responded Pellizotti. "The maglia rosa is never a burden. There is some pressure with the jersey; there is the presentation after the stage, the anti-doping controls, the press conference, and plus with the transfers, it makes less time to recover. However, I am calm now and ready to go forward."
'Il Delfino di Bibione' is now looking forward to the chance to test himself as the squad's overall contender once more when the race hits the mountains. "I have a good chance to win the overall this year and a possibility to be a captain. I have the team at my disposal. I will try to make some ground starting with Saturday, even if my gap in the overall is not that big, I want to be closer. I will have to invent something on Saturday and move closer and closer to the overall."
The team leadership is currently shared with Vincenzo Nibali (Liquigas), who won the overall of the Giro del Trentino before the start of the Giro d'Italia. "Our relationship is good," Pellizotti assured. "Just like Astana, with its multiple captains, it is good to have more than one option. There are two of us near the top."
Nibali is 8'04" back in the overall, 1'11" better than Pellizotti. "He has gone well so far and is higher up in the classification. He will have his objectives, but it is better there are two of us."
Pesaro to Urbino
The time trial wasn't good for Pellizotti
Photo ©: Roberto Bettini

Pellizotti lost some time to the other favourites in the Pesaro to Urbino time trial in Italy's Le Marche, but was nonetheless satisfied with his performance. "Contador went strong, like some were thinking; he was the only one to go so strong. I hoped to only lose a minute and a half, but two minutes is good anyway," reckoned Pellizotti.
He rode the time trial two seconds faster than his captain of the 2007 Giro d'Italia, Danilo Di Luca, who now rides for Team LPR. "Others, like Di Luca and [Riccardo] Riccò, lost a little bit of time. The one rider that really surprised me was [Gilberto] Simoni; from all who are in contention for the Giro he went the strongest. He went very, very strong. He only lost one minute, which would mean his legs are coming on and that he will be one of the three key riders to watch."
The rider who lives in Marene di Piave maintained a secure spot in the classification Tuesday night, following the first individual time trial. While in Pesaro he explained how the first half of the race has gone for him.
"The first part of my Giro has been going well, four days in the maglia rosa and I am up there in the classification," commented Pellizotti, 14th in classification and 2'16" behind the first of the classification contenders, Alberto Contador of Team Astana.
He finished the time trial in 18th place, 2'09" back behind his neighbour, Marzio Bruseghin (Lampre), with whom he often shares a glass of home grown Prosecco ('Amets'). He admitted he wanted more from the day. "I was hoping for something better in the time trial, but no one was able to really make a big inroad so we are all still there. We have to wait for the demanding stages, and then we will see," he added.
If Pellizotti does succeed in winning the overall of the Corsa Rosa he has special plans, and it is not to buy a Ferrari as Riccò is planning. "Right now, I am thinking of winning, and then afterwards I will think about this," he modestly noted, before adding, "My wife and I made a promise that if I win I will carry through, but right now I can't indicate what that is."
His wife, Gloria, is currently pregnant with Giorgia, to be their second child after Giacomo, who is four and a half years old. Pellizotti assured us it was not to be a third baby.
Photography
For a thumbnail gallery of these images, click here
Images by Roberto Bettini/www.bettiniphoto.net