Adam Hansen's Giro diary
Adam Hansen
Photo ©: Team High Road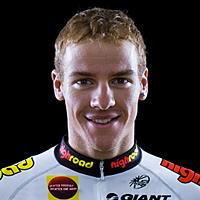 Australian Adam Hansen rides for Team High Road and is hoping to have a better Giro d'Italia than last year, where an early crash forced him to quit the Italian Grand Tour. The reigning Australian time trial champion is a support rider, but one who has chances in breakaways. The double winner of the Crocodile Trophy (2003 and 2005) keeps a diary for the Cyclingnews readers, sharing his experiences in the hectic of a three-week race.
Tuesday, May 20, 2008
Catching Up
From almost missing the plane, perfect TTT training to a disappointing TTT, bad luck in a sprint and then going to a first stage win, everything pays off.
So, I wake up at 7:30am and there I was thinking there was way too much light in my room; one of those wake-ups where you take a big breath thinking...What time is it? That's right, the alarm didn't go off and my flight was at 8:45am.... I woke up an hour and a quarter before my flight. Quick shower, went through my suitcase to make sure I had the important stuff and then rushed to the airport. The beauty of the airport in Ostravy, Czech Republic, is that the check-in closes 20 minutes before your flight leaves. Typing this in Italy means I made it.
Arriving three days early is for the blood controls. It's pretty simple – wake up, blood taken, then the normal day starts. From then to the race start we did some perfect TTT training. Okay, it was on a dead straight road and we did 5.96 kilometres in six minutes so we weren't complaining for a nice hard hit out before the big day.
But came the race day, we were all over the place. From putting in the fastest time to having riders not being so smooth to dropping ourselves and then riding off with for guys working (two GC guys sitting on) and losing three workers meant we would only lose time... and that's what happened.
A hard day before our two sprint days – where Mark was going to show his stuff – was not the best start. The sprint was chaotic, too. Firstly, with so many crashes, we had five guys go down at once! Then we were working hard to get Mark back to the bunch before supporting the team, closing all the attacks in the final before leaving the work to Tony and Rabon to help Mark win the stage. That was the theory and it all looked good till he was boxed in.
The next day, tables turned and our only problem was the five-kilometre long hill, some 20 kilometres before the finish. They went super fast, but we had our whole team around Mark. Don't ask why, but he always cracks about one kilometre before the top. He was doing so well and then he lost it and we were a few groups back. But having such a good team to help him, we caught all the groups ahead before moving to the front of the bunch with eight kilometres to go.
We had our train set up and were taking it a bit easy, with the huge head wind. All was good, though, and when the riders started to go, we went and made sure we stayed in front. First, Lampre caused a few problems, but their work also helped us save some man. Mr Wiggles (Bradley Wiggins) did a massive turn down the descent, before a pretty hard corner setting me first at around 2.2 kilometres to go.
I thought I was going max into it, but a Liquigas rider came around me just as we entered the turn, at full speed. Watching him almost kill himself made me think I was right to go a little slower...
I stayed close and then pulled hard to let go with about 1800 metres. Seeing a bunch of Milram guys pass me was not a nice feeling, but Mark was sitting about 15th wheel, with Tony in front doing a massive turn to get Mark back up to give him the win of his career!